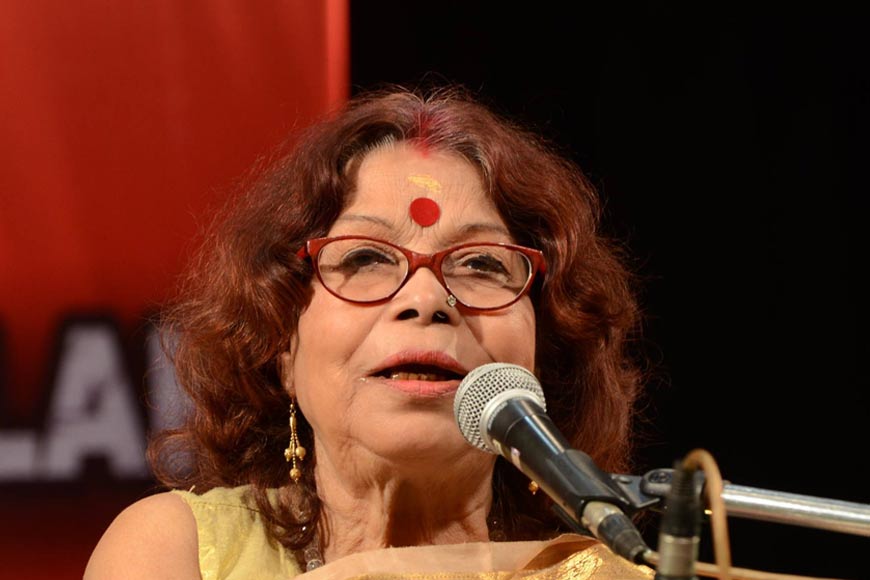 Image Courtesy : Facebook - Nirmala Mishra - FanPage
Emon Ekti Jhinuk Khunje Pelam Na… That mellifluous rendition of a widely popular song down generations had opened up a vista of waves taking you to the shores of a roaring sea. That was the power and emotion Nirmala Mishra put into her songs while singing some of the best adhunik songs of Bengali music's golden era. Renowned Bengali singer Nirmala Mishra passed away at her residence in Chetla in the early hours of Sunday after suffering a massive cardiac arrest. The golden voice that still plays on radio at times will however be a treasure trove forever.
Recipient of the Sangeet Sudhakar Balakrushna Das Award, Banga Bibhushan and Sangeet Samman Awards, Mishra (81) had long been battling age-related ailments. She was one of the most respected and admired playback singers and she sang many songs for Odia and Bengali films. Ami hariye felechhi gaaner sathire… we have truly lost today a singer who had made music her friend and lent her voice to entertain thousands.
Born in Majilpur as the daughter of Pandit Mohinimohana Mishra and Bhabani Devi on the eve of Durga Saptami, the family later moved to Chetla in South Kolkata and Nirmala was brought up in the middle of a musical environment. Pandit Mohinimohan Mishra and elder brother Murarimohan Mishra, both were famous musicians. Though their initial surname was Bandopadhyay, the family was awarded the title of Mishra and her father was also awarded the titles of 'Pandit', 'Sangitratna', and 'Sangitnayak' on behalf of Kashi Sangit Samaj. No wonder a child raised in the middle of such a musical world would undoubtedly get drawn towards music.
Music director Balakrushna Das gave her the first break in 1960 in the Odia movie Shri Lokanath. Some of the hit Odia movies in which she sung were Stree, Kaa, Malajanha, Abhinetree, Anutap, Kie Kaahaara, Amadaa Baata and Adina Megha. Her song 'Nida bhara raati madhu jhara janha' from the 1975 Odia movie 'Anutapa' composed by J. Adeni still remains one of the most admired Odia songs of all time. Similarly her other songs such as 'Mo mana beena ra taare' from the 1964 flick 'Manika Jodi' (Music composed by Balakrsuhna Dash), 'Jochhana luchana' from the 1970 Odia movie 'Adina Megha' (music composed by Balakrushna Dash), Jeebana jamuna re juara uthe re' from the 1967 movie 'Amada Baata' (music composed by Akshay Mohanty), 'Jaa Jaa re bhasi jaa, mana pabana nauka.." from the 1970 hit 'Chilika Teere' (music by Shantanu Mahapatra) are some of her timeless compositions. She also sang the female version of the iconic 'chhapi chhapi baasanti raati.." composed by the famous music director duo Laxmikant-Pyarelal in the 1967 movie 'Bhagya', the male version of which has been immortalised by the legendary Odia singer Akshay Mohanty. Nirmala Mishra also sang a number of unforgettable duets with the then leading male singers like Md. Sikandar Alam, Pranab Patnaik and Tansen Singh.

Her notable duets include 'Mun tumaku bhala paae luchhi luchika' from 'Anupata' with Tansen Singh, 'Aa mayabini mana jochhana' from 'Ghara Bahuda' (1973) and 'Sei nilapari deshe' from 'Suryamukhi' (1963), 'tike ruhana, rahi jaa na' from 'Abhinetri' with Md. Sikandar Alam, to name a few.
But her entry into modern Bengali songs was phenomenal. Her numbers were an instant hit. Just think of those immortal melodies of Abese mukh rekhe piyal dale, Bolo to arshi, Kagojer phul bole, Mone Koro mone mone, Eai banglar mati tey, Ami to tomar, Ogo tomar akash duti chokhe, O tota pakhi re, Unmona mon swapne, Chotto Sea kotha Bhalobasa … the list is endless. Mishra did a number of Bengali playback songs too. Like Tumi Akash eakhun jodi, Ami hariye felechi ganer sathire, rimijhimi rimijhimi, Abire ranglo ke amay, Choker moni hariye khuji, Oi akasher Chand and was part of the Mahalaya rendition featuring Uttam Kumar in 1976. Other than Bengali adhunik songs, she also sang Nazrul Geeti, Rabindrasangeet, Shyama Sangeet, Patriotic songs, Folk Songs and many others. Not just a popular singer, Nirmala Mishra was a great human being, witty, helpful and was a true friend to those in need. She was indeed a versatile exponent and Bengal will remember her melodious voice down generations.