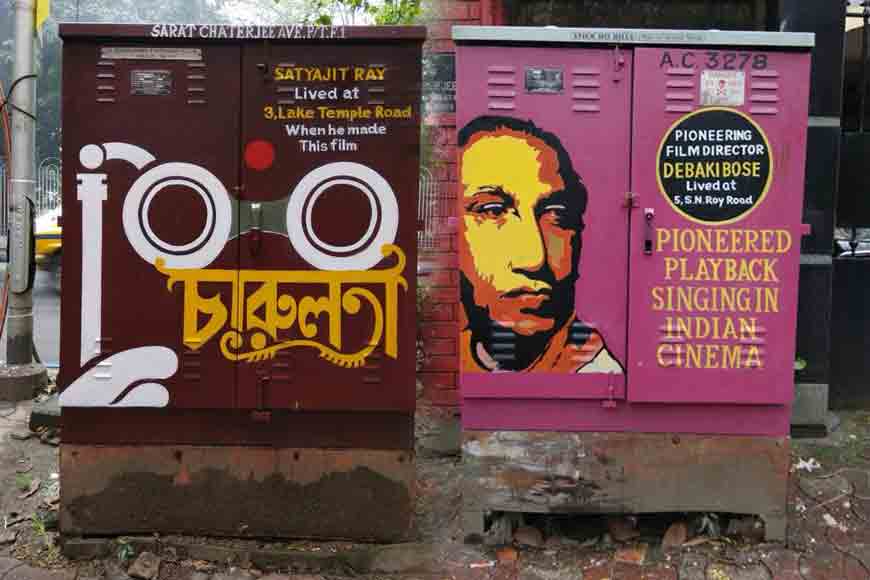 Kolkata is all set for a makeover. A private company has taken the initiative to colour the city in myriad hues and give a much-needed facelift to the 327-year-old dame. The CESC feeder boxes strewn across the city is the canvas for this project which revives memories of the golden period of Indian and Bengali cinema. Yes, the kitsch paintingsrecreate well-known film posters of yesteryears.For years these feeder boxes had transformed into spit-pots and remained smeared with crimson betel spit or cheap handbills were pasted on them. But residents of Lake Shiv Temple in South Kolkata will be treated to a visual delight, because the feeder boxes in this area portray the film posters of Charulata, Aranyer Dinratri or Joy Baba Felunath – all Satyajit Ray masterpieces. This initiative has been taken by a communication company headed by Muder Patherya.
Work on the project began before the Pujas this year and ten feeder boxes have been completed in the Lake area. The company plans to beautify the entire city with graffiti gradually and highlight the local heritage. Ray lived in the Lake area till 1972 as did actor Soumitra Chattopadhyay and other city luminaries, including Hemanta Mukhopadhyay and Devaki Bose. These luminaries as well as many others who lived in different parts of the city will be featured in the artworks.
CESC has extended its full support to this beautification project. Incidentally, the execution of this artwork is being done by amateur artist Santosh Das, who has no formal training in art. This artist from Salkia, Howrah, used to earn a living by painting signboards and glow signs but with the advent of flex printing, his business got a severe beating. Patherya chose to assign the job to Das, a passionate artist who was going through a rough patch financially. Santosh is elated to be associated with this magnum project and feels happy to bring a smile on the onlookers' faces.