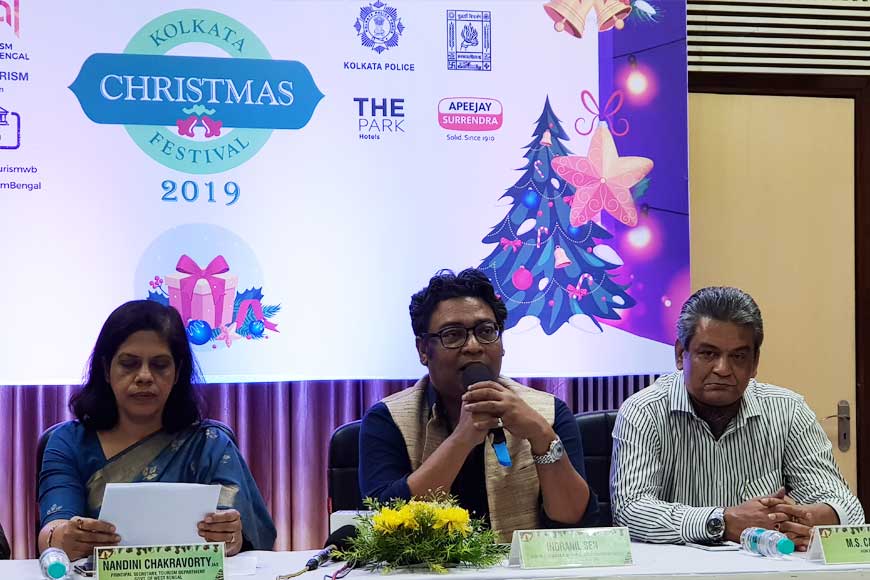 Santa Claus is coming to town! Much before 25th December for he loves Kolkata as the City of Joy probably knows how to celebrate the spirit like no other city does. Kolkata hosts one of the largest Christmas carnivals of India every winter, celebrated with the same fervor and enthusiasm, that Durga Puja brings to citizens every autumn. Conceptualized by none other than Chief Minister Mamata Banerjee since 2011, the Kolkata Christmas Carnival will be in its 9th edition this year. Kolkata's iconic hip and happening Park Street, that has a British legacy with its colonial charm of old-world restaurants, hotels, pubs and renowned schools will be decked up in grand illumination including Allen Park, St Paul's Cathedral and adjoining areas. True to its rich historical past, the Happening Street of Kolkata turns into a mesmerizing paradise with a glitz of lightings and sky lanterns every year. This year will be no exception.
At a press meet held today at Nandan, Hon'ble Minister of State, Department of Tourism and Information and Cultural Affairs, Sri Indranil Sen, along with Ms Nandini Chakrabarty, Principal Secretary of The Department of Tourism gave a brief on the schedule of the carnival.
This year the festival is also being called 'The Kolkata Go Green festival'.
The carnival will be inaugurated on 16th December this year by West Bengal Chief Minister Hon'ble Mamata Banerjee at Allen Park around 6pm and will continue till 30th December. Keeping in mind the secular fabric and ethos of Bengal, Kolkata has always been the hub of festivals of all religions, caste and creed and the best part is how citizens across religious boundaries celebrate this Christmas carnival and festival in a bond of togetherness. The festival is held in association with Kolkata Municipal Corporation, Kolkata Police, State Government's Department of Information and Culture and Apeejay Surrendra Group.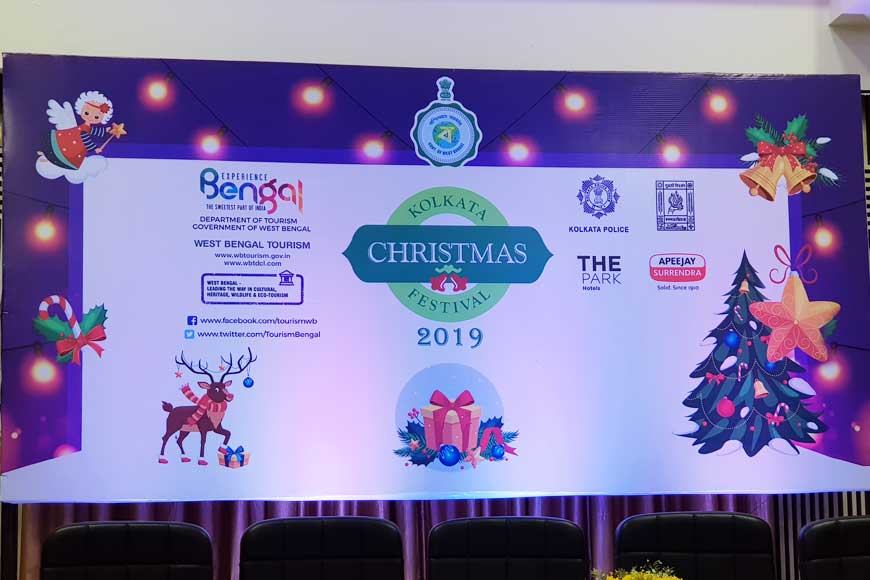 Because of its close colonial past and being the capital of British India for a considerable period, Kolkata has always celebrated Christmas in a style retaining its individuality. Thanks to our chief minister's vision, the Christmas Carnival on Park Street is a grand affair these days, where people from across the globe participate. This year not just Kolkata, other districts will also see special Christmas celebrations. Important locations and churches of Darjeeling, Kalimpong, Kurseong, Siliguri, Chandernagar, Bandel, Jalpaiguri, Krishnanagar and Baruipur will also be illuminated. There will be special Christmas programmes at Chandernagar and Biswa Bangla Haat in Siliguri.
The star attraction of the show are the bands including the Kolkata Police Band and eminent artists performing Christmas songs and carols and various food stalls at Allen Park. There will also be an information kiosk of the Tourism Department at Allen Park. Enjoy the chill this winter and be a part of the gorgeous Kolkata Christmas Carnival!