A middle-aged man walking absent-mindedly on the road. His leaky pen has already created a graffiti on his shirt pocket, but he is oblivious of everything around him as he walks with his eyes fixed on the road. He takes long strides as he has to reach Garia, in the outskirts of the city from Hazra and that's quite a distance. Most of the time he forgot to carry cash with him but the one thing that he never forgot was his fountain pen. The pen was his weapon with which he had won numerous wars, written heart-wrenching lyrics for stalwart singers/ music directors as Sachin Dev Burman, Hemanta Kumar Mukhopadhyay, Shyamal Mitra, Rahul Dev Burman, Lata Mangeshkar, Kishore Kumar, Asha Bhosle, Manna Dey, Sandhya Mukhopadhyay, Arati Mukhopadhyay…. The list could go on and on. He is Gouriprasanna Majumdar, the genius lyricist of Bengali music industry during the golden era. His lyrics have transcended the era and have become classics which will stay evergreen for as long as people listen to Bengali songs.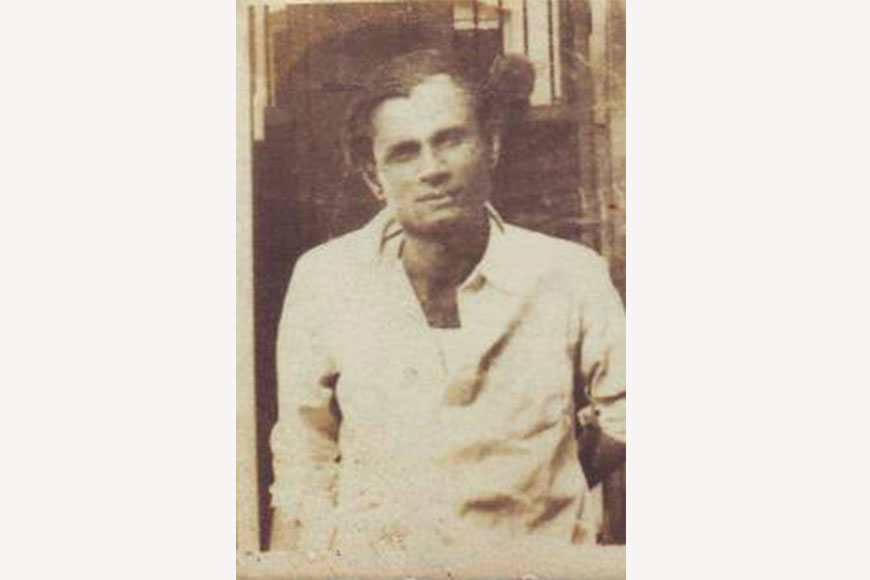 The golden man of Bengali movie songs
Majumdar was born on December 5, 1925, at Gopalnagar village in Pabna district, now in Bangladesh. His father Girija Prasanna Majumdar was a renowned botanist and professor at Presidency College. His mother Sudha Devi was a homemaker. His pet name was Bachchu. From a very young age, Majumdar would listen to songs of Abbasuddin and Sachin Dev Burman playing in the gramophone records in their home. But more than music, he was attracted to the lyrics of the songs. He was a voracious reader and read anything he could lay his hands on. He started writing poems when he was in college. Majumdar was a bright student. He studied in Presidency College and completed post-graduate studies in both Bengali and English literature. He started writing lyrics when he was studying in college. Once Sachin Dev Burman blessed him and predicted, "One day you are going to be as renowned as Majrooh Sultanpuri, (the Hindi lyricst and the then-reigning monarch of Bollywood film industry) or you might even surpass him with your creations."
Sachin Dev Burman was not far from the truth. There was a time when Majumdar's lyrics ensured a film's box office collection. The producer of 'Shesh Porjonto' was a frustrated man. All his previous films had bombarded at the box office. So, this time he did not want to take any chances and went to Majumdar and asked him to write the lyrics for the film. He wrote, 'Ei meghla diney ekla ghore thake na toh mon…' The film was a superhit.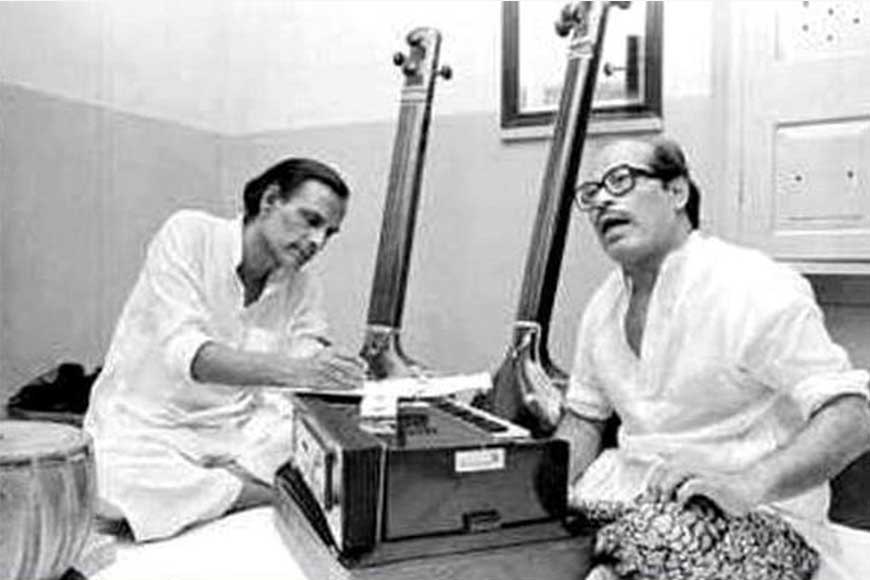 Manna Dey and Gouri Prasanna
Manna Dey, one of the most versatile and celebrated vocalists of India has rendered innumerable hit songs in his lifetime but one song that stands out and has brought tears to every Bengali for generations is the cult number 'Coffee House-er shei adda ta aaj ar nei..'The lyrics are by Majumdar. There is an interesting story about the song. Music director Nachiketa Ghosh was a very close friend of Majumdar. His son, Suparnakanti Ghosh had carved out a niche position as a high-class music director and had directed many renowned Bengali singers to sing to his tunes.
One day Majumdar went to meet Nachiketa Ghosh. Suparnakanti was also around and asked Majumdar to write a song on Bengalis' 'adda.' Majumdar promptly asked for a piece of paper and penned down the first two lines of the song that came to him instantly. He returned home and stayed awake the entire night to complete the lyrics. He completed the lyrics and handed it over to Suparnakanti. But Suparnakanti wanted Majumdar to add another stanza. Initially reluctant to do so, the latter finally agreed.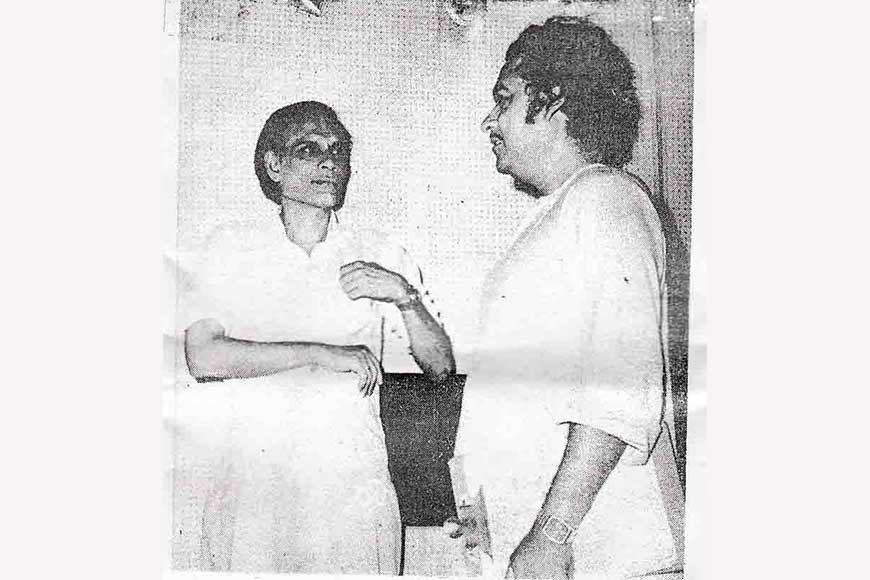 Majumdar with Kishore Kumar
By then, Majumdar's health was fast deteriorating. He was detected with cancer and he was advised to go to Chennai for treatment. The day he was to board the train at Howrah, he sat with his luggage at the station, waiting for the train's arrival. Suddenly, the lyrics of the last stanza came to him like magic and he wrote it on the back of a cigarette packet. He sent the packet to Suparnakanti via an acquaintance. The song was later recorded at a studio in Bombay and it turned out to be a super-duper hit.
However, Majumdar's condition worsened. He was hospitalized at Chennai for two months and underwent treatment, but his body was not responding to the treatment. Even during those traumatic days, his pen did not stop. He continued writing lyrics from his hospital bed. 'Jete dao amay deko na', 'Ebar taholay ami jai, shukhe thak bhalo thak mon theke ei chaai' were written during those days. It seemed he had a premonition of his death and finally, on August 20, 1986, he breathed his last at the age of 62. Majumdar left early but the vast gamut of work that he left behind will remind listeners of his proficiency. His command over his craft was fabulous. His lyrics showed how flawlessly he could tame words and use them to stoke emotions, sculpt feelings and depict the power of words. He left for his heavenly abode but he left his footprints on the sands of time for generations to follow.
Story Tag:
Performing Artists, Lyricist