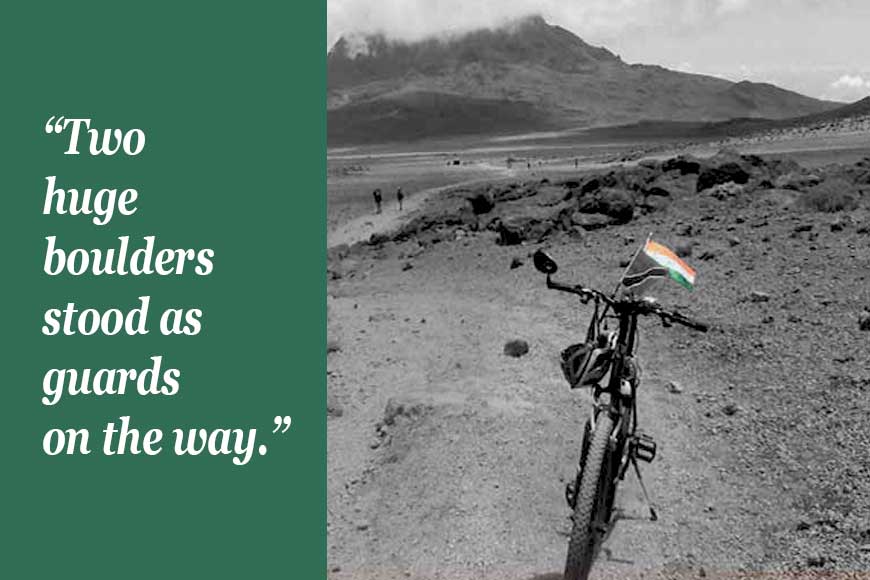 The way ahead of us was visible from the spot we stood. It was ragged and barren for miles ex-cept for a few stray groups of mountaineers, either climbing to reach the peak or descending after fulfilling their aspiration. There were a couple of people who looked crest-fallen as they had to abort their journey mid-way due to mountain sickness caused by rarified oxygen in the higher altitude and extreme cold. Under such duress, the only way left for climbers is to call it a day and backtrack.
I was all alone now, nay, my Chetak was there with me to give me company. We moved towards the base camp at Kibo Hut. Located at a height of 4,720 meters, it is also the summit camp. I bade goodbye to Jackson and my team saying "Hakuna-matata" (this Swahili phrase means "no trouble" or "no worries") and pushed my pedals on way up. Although the land was flat it was gaining altitude gradually and I could feel the oxygen level depleting. I felt breathless very soon as I moved but instead of pausing I continued my journey, slowing down after every 10 minutes to catch my breath.
As I moved up, the number of mountaineers ascending was far outnumbered by people who came down. A large number of porters accompanied the climbers. These trekkers had kicked off their journey from Herombo Hut much earlier than me but I outstripped them because I was rid-ing on bicycle. My fellow climbers waved and cheered me on my way as they moved to make way for me on my cycle. This all seemed so surreal to me – I, riding all alone on my bicycle on my way to conquer the highest peak of the African continent.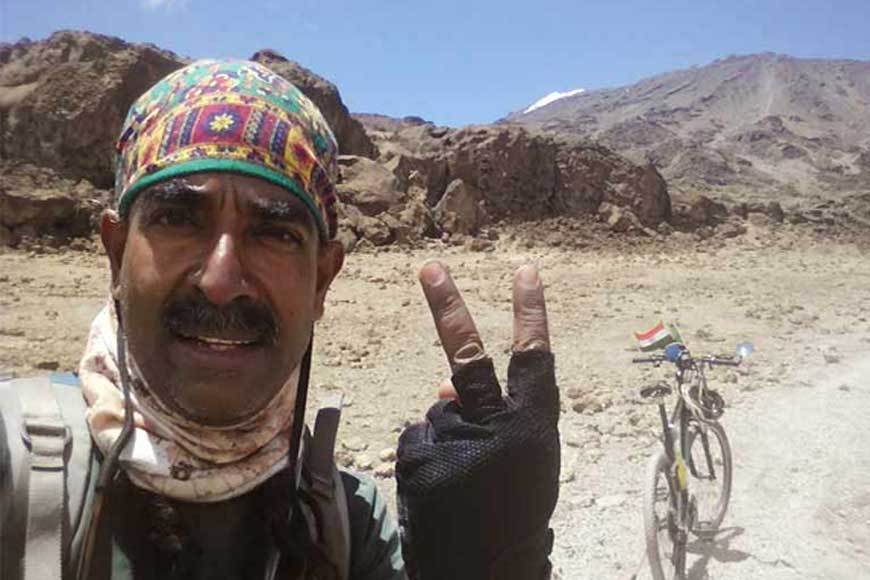 As I scaled further, I felt the physical exertion getting more intense. After riding for three kilo-meters, I discovered a nook where I could stand and rest for a while. There were two low bench-es and two long high benches. Many porters were sitting there to catch up their breath. I joined them. They smiled and welcomed me but none took the initiative to talk to me due to language problem. I tried to break the ice with my limited vocabulary in Swahili.
The spot was very attractive. Two huge boulders stood as guards on the way. The straight path that we traversed all this time now took a sharp turn to the left. The land ahead lay barren but this time I could see a high wall of boulders. To the right of the 'wall', I could spot the green, welcoming roof of my shack at Kibo Hut peeping from the corner. This was going to be my sojourn for tonight. Locals call this base camp but actually this is a summit camp.
I looked up above the wall of boulders and lo behold! The majestic Kilimanjaro peak stood high and mighty. Kilimanjaro is a large strato volcano that forms a horseshoe-shaped ridge and it looks very different from the familiar conical shaped mountain peaks. I decided to explore the bowl-shaped crater once I reached the peak.
The walking trail was gradually soaring up. I could see the track going up after Kibo Hut. I de-cided to take a break and sat down. A larger portion of my packed lunch was still inside my bag. I had a sandwich and a piece of 'Nyama choma' (grilled chicken leg). All this while I had been riding my bicycle and I was feeling uncomfortably warm but as soon as I sat down and relaxed, I could feel the cold wind biting into my flesh as it were. I put on my light jacket. My head was covered with a scarf and had a bandana loosely wrapped around my neck that I used for covering my mouth and nasal area while cycling. After my lunch I had a strong urge to sip a cup of hot coffee. Usually, I carry my coffee making kit with me and whenever I feel the urge to have a cuppa, I station my cycle and make it. But this time it was a different. This was no cycling trek across continents. This was scaling a mountain in a bicycle. So, I there was no way I could carry my coffee kit with me. I would be able to quench my thirst only after I would make it to Kibo camp. So, instead of wasting any more time, I continued my journey to Kibo Hut.
From this point, the route became steeper but I did not give up and paddled my way to the boul-der wall. I was pleasantly surprised to discover snow in the crevices of the boulders. I have been to several mountain expeditions with the members of Sonarpur Aarohi Mountaineering Club and I am professionally trained in mountain climbing. I have encountered snow on various peaks dur-ing these expeditions but to encounter snow at a height of 15,000 foot with my companion, Che-tak, was something unique. I was elated and so was Chetak.

Story Tag:
Sports in Bengal, Bengali Cyclists, Ujjwal Pal