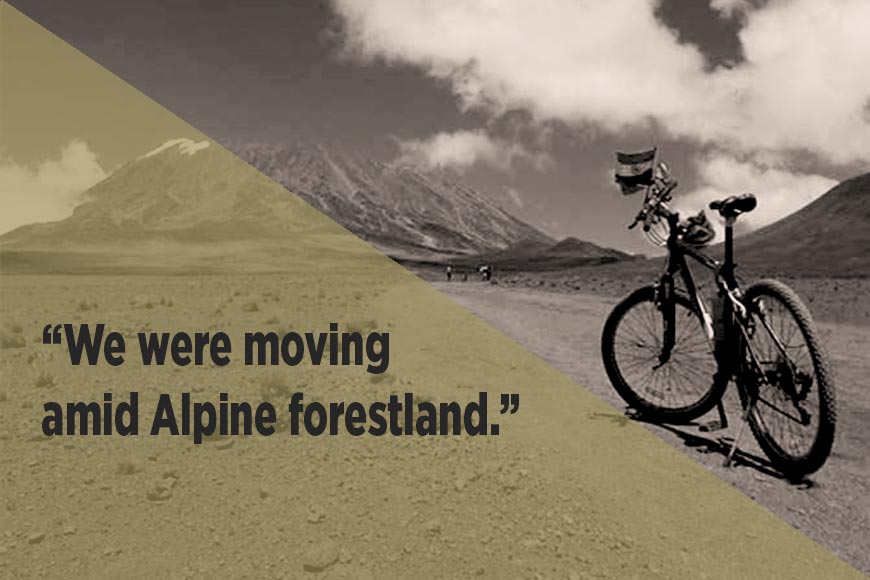 January 25, 2019. "Dream is not that which you see while sleeping. It is something that does not let you sleep – Dr Abdul Kalam's famous quote seemed to be tailor-made for me. The previous night I was very excited as I anticipated fulfilling my long-cherished childhood dream of making it to the peak of 'Chander Pahaar.' I was unable to sleep peacefully and kept tossing and turning in my bed. I woke up at 6.30 am as the alarm rang incessantly.
This was my third day on my way to Kilimanjaro top. Today, we were leaving Horombo Hut and heading towards Kibo Hut, located at a distance of nine kilometers. The sign board mentioned the journey would take five hours' time. We had a sumptuous breakfast and proceeded on our journey at 8 am. Bruno and I both had our bicycles and we each carried a small knapsack containing drinking water pouches, packed lunch, equipment for cycle repair, portable cycle pumps and light jackets.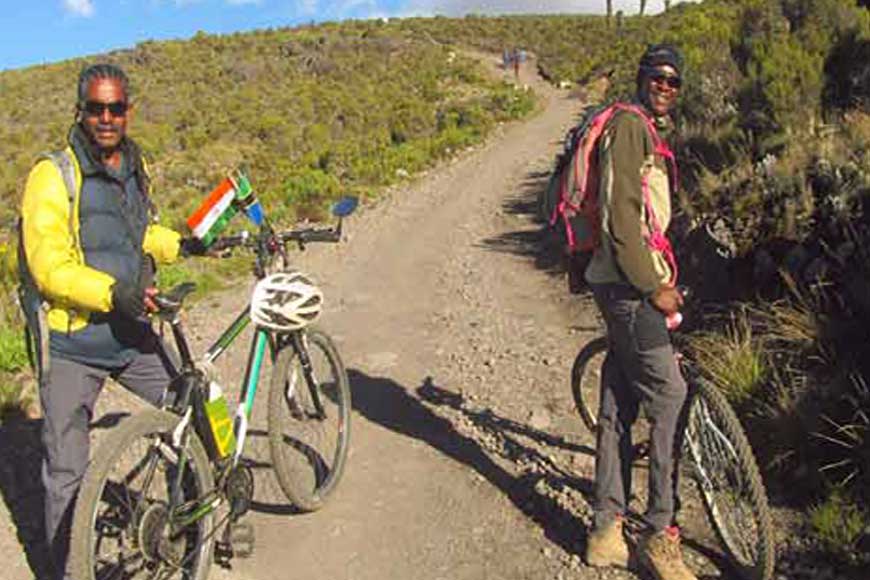 Bruno had warned me earlier, the first half of the trek would be rocky and steep, but he had assured that the last leg was flatland and we could ride our bicycles. We began our strenuous journey, pushing our cycles along. The early morning sun was still very comfortable. A soft cold breeze descended from the top. We left the path we had taken the day before yesterday to reach Herombo Camp and instead took the one on right that was paved with huge boulders. Right in front of us walked the seven-member Australian team that befriended us yesterday at Herombo Camp. The sexagenarian team comprised of five ladies and two gentlemen. They chatted among themselves and clicked photographs as they walked. The moment they spotted us, they greeted us warmly and then moved to one side of the rugged path, making way for us to go.
We were moving amid Alpine forestland. None of the vegetation was above knee length. These grasslands start at an elevation of above 3000 meters and grow up to the region just below the snowline. Low alpine grasslands are common with the vegetation not growing higher than 1.5meters. Only the Cinacia trees are taller than the other plants and trees growing in that region. A short while later, we came across a narrow clear water spring coming from the direction of Mawenzi range. We jumped and crossed the spring. Bruno filled his water pouch and I popped a candy in my mouth and we continued our journey. We had crossed most of the vertical climb. This place was at a higher elevation than the surrounding. A little ahead of us lay a vast barren tableland. To the left of this land stood the majestic peak of Kilimanjaro, the highest mountain peak of Africa.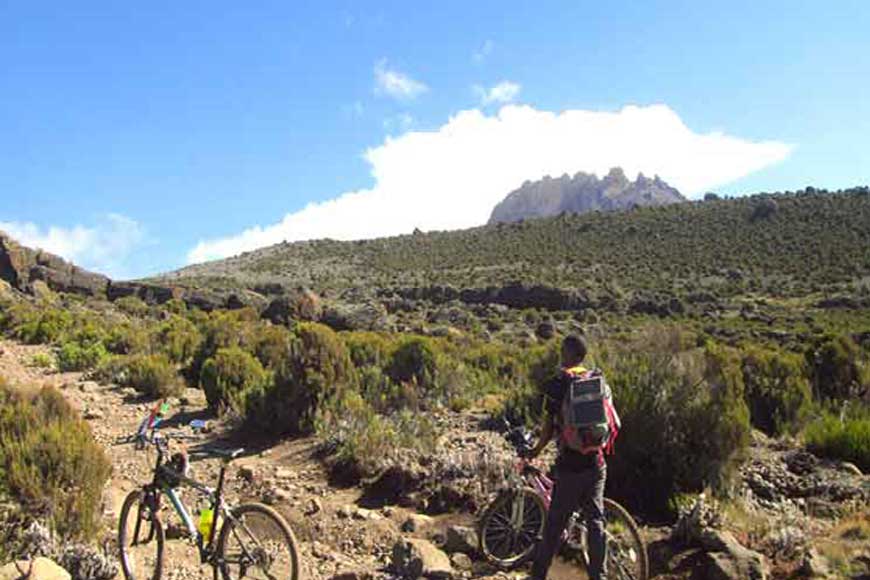 The path meandered below from the point I stood and reached the tableland. The narrow path was completely arid. There was no sign of greenery around. This area marked the end of Alpine forest. Kilimanjaro is not a range of mountains. It stands alone with Mawenzi peeking in the right side. Between these two mountains lie a deep, flat gorge. The beauty of this region is very different from the Himalaya mountain ranges.
We rode our bicycles to reach the flat ground. The point where the slope ended, there was a natural water basin. Huge boulders were placed over it and that was the only way to cross the basin. I got down from my cycle and cross the basin on foot. On the other side of the basin, benches were constructed for trekkers to sit and catch their breath. The benches looked similar to the ones used in schools. There was a concrete toilet as well. A young couple was resting there. We became friends soon and learnt they had come from Norway.
I was starving by then, so I took out my lunch pack. There were sandwiches and I devoured them like a hungry lion. Just as I was over with my lunch, I saw Bruno approaching from a distance. But what was that? I thought I saw his cycle chain hanging limply. Bruno came near me and informed his bike chain had broken and needed immediate attention to fix it. I was worried. I had brought only the bare essential instruments for small repair work but did not have the chain cutter with me now to reassemble the chain. By then Jackson joined us. We all tried to find a temporary solution with the help of a screw-driver, plus and a stone slab. We managed to fix it up but I was certain the chain would not last for very long.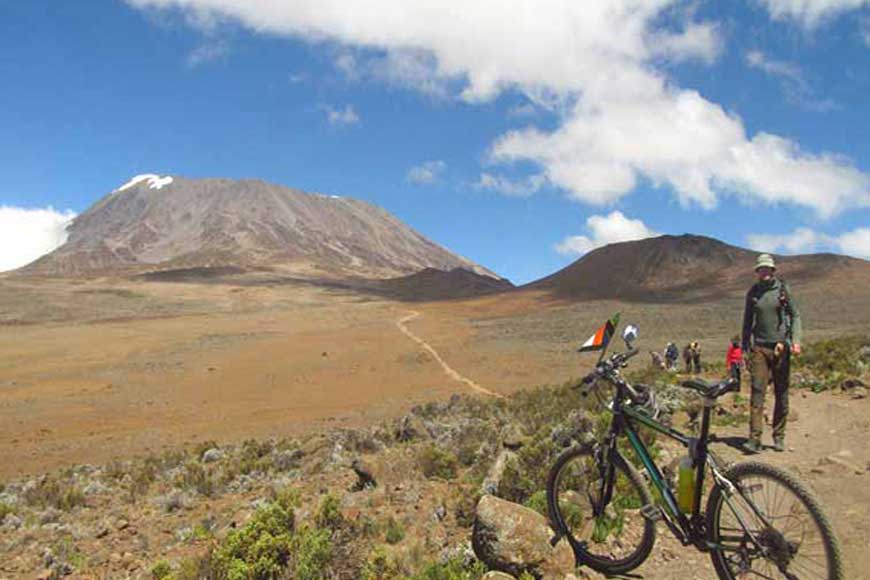 We rested for a while and then continued our trek. We could ride our bicycles smoothly now but every time we approached large boulders, we would get off and cross the obstacle with our bicycles in tow. We met porters and mountaineers on our way. They were descending after reaching the peak. We all greeted each other with 'Hi!' or 'Hello!" in English or 'Jumbo' in Swahili. Many climbers were surprised to see me lugging my bicycle as I maneuvered the route cautiously. Some praised me for my attempt. I was enthused by their praises. My teammates were walking ahead of me. They were all carrying heavy luggage with them. There is no water source at Kibo Hut so water has to be carried in tanks when heading towards Kibo. Our porters had started well before us but we finally caught up with them here. Bruno told them something in Swahili and after that they began addressing me as 'Commander.' When I asked the reason for addressing me thus, they said, they were very satisfied and happy with my performance. They said I was stronger and tougher than most mountaineers who came here. These words of praise lifted my spirits.
We began cycling again. After a short while I heard Bruno's chain snap with a sharp clicking sound. I examined the chain and found the place we had assembled had given way and there was no way to repair it without proper equipment. Bruno asked me to ride my bicycle and he said he would follow yanking his bicycle. Other teammates also advised me to go ahead.
Story Tag:
Sports in Bengal, Bengali Cyclists, Ujjwal Pal