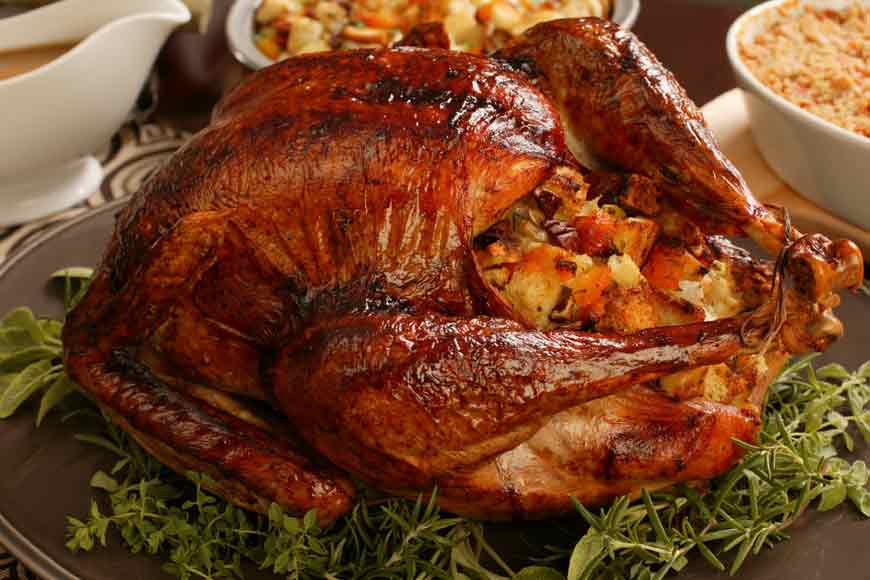 Having a stuffed turkey meal on Christmas is an age-old tradition. It became popular in Britain in 1950s. It is said that the first British monarch to eat turkey during Christmas was King Henry VIII. Christmas is the perfect occasion to devour this delicacy. This is the time when families unite and spend time together. A turkey, being the gigantic sized bird is the perfect to suffice for the entire family. Turkey itself is a tasty bird and can be cooked in various ways. All this while, did cooking turkey seem to be a tedious job? Not anymore! Try our easy recipe of Christmas Special Stuffed Turkey and make the process of cooking Turkey simple and easy.

Ingredients required:
5 kilograms of fresh turkey
Sea salt
Grounded black pepper
Olive oil
2 chopped and peeled onions
2 sticks of chopped celery
2 chopped fresh carrots
½ teaspoon ground nutmeg
1 large handful breadcrumbs
a few sprigs fresh rosemary
Chopped saga leaves
1 clementine, halved
300 g higher-welfare pork mince
Breadcrumbs
Method:
• Take the turkey out of the fridge an hour prior to roasting so that it comes back to room temperature. Rinse it well and pat it dry.
• Drizzle the turkey with a good amount of olive oil.
• Add salt and pepper as seasoning and rub it well thoroughly.
• Pre-heat the oven and start working on the stuffing. Pour olive oil and keep frying the chopped onions for 10 minutes until they become soft.
• Add salt and pepper, chopped saga leaves and ground nutmeg. Stir it well and keep frying it for two minutes.
• Pour the onion mixture into a bowl. Once it becomes cool, add breadcrumbs and pork mince and scrunch everything well and form a ball. The stuffing is ready.
• Pull the skin of the turkey at the neck end back and stuff it well. After it is done, pull and fold the skin so that it looks good. Turn the turkey upside down and add stuffing to the larger cavity. Add rosemary and Clementine halves.
• Take a roasting pan, place the veggies and keep the turkey on the top. Make a tin foil cover of the turkey, put it in the oven and cook it well at 180°C for about 35 to 40 minutes per kilo.
• Check on your turkey every 20 minutes to prevent it from drying. Keep on blasting the turkey with the juices at the bottom of the pan. Remove the foil after 2½ hours. You will see that the skin has become golden and crispy.
• Take the turkey out of the oven and stick a sharp knife into the fattest part of the thigh to see if the juices run clear and the meat is soft. Rest the turkey for an hour and serve it.