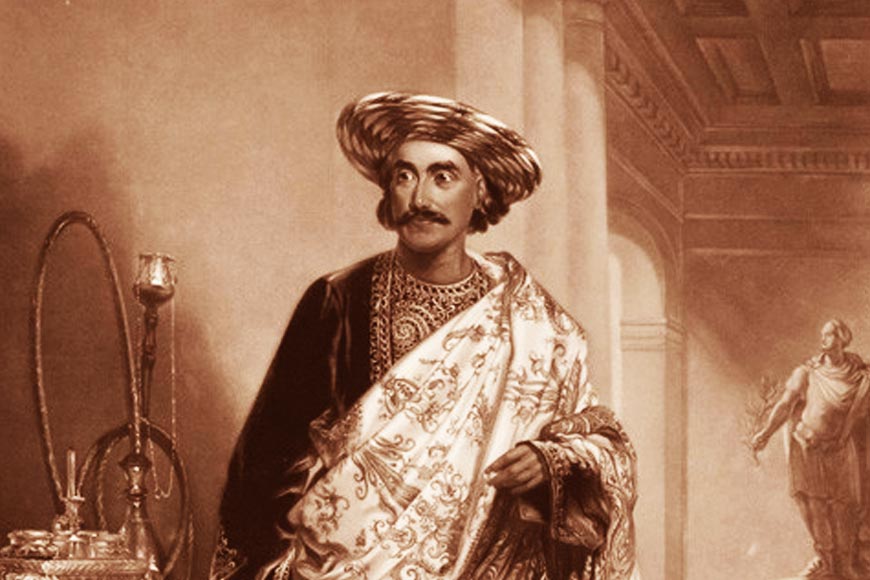 In this 3-part series, GB brings a fascinating tale of Rabindranath Tagore's ancestors, the Pirali Brahmins and how they descended from a converted Muslim of Jessore
Hazrat Khan Jahān `Alī, also known as Ulugh Khan and Khan-i-Azam, was a noble under the Tughlaqs, who probably came to Bengal just after Timur attacked Delhi (1398). The official title, Khan-i-Azam signifies that he was an officer of the Bengal Sultan Nasiruddin Mahmud Shah I (1437– 1459). The word Ulugh before his name speaks of his Turkish origin. He ruled over an area called Khalifatabad stretching up to Naldi to the north of Narail.
Hazrat Khan Jahān `Alī was a competent and progressive ruler who was also a prominent practitioner of Sufism and was instrumental in converting locals to Islam. Not much is known about his early life and it is shrouded in mystery. He propagated Islam and ruled over south Bengal for 40 years. From the inscription written on his shrine, it is learnt that he was born in Khwarazm, the modern-day city of Khiba in Turkey.
According to historians, Hazrat Khan Jahān `Alī was born Keshar Khan. Towards the fag end of the 14th century, Khan Jahān `Alī's family migrated to Gour Bengal when he was still a young boy. This was much later Muhammad Bin Bakhtiyar Khalji 's conquest of Bengal. Khan Jahān `Alī's father , Azar Khan, was a learned man and the family settled in a place called Nabeepur, close to Gour, the capital city of the Bengal Sultanate. He sent his son to the famous madrasa (religious institution) of Hazrat Noor Qutub Alam. While Khan Jahān was still undergoing training, his father died.

Khan Jahān's mother, Angina Bibi, worked hard to make ends meet but did everything she could to provide him a good education. Khan Jahān was a smart child and the local ruler, Hussain Shah, spotted him one day and was impressed by his spark. He employed him in his durbar. Khan Jahān was doing very well but after the Badshah's death, the courtiers began humiliating him and even stopped the monthly allowance given to his mother. A helpless Khan Jahan sought his teacher, Hazrat Noor Qutub Alam's help and Qutub Alam sent him to his acquaintance, the majestic ruler of Jounpur, Sultan Ibrahim Sharki with a letter praising his ward's brilliance and integrity.
The Sultan revered Hazrat Noor Qutub Alam and regarded his request as an order. Khan Jahan Ali was inducted as a regular soldier in the Sultan's army. Thus Khan Jahan Ali entered a new phase in his life from being a bibliophile to lead a rough and tough soldier's life. With his natural brilliance, Khan Jahan Ali rose above his rank and file in no time to be the chief commander of the Sultan's army.
The socio-religious condition of Gour under the local ruler, Raja Ganesh, was very distressing at that time. He staunchly opposed Islam and perpetrated atrocities on his Muslim subjects. A distraught Hazrat Noor Qutub Alam once again sought Sultan Ibrahim Sharki's help to clip the wings of Raja Ganesh and save Islam and Muslims from the king's ire. The Sultan immediately ordered his commander Khan Jahan Ali to invade Gour with a huge army.
In the battle, Ganesh was defeated and sought mercy from Khan Jahan Ali and the latter complied. After this he sought the Sultan's permission to stay with his 'alima' (bearer and communicator of sacred knowledge), Hazrat Noor Qutub Alam. Later he decided to stay back and resigned from his job as Commander of the Sultan's army. With this decision, his life as a man in mufti ended.
Hazrat Noor Qutub Alam was overjoyed to be united with his favourite disciple and got his daughter married to Khan Jahan Ali. Jahan Ali had a blissful married life but his heart blem for his Muslim brethrens who were being subjected to ruthless torture by local rulers. He finally decided to respond to the call and took to the roads to spread Islam among the hoi polloi. Thus began Khan Jahan Ali's next phase of life.
(To be continued)