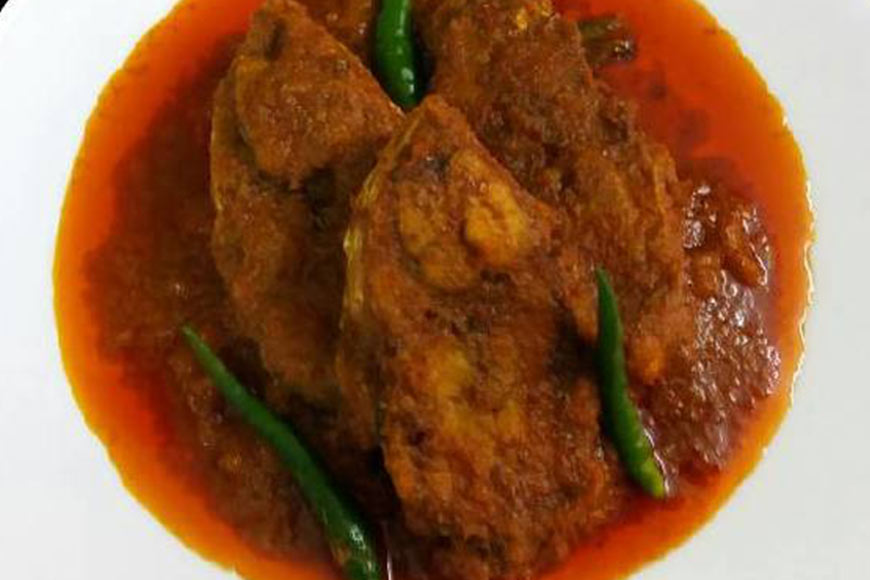 Modar/Palva, Pallo Machhi, Pulasa, Ulla Meen. Nope, not gibberish. All valid words, all describing that one object that any Bengali could write a poem (or several) about, an object of veneration, an icon, an emotion –the hilsa or, to use its Bengali name, ilish.
To all those who have never been touched by the magic of this fish, it remains just that, a fish. But to any true-blue Bengali, from either side of the border, the hilsa is pure silvery bliss, all the more precious owing to its continuing scarcity, particularly in Kolkata.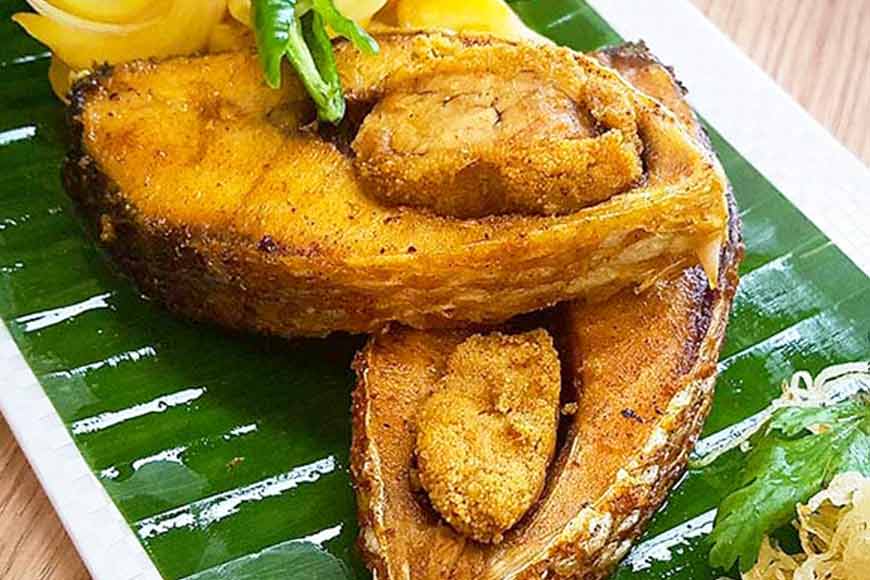 Ilish bhaja
But for all those who think the hilsa is special only to the two Banglas, we have news for you. The words with which this article began are all names for hilsa - in Gujarati, Sindhi, Telugu, and Tamil, respectively. And get this, Telugus have a saying which goes, "Pustelu ammi ayina Pulasa tinocchu", meaning roughly, "It's worth eating Pulasa even if you have to sell your mangala sutra (a symbol of a married woman)."
The Sindhis revere their Pallo Machhi, too. They eat it deep fried and garnished with local spices, or cook it with onions and potatoes as a traditional fish meal, and even barbeque it. The hilsa roe (celebrated in Bengali as 'ilish machher dim') is called 'aani' in Sindhi, and they love it too, naturally. Just like Bengalis, Sindhis serve the fried roe along with the larger pieces of fried fish.
There's more to the story. As of now, hilsa is found in Bangladesh, India, Myanmar, Pakistan, Iran, Iraq, Kuwait, Bahrain, Indonesia, Malaysia and Thailand. Bangladesh leads the world in hilsa production, followed by Myanmar, with India in third place. Bangladesh tops the list not merely by virtue of natural availability of hilsa, but the steps taken by the government to boost and maintain that availability.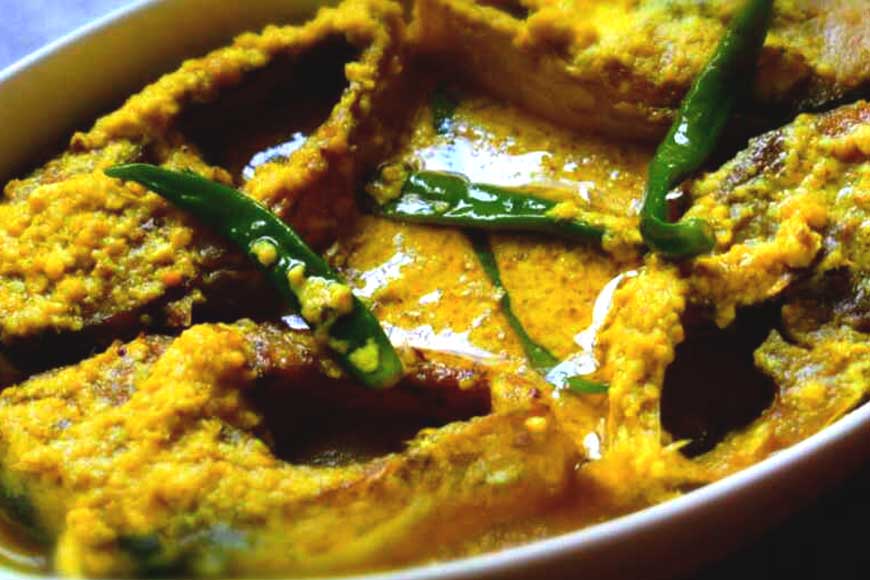 Ilish shorshe
Given its range, it is inevitable that hilsa will be cooked in as many ways as there are cultures associated with it. Bengalis from West Bengal swear by fried hilsa, 'shorshe ilish' (hilsa steamed with mustard paste), and 'ilish machher jhol' (hilsa in a light gravy garnished with black cumin seeds, customised with aubergine and green chillies according to taste), or 'narkol bata ilish' (hilsa cooked in coconut paste).

Across the border in Bangladesh, hilsa, even when fried, is incomplete without onions. Also, as a rule, Bangladeshi cooking is perhaps more varied when it comes to hilsa, as connoisseurs point out. We spoke to a cross section of chefs, gastronomes, and experts to find out more about such offbeat hilsa dishes, and invited them to share recipes of their choice. Here's what we found:
Rukma Dakshy, celebrity chef
I found a wide variety of offbeat hilsa dishes in Bangladesh. Among them was roast hilsa, with the usual onion and garlic, which worked fine for me. But the recipe I wish to share is Ilish Korma, a traditional dish from Dhaka.
Ingredients
| | |
| --- | --- |
| Hilsa | 4 pieces |
| Sour curd | 4 tbsp |
| Salt to taste | |
| Sugar | ½ tsp |
| Ghee | 3 tbsp |
| Mustard oil | 4 tbsp |
| Raisins | 2 tsp |
| Haldi powder | 1 tsp |
| Kashmiri chilli powder | 1 tsp |
| Green chilli paste | 1 tsp |
| Red chilli | 2 pcs |
| Bay leaf (tej pata) | 1 |
| Ginger paste | 2 tsp |
| 1 large onion, finely chopped | |
| Crushed small cardamom (elaichi) | 3 pcs |
| A little cinnamon (darchini) | |
Method
Wash the fish, add salt, haldi, green chilli paste, Kashmiri chilli powder, ginger paste, and curd. Heat oil and ghee in a non-stick pan. Once the oil heats up, add sugar, bay leaf, cinnamon, and cardamom. Now fry the chopped onion lightly. When the onion starts to turn golden, add the marinated pieces of fish, red chilli, and raisins, and cover the pan. Allow the fish to simmer on a low flame. Once one side is crispy fried, turn the pieces over carefully. Cover again and simmer. Once the fish is soft and the mix of spices begins to release oil, remove from flame and serve with pulao.
Indrajit Lahiri, entrepreneur and foodie
Excerpt from his blog, Mohamushkil: "…when I was searching for Hilsa Bharta, a strange name came up- Mawaghat. It's around 2.5 hour's journey from Dhaka and bang on the ghat of Padma. Hotels are lined up in numbers and they get the fresh catch of the hilsa batch and cook as per guest choice. So, being in Dhaka on Hilsa Kahini, I couldn't simply give it a miss."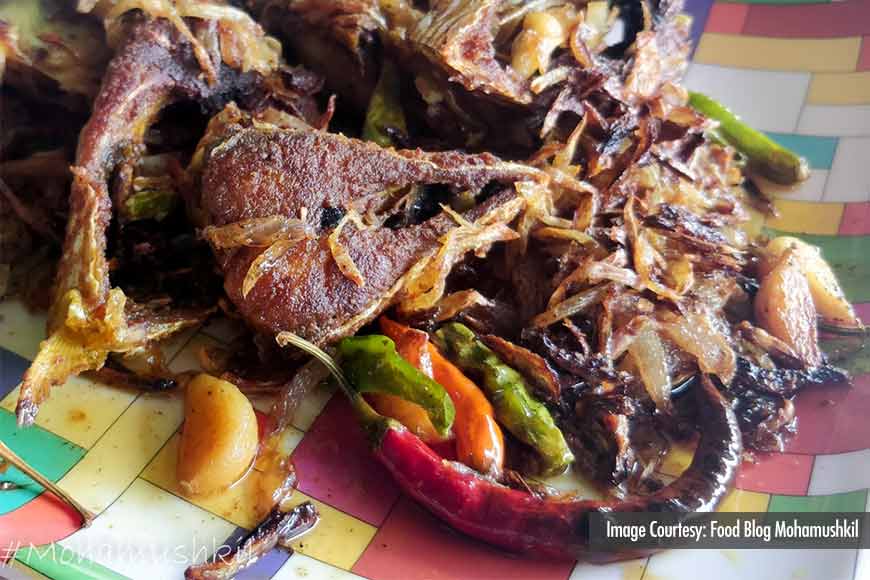 Tales of Mawaghat
In his blog, Indrajit also describes the different kinds of Ilish Bharta he tasted at Mawaghat, alongside 'bharta' made of other things too. He adds that unlike in this part of Bengal, Bangladeshi hilsa cooking relies heavily on onion and garlic, and there's a'hilsa' gravy cooked with potatoes, too.
Poorna Banerjee, food blogger and social media strategist
I have tasted ilish risotto, ilish machher dom, hilsa with lime juice, cashew, green chilli,and almond paste which my grandmother used to cook. A friend of mine cooks 'ilish panikhola', which is literally hilsa boiled with onions, like a stew; an aunt would cook hilsa with 'bori', which we all detested! But I loved the smoked hilsa that Chef Pradip Rozario (of KK's Fusion and Mio Amore) used to make, and the 'doi ilish' that my mother makes, with a sprinkling of coconut.
I like the 'ilish pulao' that they make over in Bangladesh. But there was an 'ilish halua' that a friend once tried to feed me as a dessert, which I absolutely draw the line at!
Besides, there is 'ilisher tok' and 'ilish shukto', but the one dish I would really want to taste is 'ilish machher lotpoti' which I found in one of Shibram Chakraborty's Harshabardhan stories. But here, I would like to share a recipe for an Ilish Bharta: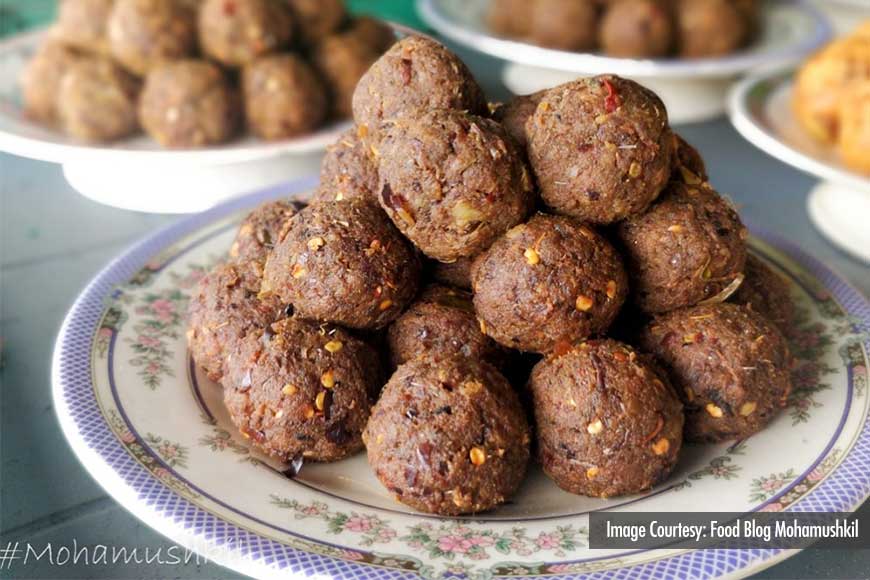 Ilish bharta
Ilisher Til Bharta
Ingredients:
| | |
| --- | --- |
| Hilsa | 2/3 pieces, fried, shredded and all bones removed |
| Mustard oil | 2 tbsp |
| Toasted sesame (til) seeds | 1 tbsp, ground to a paste |
| Salt to taste | |
| Crushed green chillies | 1 tsp |
| Ginger paste | ½ tsp |
Method:
Heat oil and fry the green chillies ginger together. Add the sesame paste and fry till it loses all rawness and becomes golden. Add hilsa shreds and mix well. Add salt and serve with hot rice. Finish with a dash of raw mustard oil.
Subhadip Basu, foodie, YouTuber and host, Talkathon With Subhadip
I had hilsa biryani and hated it! Some experiments are just not destined to succeed. Yet another failed experiment, in my opinion, is hilsa steak, which I had at a Kolkata restaurant, and wished I hadn't. If you ask me, I will stick to the dishes I know. Hilsa is too precious to throw away on experimentation!