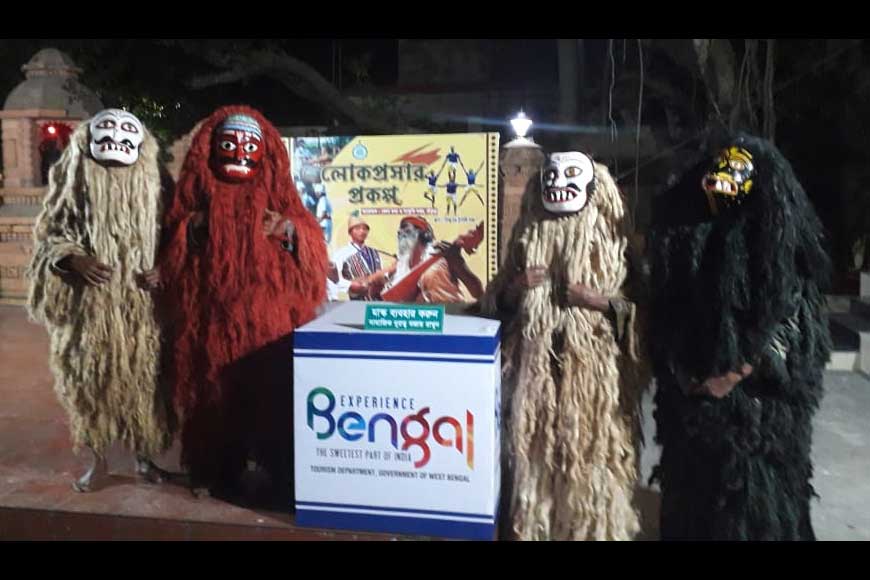 LPP programme at Bishnupur Tourism propoerty
A few years ago, the West Bengal government had announced a unique project titled Lok Prasar Prakalpa (LPP), designed to showcase the various traditional performing folk arts of Bengal, primarily in the field of music and dance. As part of the initiative, folk artistes between the ages of 18 and 60 receive Rs. 1000 per month as retainer fee, while artiste above 60 receives the same amount per month as pension. As of now, approximately 2 lakh plus folk artistes benefit from the project. The State Tourism Department has tied up with LPP scheme, under the Department of Information and Culture Affairs and artistes to initiate another unique value addition intended to both boost traditional folk arts and culture, as well as entertain and enrich tourists.
The format is fairly simple, yet ingenious. Across Bengal's government-operated tourism properties, these artistes will stage cultural programmes to cater to guests. And this will be done across 14 properties belonging to the West Bengal Tourism Development Corporation Ltd (WBTDCL). The initial plan is to organise these programmes thrice a week, with particular emphasis on weekends, strictly maintaining Covid protocol such as social distancing and wearing of masks.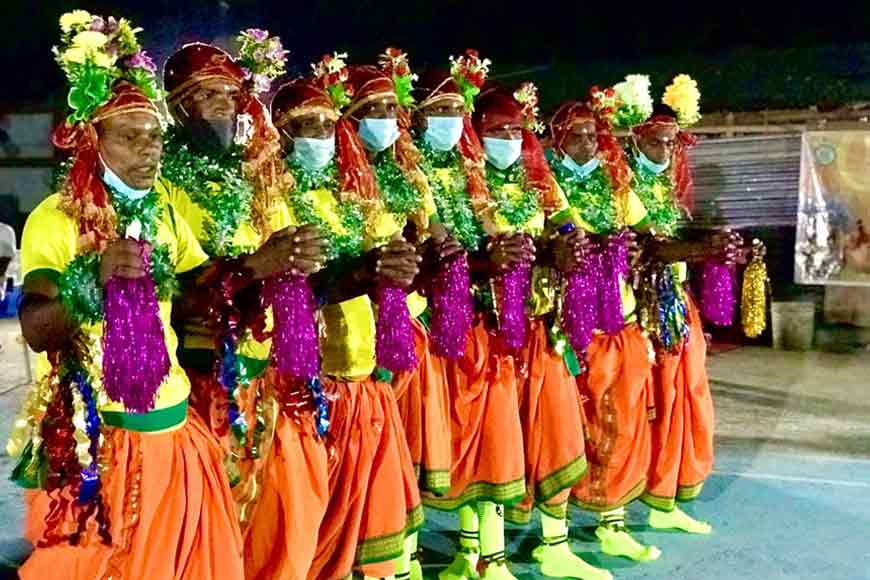 LPP programme at Jhargram Rajbari Tourism Property
Needless to say, the programmes are intended to highlight both the folk arts native to a particular region of Bengal, as well as to entertain the guests at these properties. However, there is yet another side to them. Part of the plan is also to spread awareness about the pandemic through the various folk genres. This would be in tune with what these artistes have been doing for a while now, propagating different state government schemes such as Kanyasree, Jubasree, and Shikshasree through their performances. They have also taken up such causes as health and sanitation awareness, and campaigns against such social evils as dowry, child marriage and human trafficking.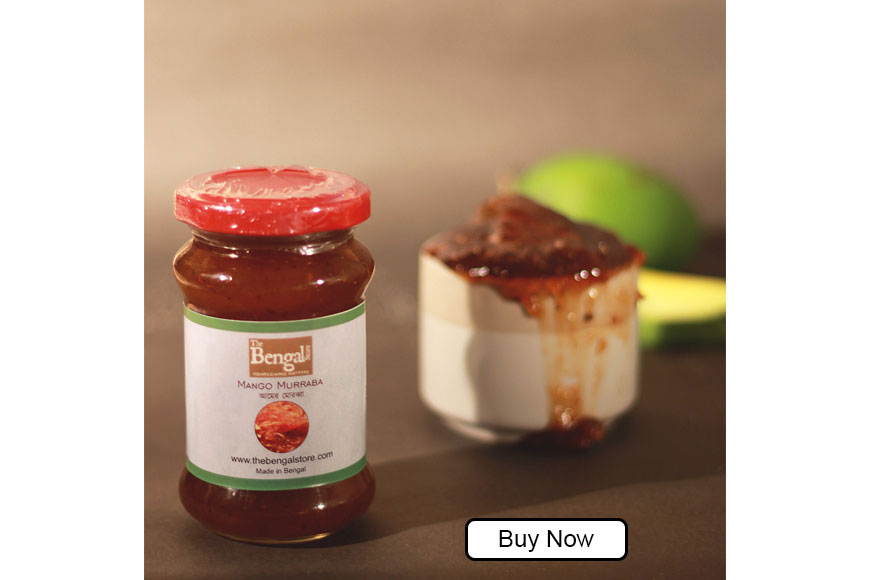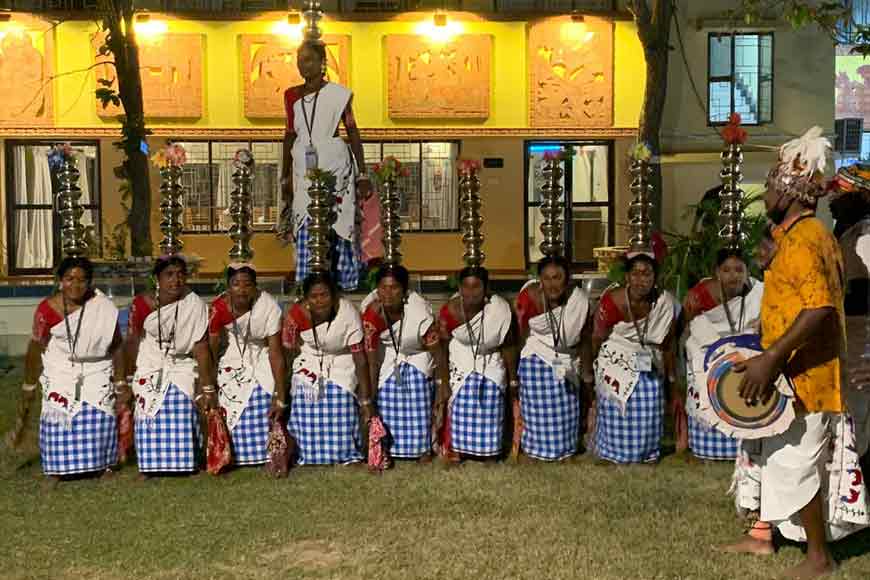 LPP programme at Rangabitan Tourism Property
This is possibly the first time that a concerted effort has been made to tie the immensely rich and varied folk arts traditions of Bengal to its tourism sector. So now, whether you are in Jalpaiguri (BhorerAlo, Murti, and Tilottoma Tourism Properties), Birbhum (RangabitanTourism Property), Purba Medinipur (Dighali Tourism Property), you will be treated to the rare privilege of watching folk artistes performing live in their own cultural milieu, instead of a stage in Kolkata.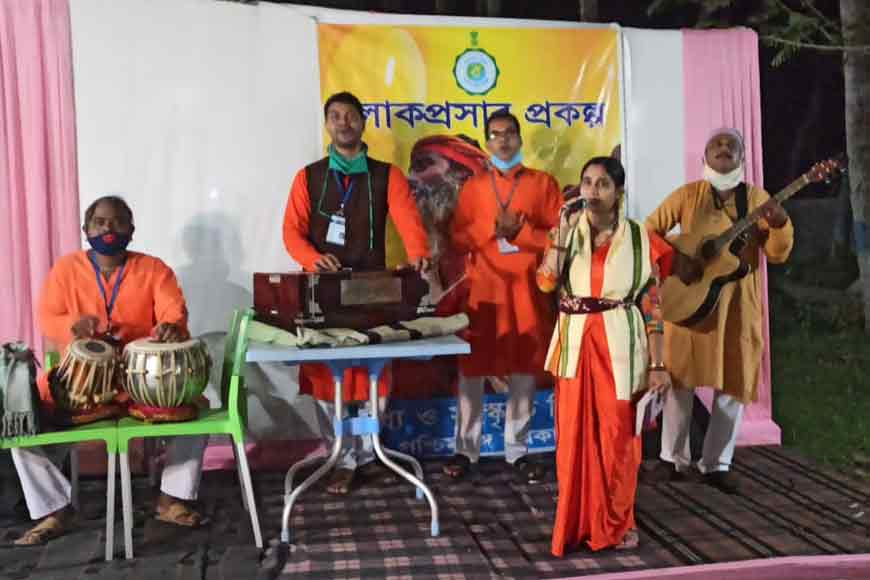 LPP programme at Rupmanjari Tourism property
As of now, the districts to be covered under the new initiative are South 24 Parganas, Jalpaiguri, Purba Medinipur, Paschim Medinipur, Bankura, Jhargram, Darjeeling, Alipurduar, Birbhum, Howrah, and Paschim Bardhaman. For more information on the tourism properties in these districts, contact
West Bengal Tourism Development Corporation Ltd
DG Block, Sector-II, Salt Lake
Kolkata 700091
Phone: (033) 2358 5189, Fax: 2359 8292
Email: visitwestbengal@yahoo.co.in, mdwbtdc@gmail.com, dgmrwbtdc@gmail.com