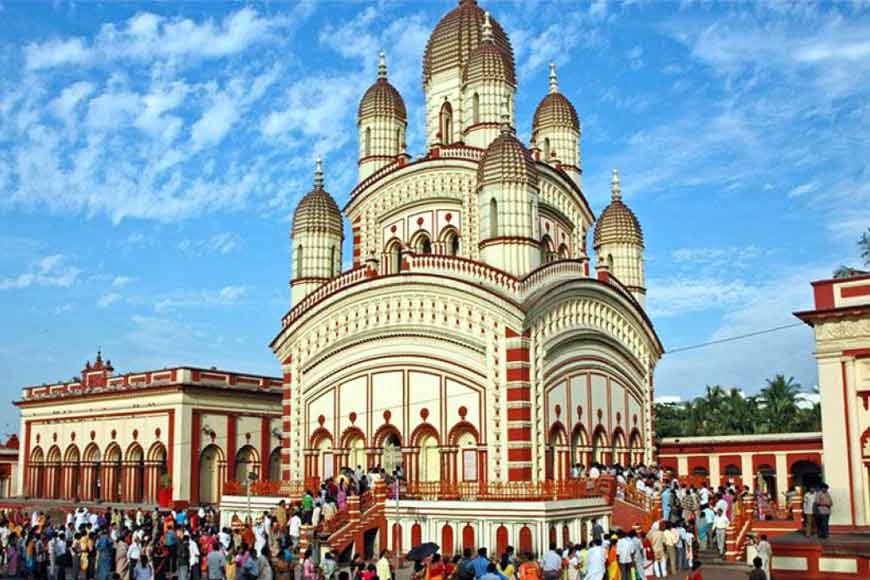 June 4, 1855. Sambad Prabhakar, a widely circulated Bengali publication of the day run by Ishwar Gupta, published a report which, loosely translated, read: "The pious Rani Rashmoni of Janbazar has established an idol of the goddess on the occasion of purnima in the month of Jyaistha at the amazing Nabaratna and other temples of Dakshineswar."
The event, which had taken place on May 31, was long overdue. For the redoubtable Rani, overcoming various social and logistical obstacles to find a suitable date had been a challenge. To top it all, long before the temple was ready, the idol of Bhabatarini Kali had been created out of black basalt by renowned sculptor Nabin Bhaskar of Dainhat, today in Bardhaman (East) district. The four-armed goddess was less than three feet tall, and stood on a prostrate Lord Shiva as Kali usually does, though he was made of white marble. Awaiting completion of the temple where she was to be housed, she had been lovingly stored in a wooden box. But Rashmoni was in a hurry to get her out of that box as soon as possible.
The idea for the temple, including its location, reportedly came to her in a dream in 1848, as she set off for Benares by boat along the Hooghly. Goddess Kali herself appeared in her dream, and is reported to have said, "There is no need to go to Benares. Instal my statue in a beautiful temple on the banks of the Ganges river and arrange for my worship there. Then I shall manifest myself in the image and accept worship at that place."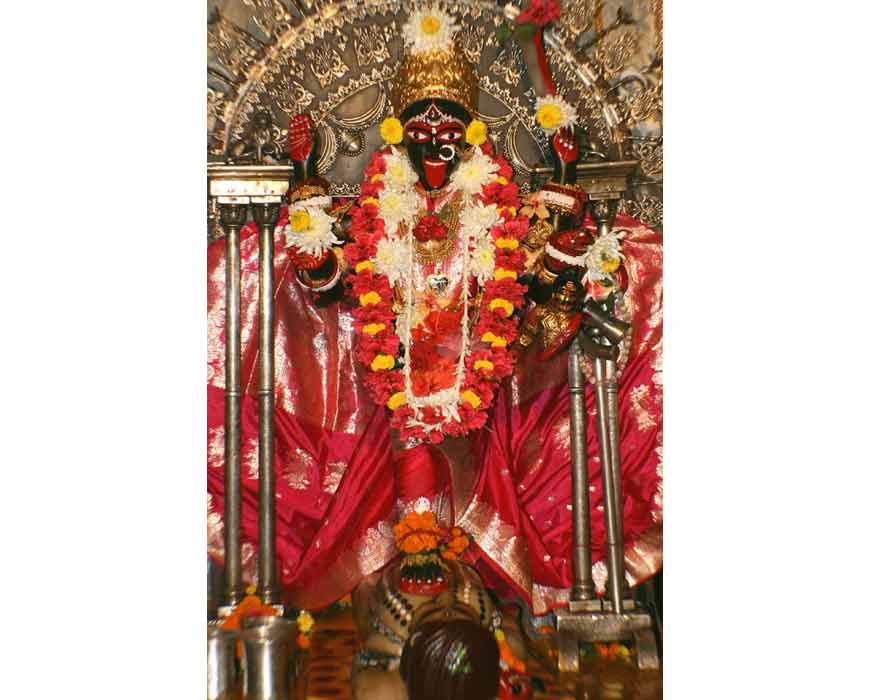 Determined that the temple had to come up on the west bank of the river, Rashmoni first sought land in the Bali-Uttarpara area. However, the local zamindars, led by Ramratan Dattaray of Narail and Pran Nath Choudhury of Satkhira, reportedly refused to descend to the river using a ghat constructed by someone else on their land. It didn't help that Rashmoni was a woman, a fact the powerful men seemed to resent.
Thwarted, Rashmoni shifted her attention to the east bank, where Balaram Sarkar of Bhatpara initially agreed to grant her the required plot of land, but pulled out at the last moment under pressure from conservative Brahmins, who were dead against the idea of a non-Brahmin widow constructing a temple.
Finally, she settled on Dakshineswar, where a 20-acre plot of land came not from any devout Hindu, but from Englishman Jake Hestie, a Christian. And part of the land was occupied by a disused Muslim burial ground apparently shaped like a tortoise, which was considered befitting for the worship of Shakti according to Tantra tradition. Built at a cost of over Rs 9 lakh in those days, the temple was finally ready to receive its goddess by end-May of 1855, with Ramkumar Chhattopadhyay as head priest. Soon, his younger brother Gadadhar (Gadai) moved in and so did his nephew Hriday to assist him.
On May 31, more than one hundred thousand Brahmins were invited from different parts of the country to grace the temple inauguration. The next year, Ramkumar died, and his position was given to Gadai, who would go on to change the very foundation of our beliefs as Shri Ramakrishna Paramhansa. His wife Sarada Devi lived in a small room on the ground floor, which is now a shrine in her memory.

The architecture of the temple was to be in the Navaratna style. Of this Rashmoni was sure. Which meant the spire would comprise nine layers, four at the bottom, four above it, and one at the very top. Her idea was probably based on the Navaratna temple to Radha-Krishna built by the famed Mandal family of Bawali near Budge Budge, who were related to Rashmoni's in-laws by marriage. The Mandals had also included nine Shiva temples within the Radha-Krishna temple complex, which possibly inspired Rashmoni to order the construction of 12 Shiva temples at Dakshineswar.
It was initially decided that the construction job would go to Indian workers and craftsmen. But the work progressed too slowly for Rashmoni's satisfaction. And engineering defects resulted in the washing away of constructed portions during high tide on the Hooghly. Reluctantly, Rashmoni handed over the job to British company Macintosh Burn, who began work in 1850 and completed it on time, not merely constructing the temples but also shoring up the bank so that riverine erosion caused no damage to the complex as a whole.
The day of the inauguration alone cost Rashmoni close to Rs 2 lakh, and the event was spectacular from every angle. Sambad Prabhakar reported that nearly 500 maund (approximately 2,000 kg) of sandesh, the famed Bengali sweet, was procured not just from Kolkata, but also Panihati, Baidyabati, and Tribeni, not to mention mountains of every other kind of conceivable sweet dish, milk, ghee, and curd. The idol was established as Jagadishwari (goddess of the world) Kali, a name that later became Bhabatarini (saviour of the world) by word of mouth.
The goddess is still known as Bhabatarini, but the history of her establishment at Dakshineswar is perhaps not as well known. As Kali Puja draws to a close, we hope this has been an enjoyable read.