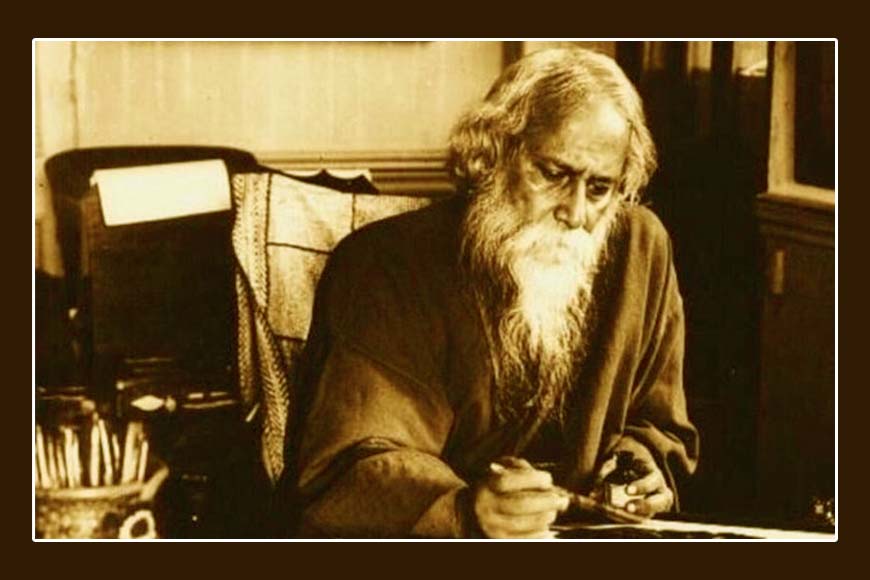 Who else but Rabindranath Tagore can come to the rescue of our battered mental health in these times of crisis? And why not? After all, he himself witnessed deaths of near ones over and over again to diseases that do have a cure today. His poems and songs often express his views on something as profound as 'Death.' But always with a positive note.
Poems can be considered as the continuous overflow of spontaneous feelings. The source of this continuous overflow of feelings is the creative self. Rabindranath Tagore himself and all his creations are the glorious archive of this creative self. So, any kind of searching for selfhood is enlightened with the re-interpretation of his writings which in turn helps in developing coping resources to deal with life's crises more adequately.
In his entire life span Rabindranath was confronted with several deaths of near and dear ones. In his adolescence, he encountered death for the first time with the loss of his mother, Sarada Devi in1875. She died in the dead of night when the entire Tagore household was in deep sleep. The stillness of the big house was suddenly shattered by the eerie wailing of one of the maids from the Andarmahal. His sister-in-law Kadambari Devi quickly admonished the maid and stopped her howling. Initially, Rabindranath did not feel the depth of the loss but when she was taken out of the house and taken to the crematorium, he suddenly felt a crushing blow.
The prospect of losing his mother forever was very difficult for him to handle. But this was just the beginning of his life-long encounters with death. This was also the time when the budding poet immersed himself into writing to forget everything. He gradually identified his mother's love in Mother Nature. Through this identification of the extended self, Rabindranath re-established and felt his mother's presence amid nature.
However, tragedy struck again on 21 April 1884, when Kadambari Devi (Notun Bouthan) committed suicide, just four months after Rabindranath married Mrinalini Devi. This death devastated him as Kadambari was his friend and confidante with a significant influence on his creative life. After her death, all traces of her existence were removed from Jorasanko Thakurbari, but it paved the way for a matured poet influencing his life's philosophy. While Rabindranath was yet to come out of the void left by Notun Bouthan's demise, one of his elder siblings, Hemendranath Tagore died suddenly. Tagore internalized his pain and channelized his deep-rooted existential doubts.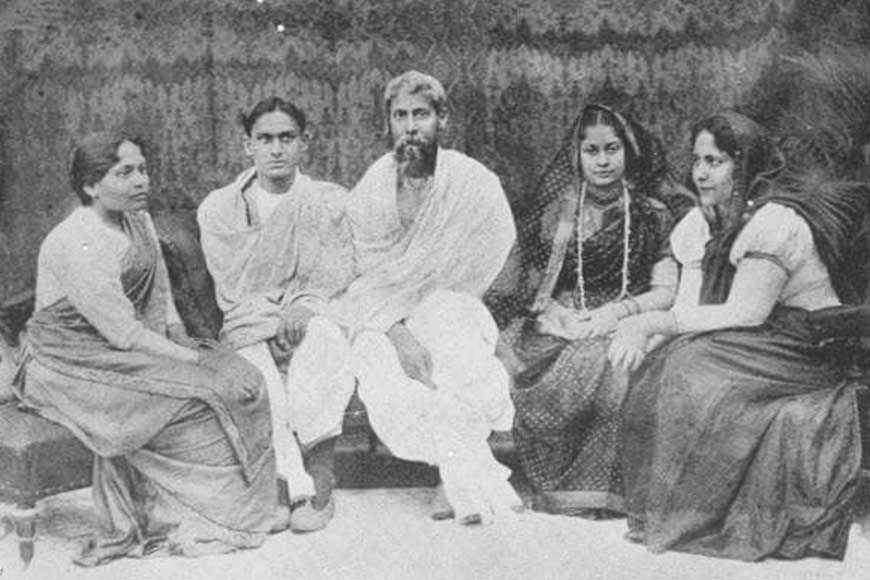 Tagore with his family
But loss of his own children was something that the poet needed days to come to terms with. Despite being a modern thinker, Tagore had his two daughters Madhurilata and Renuka married even before they turned 15. Their subsequent unhappiness would make Tagore regret this decision for the rest of his life. A short while after that, Mrinalini Devi fell severely ill in 1902 while living in Santiniketan. She was shifted to 'Laal Bari' (Red House) where the poet tended to her personally and called the best doctors from Calcutta but none could diagnose her illness. She gave up her battle on November 23, 1902, at the age of 29. The poet was stunned but he did not let his agony get the better of him. He suffered in silence and continued to fulfill all his duties.
Death's stamp gives value to the coin of life; making it possible to buy with life what is truly precious --- that's what he writes."
In the same year his daughter Renuka fell ill with tuberculosis. According to her doctors' advice, Tagore took his daughter to the Himalayas in May 1903 for a change of climate. He not only looked after Renuka himself, but kept her entertained and cheerful with many children's poems that were later published as Shishu. Half a year later, on September 14, 1903, Renuka died. She was only 13 then. But Tagore's chalice of sorrow was not full yet and there was more to follow soon. On January 19, 1905, on a chilly winter night, Rabindranath sat next to his father chanting hymns from the Upanishads and saw him severing his worldly ties and setting sail for life after.

He engaged himself in myriad activities to conquer his sorrows. His writings continued at a frenetic pace. He married off his third daughter Meera. His life now revolved around his professional commitments. His youngest son, Shamindranath was a quiet, sensitive child with a creative streak. He resembled young Rabindranath in many ways. But the Almighty had other plans for him. Shamindranath went to spend a few days with his friend's family in Munger. There, on November 24, 1907, on the fifth death anniversary of his wife, his son Shamindranath died of cholera at the age of 11.
As Shamindranath lay on his death bed, Rabindranath sat stoically in an adjacent room. He later wrote, "When his last moment was about to come, I was sitting alone in the dark in an adjoining room, praying intently for his passing away to his next stage of existence in perfect peace and well-being. At a particular point of time my mind seemed to float in a sky where there was neither darkness nor light, but a profound depth of calm, a boundless sea of consciousness without a ripple or murmur. I saw the vision of my son lying in the heart of the Infinite and I was about to cry to my friend, who was nursing the boy in the next room, that the child was safe, that he had found his liberation. I felt like a father who had sent his son across the sea, relieved to learn of his safe arrival and success in finding his place. I felt at once that the physical nearness of our dear ones to ourselves is not the final meaning of their protection. It is merely a means of satisfaction to our own selves and not necessarily the best that could be wished for them."
Just a month before Shamindranath's demise, Rabindranath lost his close friend, Brahmabadhav Upadhyay and he kept his loss under wraps. As the pain of separation was getting unbearable, Rabindranath exerted tremendous effort to get rid of the depression and eliminate the negative forces. With Shami's death, he slowly began to understand the inner meaning of eternity.
Meanwhile, Rabindranath made several trips abroad, delivering lectures and tapping resources for his school at Santiniketan. In 1913, he was awarded the Nobel Prize for Geetanjali. His busy schedule was interrupted in 1917 when he learnt that his eldest child, Madhurilata aka Bela had tuberculosis. Rabindranath visited her for a month in July 1917, spending time next to her bed and reading to her. Madhurilata died on May 16, 1918. Tagore wrote Polataka (partly published in English as Fugitive, 1918), Tales in Verses, in the same year in which Bela died.
All his life, Rabindranath confronted an internal dilemma in the face of the interfering death and continuation of life. He sublimated his agony in a positive and healthy way. Though he lost his love objects many a time, a positive approach helped him to regain his faith in life. May be we can do the same.