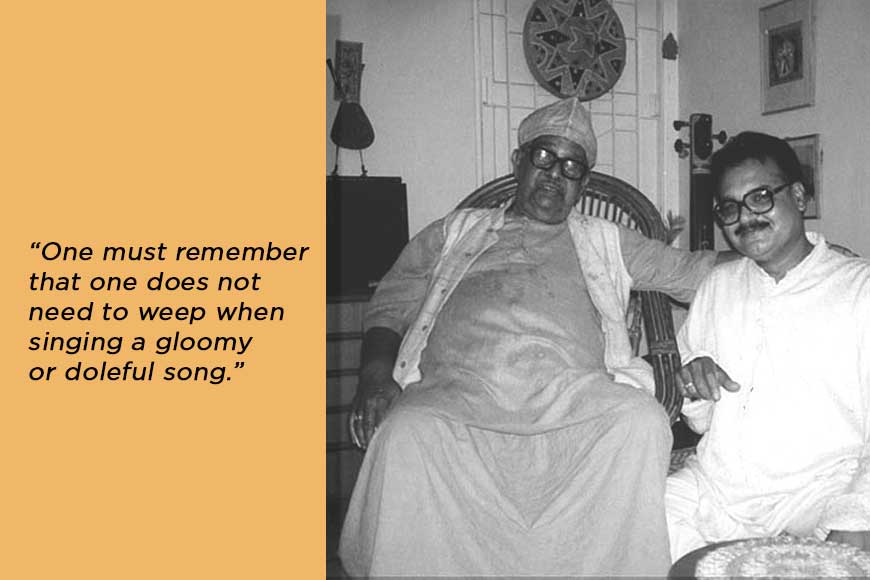 Oi aasontaler maatir pare lutiye rabo/ Tomar charon dhulay dhulay dhusaro habo/ Keno aamay maan diye aar dure raakho?/Chirojanom emon kore bhuliyo naako,/Asanmane aano tene paaye tabo./Tomar charon dhulay dhulay dhusaro habo
(I shall lie on the floor under your seat /and get smeared in dust and soil from your feet/ Why do you weigh me down with honor and keep me at bay/ Don't pacify me for a lifetime and keep me gay/ Crush my ego and drag me closer to your feet/ I want to get smeared in dust and soil from your feet)
Rabindranath was in Santiniketan when he wrote this song set in tri tal, Baul raga. The year was 1909. This is the holy soil of Santiniketan where creative souls converge to smudge their body with the soil and then initiate their trailblazing journey, each reaching new heights in their respective fields with their arts. Mohan Singh Khangura enjoys his stay in this holy land as he saunters, humming a Rabindrasangeet – songs that deal with all human emotions -- songs of loneliness and sorrow, of unbridled joy and contentment… songs move on towards the Ajoy River, riding on the wings of music like a free-spirit and as the early rays of the rising sun kisses the soil, the mist disappears and with it the faint strains of music dissolve in the air.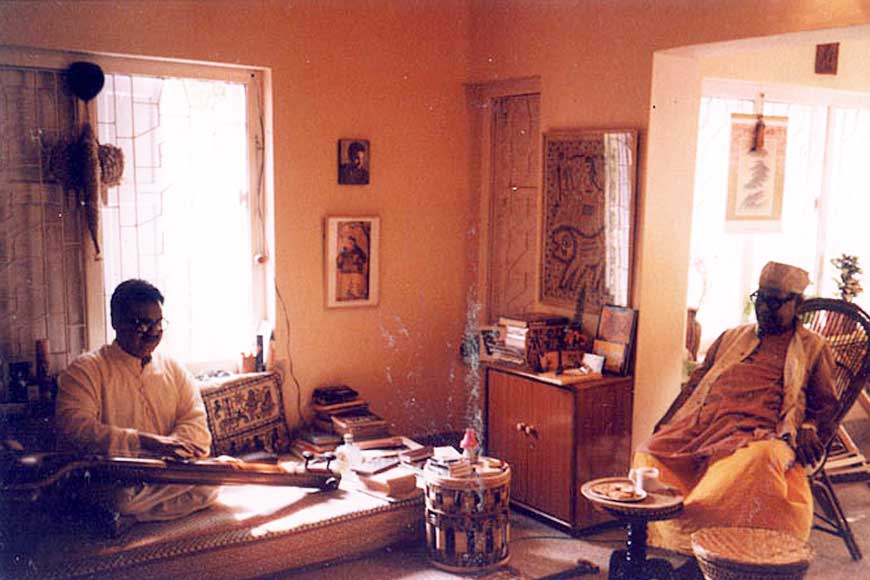 Mohan Singh with his Santi Da
At this point, one is keen to know about Santidev Ghosh's reaction to Mohan Singh's rendition of Rabindrasangeet. Mohan Singh looks intently outside the window. He is perhaps trying to recollect vignettes of images that flicker in his inward eyes. He says, he published his first cassette of Rabindrasangeet in 1994. Santidev Ghosh's brother, Montu-Da had borrowed the cassette from Singh and taken it home to listen. Santi-Da never listened to recorded cassettes and there were heaps of these unheard cassettes in his house gifted to him. But he asked Montu-Da to play Singh's cassette. After listening to the compilation, he called up Singh and said, "Don't ever leave singing Rabindrasangeet." That was the first time Santi-Da had called Singh.
After this incident, Santidev Ghosh frequented Mohan Singh's house to listen to him doing Riyaz. Before leaving, he would say, "Tomorrow I shall listen to Aahir (Raga). The next day it could be Todi." And then suddenly he asked Singh, "What is the difference between Miyan ki Todi and Durbari Todi?" Then he asked Singh to sing the differences in the two Todis. Santidev Ghosh was very fond of Mohan Singh's rendition of Rakho rakho ray that was part of the compilation of the first cassette.
Sometimes Santi-Da dropped in the evenings. He would say, "Who do you think has taken the baton from Dinu-Da's (Dinendranath Tagore) style of Gayaki, and Gati? All the mechanical devices, the nuts and bolts have become too loose in my case. I found the Gati (movement) in your rendition."
Mohan Singh says, there are singers who put on too much emphasis on Bhava and forget the aesthetic aspects of swar and taal (the musical meter). One must remember that one does not need to weep when singing a gloomy or doleful song. Instead, one needs to touch the inner raw core of pain and sorrow and feel it to delineate the correct bhava of Rabindrasangeet and Singh has dedicated his entire life in search of the accurate bhava and expressing it precisely.
Transcribed from an original interview of Mohan Singh Khangura taken by Arpita Chatterjee