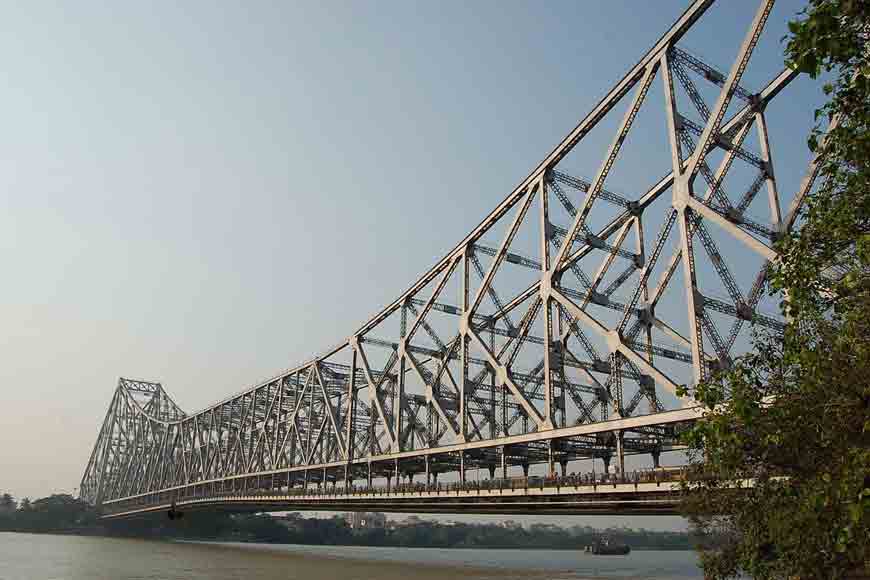 Howrah Bridge is a bridge with a suspended span over the Hooghly river in Kolkata. Commissioned in 1943, it's original name was 'New Howrah Bridge.' In 1965, it was renamed as Rabindra Setu in honour of Nobel Laureate and famous Bengali poet Rabindranath Tagore. It is still popularly known as the third largest cantilever bridge, behind 'Pont de Quebec' (549 meters) and 'Forth Bridge' (521 meters) of Scotland. Since then, it has been surpassed by three more bridges, making it the sixth largest bridge in 2013.
Before the Howrah Bridge came into existence, people were using a Pontoon bridge. As the bridge had got overloaded, the British built this new bridge. The construction started in 1936 and finished in 1942. The construction got delayed because of World War II and more than half of the steel was supplied by Tata Steel Company. Today, the bridge serves as the 'Gateway of Kolkata' connecting it to the Howrah Station, one of the four intercity train stations serving Kolkata and Howrah.
When I was young, my family used to live in Abu Dhabi. While going back to the UAE, sometimes, during take-off, from the flight I used to see the Howrah Bridge and every time I would feel happy and proud, that I was a part of this country, India, that owned such a wonderful bridge and at the same time sad, for Howrah Bridge would be the last reminder, that I was leaving my country.
Now, after relocating to India, while returning to Kolkata via a train journey, I can see the Howrah Bridge which leaves me with a feeling that I have entered my homeland.
On the few occasions that I have seen it at night, it leaves with feelings, that are, of course, not easy to describe. It's my belief that Howrah Bridge would continue to serve millions of generations in the coming years and would be appreciated by many more.