Howrah Para swimmer scripts history by crossing English Channel two ways - GetBengal story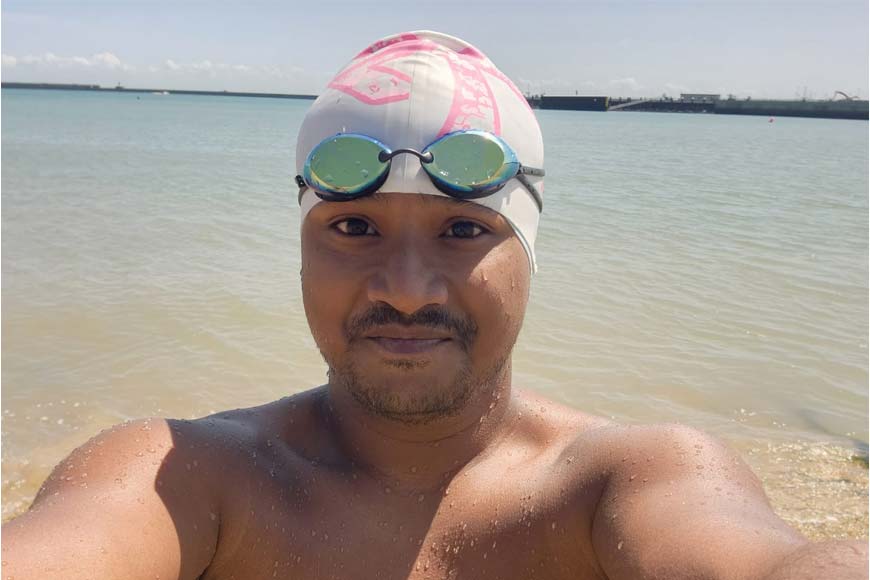 Swimmer Rimo Saha
Former Russian swimmer, Alexander Popov, known as the Russian Rocket and Czar of Swimming, is widely considered the greatest sprint swimmer in history. He had once said, "The water is your friend...you don't have to fight with water, just share the same spirit as the water, and it will help you move."
Recently 33-year-old Para-swimmer Rimo Saha of Howrah scripted history when he crossed the English Channel two ways. The first Bengali to access the English Channel two ways in his very first attempt, Rimo was one of the six-member Indian Para swimming team. He is also the first Asian to complete the 70-kilometer swim in 31 hours and 49 minutes. Rimo was the only representative from West Bengal there. The swimmers started early on July 18 from Shakespeare Beach, Dover and ended at Old South Foreland Lighthouse, Dover, after touching Wissant in France on July 19.
Swimmer Rimo Saha, from Howrah, West Bengal, crossed the English Channel
Mihir Sen was the first Asian to conquer the English Channel in 1958. Since then, many adventure sports enthusiasts and professional swimmers from across the globe have taken up the challenge, some have succeeded in their attempts and others have been forced to either give up or have died in their strive. Few challenges are as daunting as swimming the English Channel. It is not only about the distance but also about confronting the bitter cold, polluted waters across one of the world's busiest shipping lanes and the most powerful currents. The feat literally takes mental resilience to its highest scale of intensity. According to statistics available, the English Channel swim has only a 20 percent success rate.
Earlier in 2018, Rimo crossed the English Channel (from Dover, UK to Audinghene, France) in relay format (12 hours and 46 minutes), setting up a National record. In 2019, he crossed the Catalina Channel (between Catalina Island and California) USA twice – setting a National Record of 10 hours and 59 minutes on August 15 and an Asian Record of 11 hours and 35 minutes on November 2 respectively. In conversation with Get Bengal, Rimo opens up about his trials and tribulations and his meteoric rise.
Rimo Saha's journey as a swimmer commenced when he was too young to know anything about the sport. The boy from Salkia, Howrah was born on June 29, 1990, and within a month-and-a-half of his birth, contracted diarrhea and was detected with physical disability. Rimo was born with his right leg slightly smaller than his left and was diagnosed with post-polio syndrome (PPS) which leads to deterioration of nerve cells called motor neurons over the years and loss of muscle strength and dysfunction. Early detection and concentrated efforts by doctors saved his life and they told his parents to introduce him to swimming and cycling as soon as possible because that would strengthen his lower body and legs and he would be able to walk on his own in the future.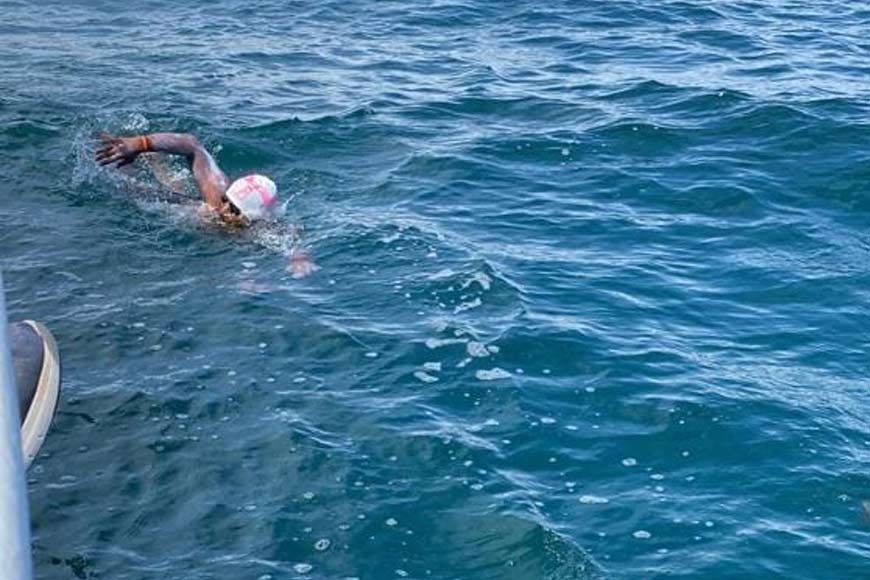 "My parents bought a balance bicycle for me with supporting wheels at the back for strong balance and support. As soon as I was out of my crib, they admitted me to Salkia Swimming Association. In 2003, I came to know about Para-athletics, the sport of athletics practiced by people with a disability. I also discovered about Para National and Para Olympic events. This motivated me to better my performance and participate in aquatic events. My coach, Mihir Manna, encouraged me and helped me set my target. I began training intensely under his supervision for the events. I went to Mumbai in 2004 for the first time to participate in the Para National Games. I could not perform up to my expectation and came back with three Silvers and a Gold medal. The next year, I again participated in the National Para Games. This time I had prepared myself fully and won five Gold medals. I put in more steam in my practice and began to participate in the nationals every year. From 2004 until now, I have participated in 21 National games and have won 51 Gold, 30 Silver and 18 Bronze medals. I also participated in State-level Para games and in the recently concluded edition, I won two Gold medals in the two aquatic events hosted in the Para games."
In 2008, when Rimo returned home after his prizewinning spree at the Para National held at Karnal in Haryana, he got the news that he was selected for the XIX Commonwealth Games 2010 scheduled to be held in New Delhi. In 2009, the 8th edition of the IWAS (International Wheelchair and Amputee Sports Federation) World Games 2009 Para Olympics was held in Bengaluru and Rimo won a Silver medal at the event. This was his first medal in an international event. However, he was also going to take his Secondary Examination (Madhyamik) in 2010 and his family was dead against him joining the India camp for training. "Both my parents were not ready to allow me to go and attend the camp on my own. It was very tough for me but in the end, I managed to convince them and went. I am the first athlete from Bengal who participated in the Commonwealth Games as both a regular swimmer as well as a Para swimmer. I was the only representative in aquatic events from Bengal."

Being a participant at the Asian Games and Commonwealth Games opened the doors of opportunity wide for Rimo and in 2011 he was selected for the 2012 Para Olympic Games scheduled to be held in England. However, this news came laced with disappointment for him because, during this time, the Para Olympic Committee of India was under international suspension. Hence, the committee could not sponsor any participants. Those who wanted to participate would have to shell out their own money to join the games. Rimo says, "My father works as a security guard and my mother is a homemaker. I did not have the resources to participate in the Olympics and had to let go of the golden opportunity that came my way."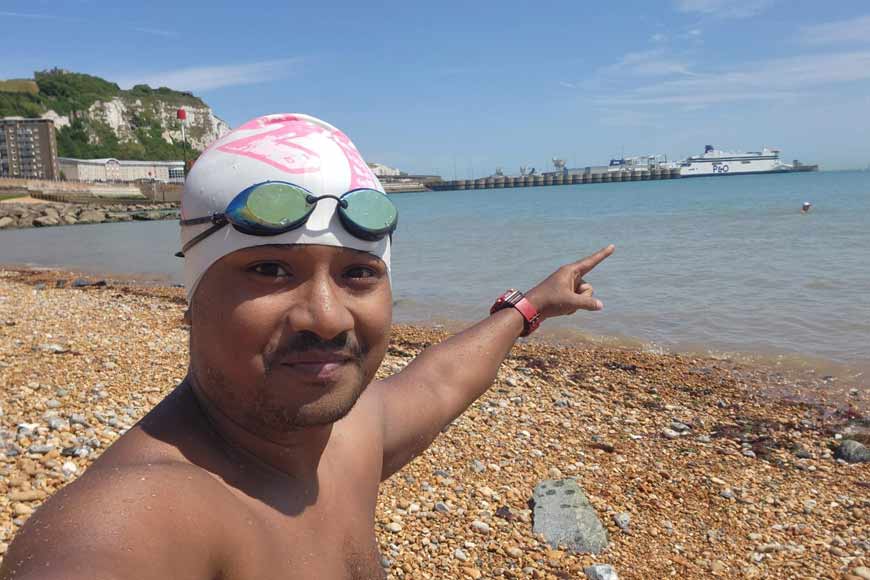 This was a major blow for Rimo and he was shattered. He was confused as he suddenly found himself at a dead end with no light at the end of the tunnel. All his life he had excelled as a sportsman and wanted to progress further but when he realized he had lost the chance of a lifetime, he went into depression. "Olympic offers don't come in one's way often. I too, never got a second chance," rues Rimo. Finally, in 2011, he oriented himself and started free swimming. From 2015, he pursued open water swimming or swimming in outdoor bodies of water such as open oceans, lakes, and rivers.
"In 2017 at the 17th National Para Athletic Championships held at Jaipur, I met fellow Para swimmers and mooted the idea of forming a team and representing our country as a relay team and crossing the English Channel. My coach Rohan More approved my plan and helped me prepare for the event. Finally, on June 28, 2018, I, along with my teammates from different states, started our venture and crossed the English Channel in relay format (12 hours 46 minutes), setting a National Record. Our next port of call was the Catalina Channel, Los Angeles, USA. We crossed this channel twice in 2019– setting a National Record on August 15 and an Asian Record on November 2 respectively. In 2022, we crossed the North Channel, a strait between north-eastern Northern Ireland and south-western Scotland, in relay swimming. We completed swimming this stretch in 14 hours and 38 minutes. We are the first Asian team to cross the North Channel in Europe." The North Channel is considered by most, the toughest of the Ocean Seven swims in that it is very cold, is plagued by the notorious lions' mane jellyfish, and involves many competing tides and currents.
Not one to sit on his laurels, Rimo was already planning his next course of action and decided to attempt swimming across the English Channel both ways. "While swimming, there were times when I was reminded of a recent incident in which 42-year-old British firefighter Iain Hughes went missing in the Channel. When I was fighting against the treacherous waves and wind of the Atlantic Ocean in the dead of night, such thoughts would occur in my mind but I would immediately process my thoughts and pray for strength. Every time after completing a challenge, when I raise the Indian flag and stand next to it, I feel a rush of adrenaline in my body. It inspires me to move on, take up newer challenges and attain higher glory for my country."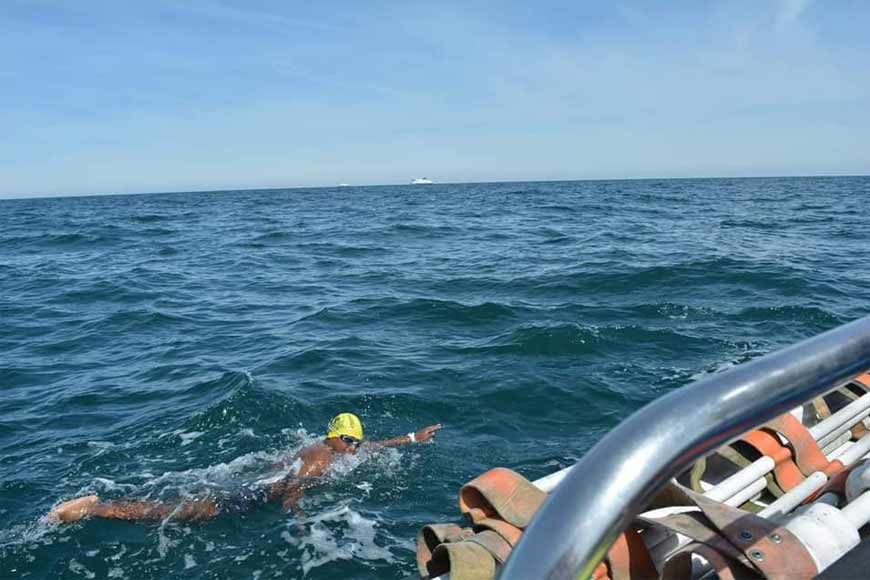 Back from his successful stint, Rimo is planning to cross the Molokai Channel and in another venture, to swim from Robin Island to Cape Town. No physical challenges have been able to deter Rimo from achieving his dreams but lack of funds has often impeded his journey. He has been applying to the state government for a job that would help him overcome his financial crisis. "I have sent my credentials and applied several times for a secured job to both our Chief Minister, Ms. Mamata Banerjee and our Sports Minister, Manoj Tiwary, but I am yet to get a response from them.
My recent English Channel expedition cost me a whooping Rs 8 lakhs and I had to beg and borrow from friends and acquaintances and they contributed around Rs 80,000 but for the rest, I had to mortgage our house and avail a loan from the bank. It would have been smoother if I had a job to fall back on. Sponsorship from corporate organizations is hard to come by and at the day's end, I feel frustrated and regret having taken up an adventure sport like long-distance swimming. I don't know what the future holds for me," he trails off. It is a tough battle indeed but Rimo is a warrior and with his determination, he will definitely keep his head over water and win.