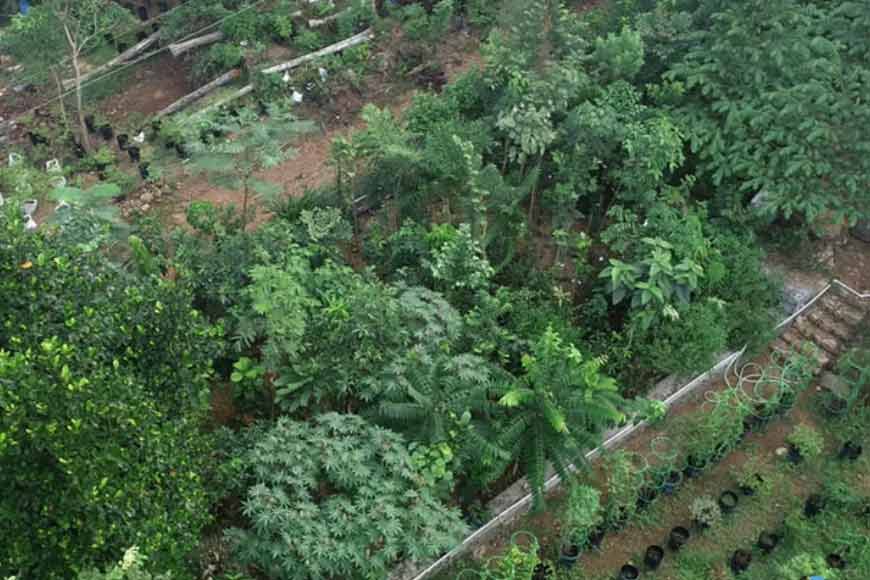 Howrah is often considered to be one of the most polluted cities of India, so much so that residents of different parts of the city suffer from respiratory ailments. Being an industrial city with multiple polluting factories and units, the air over Howrah is not just polluted in the township areas, but has also infiltrated the rural belts of Howrah district. Added to that concrete jungles are coming up by cutting down trees leading to further loss of green. Hon'ble Chief Minister Mamata Banerjee has always emphasized increasing green cover in the state to ward off the evils of tree felling and pollution along with water table depletion.

Keeping this in mind, the first of its kind Miyawaki Forest is coming up in Howrah's Kamalpur Gram Panchayat on the river banks. The Panchayats and Rural Development Department has started the work in full swing. The area chosen is Shibgunj under Shyampur Block I in between Gadiara and Garchumuk on a 1,000 square metre plot. The forest will be created following the Miyawaki method. Interestingly, this kind of tree plantation comes from Japan. Akira Miyawaki, the famous Japanese botanist and environmentalist invented the method of setting up forests where the trees grow at a very fast pace, as saplings are planted in quick successions, so that trees fight for sunlight and grow fast. In one square metre area, at least three to five saplings are planted. The approach is supposed to ensure that plant growth is 10 times faster and the resulting plantation is 30 times denser than usual. It involves planting dozens of native species in the same area and the forest finally becomes maintenance-free after the first three years.

A database has already been made covering all the native species of Howrah and adjoining area. Then species will be selected depending on their growth factor. Fruit and flowering plants are being given priority as they attract birds, butterflies and insects in large numbers. This ensures not just trees, but a healthy ecosystem in the area. Also trees that grow fast are being mapped. Minor native species can also be involved, though their numbers will be less than the major species. They will be used as 'Support Trees.' The Master Plan has been drawn along with the watering pipeline by a well-known architect.

The idea of making such a forest started as a pilot project two years ago and attracted representatives from 12 districts in order to find out if such fast growing low maintenance forests are possible in other districts too. The Additional District Magistrate along with senior officials of the Howrah district administration, State Forest Department and Panchayats and Rural Development departments were present at the inaugural function. The Panchayats and Rural Development Department has collaborated with an NGO to erect the forest. A total of 3,200 saplings spanning over 39 varieties will be planted. After Howrah, Miyawaki forests will come up in North Dinajpur, Malda, Murshidabad, South 24-Parganas, Purulia, Bankura, East and West Burdwan, Jhargram, West Midnapore, Birbhum and Hooghly. In a drive to conserve the environment and maintain the fast-depleting water level in the state, such forests will surely create a green revolution. The Panchayats and Rural Development Department has asked all the Gram Panchayats to take measures to conserve the environment and water. Erecting such forests is the first step towards such a goal.