Adapted from Nemai Ghosh's book Manikda – Memoirs of Satyajit Ray, this series highlights unknown stories about the great director and his crew as told by the late photographer Nemai Ghosh, who worked closely with Ray. In this episode, Ghosh tells the story of how he landed on the sets of Pratidwandi
After working on two consecutive films, I began to feel that the imperceptible wall between Manikda and me was gradually disappearing. Soon after, he decided to make a film based on the novel Pratidwandi and started discussing various aspects of its photography with me. I was even allowed the privilege of attending meetings of his core unit members where they discussed the logistics of filming. During this period, I accompanied him on recces on a regular basis, scouting for locations to shoot. In fact, wherever he went, I went. In other words, I started following him like his shadow. I was crazy about capturing his every moment on camera.
Earlier, during the filming of Goopy Gyne and Aranyer Dinratri, I had been like a student standing outside the classroom - not being allowed entry. But now, Manikda's body language hinted to me that it was no longer the case. I realised that I had been able to attract the teacher's attention, and it was he who ushered me into the classroom, holding me by the hand. This inspired me more than ever. Perhaps it was this inspiration that helped me overcome that difficult phase, with only my old camera to aid me. Pratidwandi is now history. The details of its picturisation, using the city of Kolkata as the background – are now known to all. I shall, therefore, allude to another incident.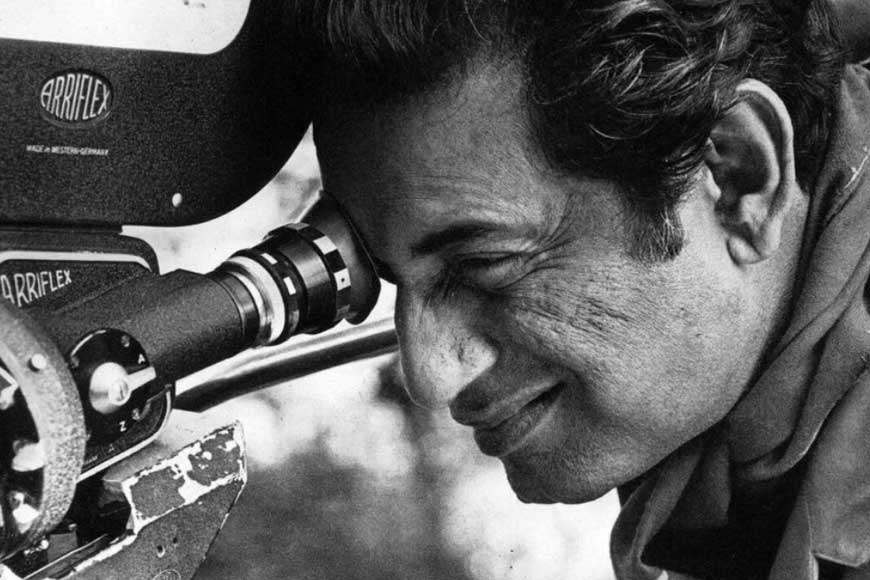 One day, a particular scene was being shot with Dhritiman standing at a specific location near Tiger Cinema (which has now closed down) and the Manohar Das tank. After the shot was canned, Manikda said: "No, it won't do. Get some hippies." Just a while earlier, a few foreigners had been roaming around the area. Manikda sent Tinu (Anand) and me to go and find them. We roamed around the lanes and by-lanes and finally in utter desperation started raiding the hotels on Sudder Street. Ultimately, we found them in one such hotel. On explaining, they agreed to come with us. Manikda was very pleased. As on earlier occasions, I took a lot of photographs and as usual, Manikda ticked those he liked and explained the shortcomings in the rest.
It was now that I came to be noticed by the public. People started realising that I had really taken some good photographs. I started being approached for prints and negatives. Even professional photographers wanted to buy my negatives at rupees five apiece.

However, even at this point, I was unsure whether I would really be a full-fledged photographer. Not knowing what to do, I approached Manikda one day and explained my predicament. Manikda advised me not to give away negatives, lest I be left with precious little. Later, before the release of the film, Manikda asked me for the negatives of a few of his selected stills for publicity. And it was for the first time that I had my name on the title card of a Satyajit Ray film.
At around this time, I received a call from another famous director to be the still photographer for his forthcoming film. It was to be a professional contract. But at the very outset, I made it clear to the director that he would have to relieve me if ever there was any shooting by Manikda during the duration of the contract. He agreed. In fact, he once allowed me to leave for Manikda's outdoor shoot, when his own film was on the floor. He was aware of my fascination for Manikda. He also knew I would leave his job if he did not release me, irrespective of the loss I might suffer if I did so. My fascination for Manikda was like that - unbridled, unreasonable.
(To be continued)