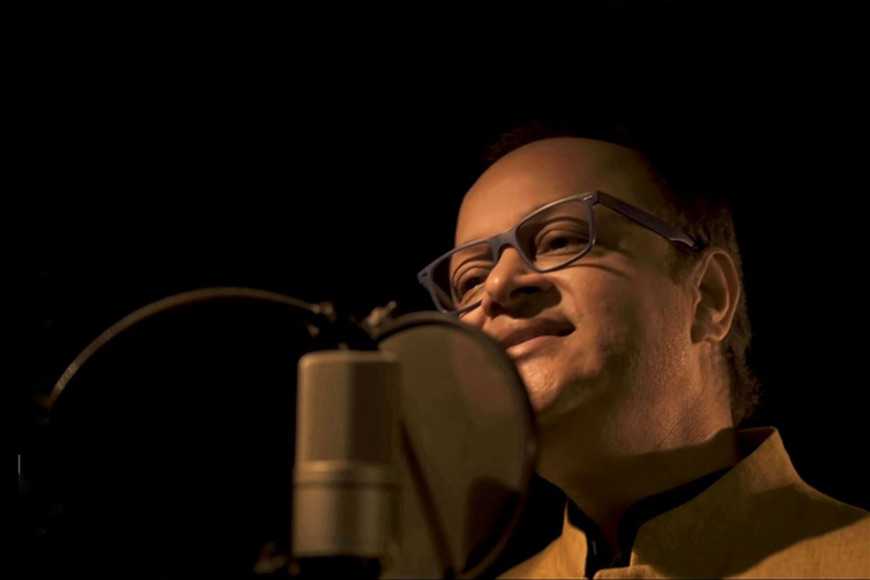 There are many who know that Vivek Kumar, additional Chief Secretary to the Government of West Bengal, is a gifted singer. For those who don't, a new single released by the veteran IAS officer on the occasion of Diwali ought to fill the gap. The single, titled 'Amar Kolkata', is accompanied by a music video and has been recently released by Asha Audio.
Kolkata has been the theme of many a musical career, beginning with Bangla band Mohiner Ghoraguli in the 1970s, to Nagar Philomel in the 1980s, and then on to such luminaries as Kabir Suman and Anjan Dutt, as well as many more Bangla bands. Vivek Kumar's Kolkata paints a beautiful portrait of the city as it appears to us, with all its pros and cons, and covers its entire length and breadth.
In the series of poems titled 'Smritir Shohor', Sunil Ganguly wrote, "The river lying awake at night pulls me in/ The deep darkness pulls me in/The doors of midnight open suddenly/As I arise from slumber..." This is a Kolkata that teaches its denizens to love, to feel proud, to go crazy, to cling to the city with all they have. This is probably why Sankha Ghosh wrote, "Another Kolkata lives within this one". It is that Kolkata we need to find, to understand.
Of course, Vivek Kumar is not a Kolkatan by birth. He is one by passion. His mother tongue is Hindi, though his profession obligated him to learn Bangla as soon as he joined the service in 1991. Over the years, what began as a professional requirement transformed into abiding love. For the language, the city, and its people.

The song and the video, which has already reached thousands of people, has elicited overwhelmingly positive feedback. About which Mr Kumar says, "I have loved Kolkata with all my heart. This song was born out of that love. You could call it my tribute to this city, though three minutes are nowhere near enough to describe the indescribable attraction that Kolkata holds. Still, I'm sure the effort will touch people deeply. Besides, Kolkata is the capital of West Bengal, so my song is an indirect tribute to the state as well."
The song has been written by Subrata Ghosh Roy and set to music by Mr Kumar, himself a Rajya Sangeet Samman awardee, with music arranged by Kunal Chakraborty. Speaking about her experience, the lyricist says, "Vivek sir was a constant source of encouragement. He took time out of his hectic schedule to unveil the city to me, layer by layer. I could visualise exactly what I wanted to write about, thanks to him." So she began the song with: "Kolkata is my city, without limit/ Kolkata blends into the sea of greatness, of spirit/From Belur to Baruipur we go/Bongaon-Canning join the flow..." But the place names are more than that. They also tell a story of lives and livelihoods. The video adds to this narrative, from the horse carriages at Victoria to the books at College Street, from street food to festivals of all religions