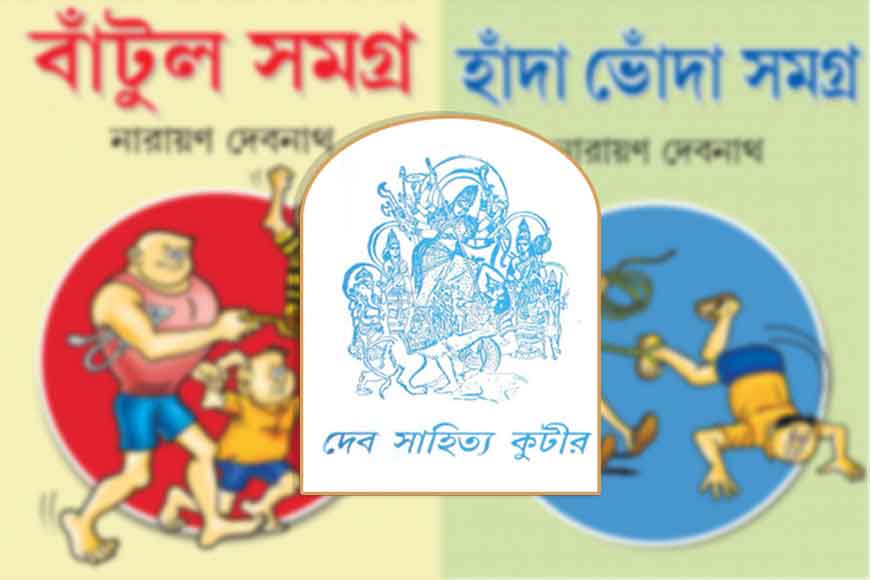 The very mention of 'Deb Sahitya Kutir' brings several childhood memories, from our favourite comics Hada Bhoda to Batul the Great, from Chhobite Ramayan, Mahabharata to that pink-covered Borno porichoy. Even the grand old pink mansion at 21/1 Jhamapukur that houses this erstwhile publishing house of Kolkata that goes deep within the ethos of Bengal's literature and culture, sends goosebumps. The green kharakhari windows and doors of the building tell tales of a glorious past. The plaque infront have words like 'Bordakutir' and 'Chamatkar Bari' written on it. During the golden era of Bengali literature, legendary stalwarts like Ishwar Chandra Vidyasagar, Haraprasad Shastri, Suniti Kumar Chattopadhyay used to visit Deb Sahitya Kutir regularly. There was a time when gems of Bengali literature including Ashutosh Deb's dictionary, Shuktara, Nobo Kollol, Vidyasagar's Bornoporichoy were published from Deb Sahitya Kutir.
This noteworthy publishing house of the city was started by Barada Prasad Mazumdar who also once owned a huge zamindari. But like many other zamindars of that age, he turned alcoholic and lost out on everything he had. However, he decided to start his life afresh. He came to Kolkata's Battala, which was an important centre for publications in those days. After going through a hard time, with the little savings that he had, he started ferrying books from house to house. By sheer hard work and tenacity, he opened a press, B.P. M'S press which has its name mentioned in The Calcutta Gazette of 1860.
The third son of Barada Prasad, Ashutosh Dev inherited the right to his father's business. He planned to publish a dictionary that became very famous. In 1924, he bought the copyright of many books of Vidyasagar. One of them being Borno porichoy. This was the year Deb Sahitya Kutir was officially established. Over the years, the publishing house gained importance for bringing out translations of children's literature, mythological stories, children's sharadiya magazines and a lot more. The journey of Deb Sahitya Kutir has truly been spectacular. The endeavour of the five generations has kept it alive and popular among youths and students.
Unfortunately, though Deb Sahitya Kutir is on its way to complete 100 years, the building did not receive a 'heritage tag' in the graded list of Kolkata Municipal Corporation. One of its recent owners, Rupa Mazumdar informed Purono Kolkatar Golpo that the house is under the threat of demolition by promoters. The PKG group had also made an appeal for the heritage tag of the building before. We have thus taken up the issue and the West Bengal Heritage Commission is expected to address this issue and work for the restoration of this iconic building, saving it from the hands of land sharks.