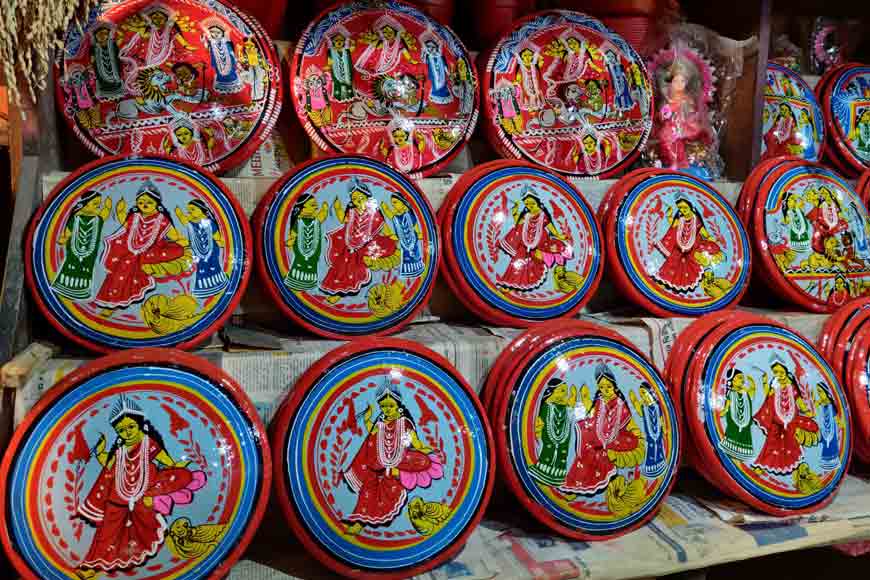 Kalighat sharas
In the age of modernization, most of our old practices and traditions are getting replaced or refurbished. Things that made sense even 10 years ago are now becoming obsolete. The earlier generations were very conservative and did not accept any changes to the norm easily. Nowadays, change has become the new constant. Everything is now susceptible to change --- from art, literature, language to even age-old religious rituals and festive vibes.
Quite naturally, Lakshmi Puja too has undergone several changes. A traditional practise that is endangered today is worshipping Maa Lakshmi (the goddess of wealth) on a shara (round terracotta saucers, also used to cover earthen pots). Decorated idols seem to have taken over the traditional pot or shara Lakshmi. Yet, they are still seen in some markets of Kolkata, though their demand is dwindling by the day.
The convex side of the shara is painted with different art forms. During Lakshmi puja many artists make "Lakshmi shara", the goddess of wealth painted on the convex side of the terracotta plates. It was very famous once upon a time, as people used to prefer worshipping goddess Lakshmi on a Lakshmi shara. These days, sharas are available in stores that make different things out of soil (maati) and clay. Patuapara is famous for such sharas. The Patua community (a community of chitrakars or artists) is renowned for different kinds of art such as patachitra, chalchitra etc including shara painting.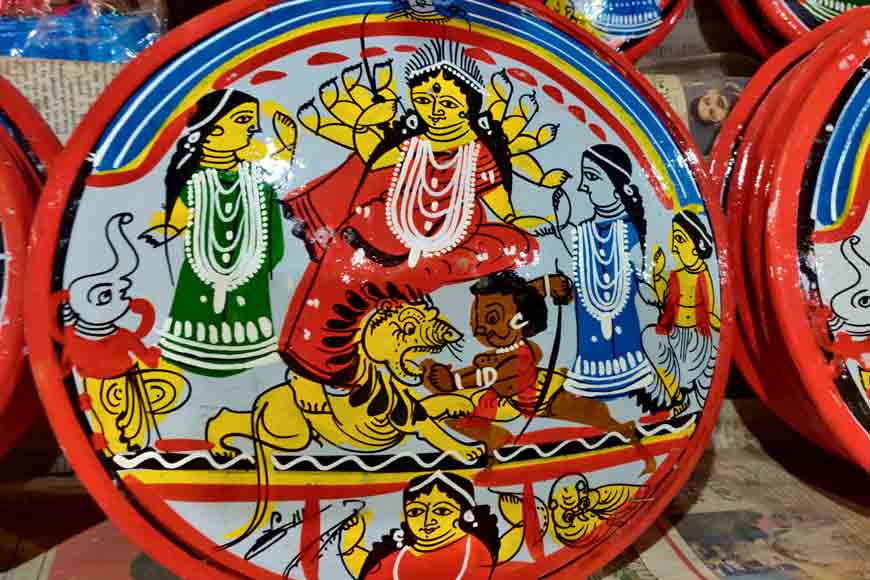 Shara of Durga and Lakshmi
Sharas can also be found in local stores in Kalighat who get their supplies from potters of Duttapukur, in North 24-paraganas. They are still found in Dashakarma stores (stores that sell things needed for rituals). Sharas of dashakarma stores are mostly plain as they are used for different rituals. Sometimes people buy plain sharas to try their hands at shara painting. As shara painting is a recognised old art form, schools often provide assignments to paint on sharas as an informative exercise for students to make them aware of our culture and how it is related to an age-old history of sharas. It is noticeable that most of the sharas have a Jamini Roy style of painting as it became very famous around 1920s to 30s.
Sarbani Ghosh Bose, a Sanskrit scholar, said: "Sharas are mostly of two types - one where at the top Ma Durga is painted with her children (Lakshmi, Saraswati, Ganesh and Kartik) and under it Lakshmi is painted individually. Another type is where Lakshmi is painted with Jaya and Bijaya (two shokhis or friends of Ma Durga). Here Lakshmi is worshipped as another face of Ma Durga." According to Bose, sharas are not immersed as they are supposed to be kept at home after it is worshipped. Her family has been worshipping Lakshmi on a shara for generations. They prefer the shara which has Durga with her children. "Lakshmi sharas are mostly used for pujas at home or what we call as ghoroya lokkhi pujo," she added.

Recently, this practise is fading away as people are switching to murtis or statues. Murtis have now become more popular because they are good to look at, easy to decorate and easier to handle. One of the shopkeepers of an old clay and soil store of Kalighat, Nirmal Kumar Pal, said: "Nowadays idols are more in demand than sharas. Few loyal customers buy sharas which is why we bring a stock of 105 to 110 sharas, from which around 100 are sold. Whereas 200 to 250 idols are brought of which 200 or more get sold." This data undoubtedly shows the popularity of sharas is fading fast. On being asked why, another shopkeeper added, "Sharas need hanging which can be problematic for the purohit (priest) to worship. Those who buy sharas, immerse the old one and keep the new one till the next year. Same goes for the idols. Idols can be placed in a thakur ghor (worship place) properly, hence making it easier to worship." They bring sharas from Panihati of North 24-paraganas. Their price ranges from Rs 130-140 that during times of demand can go up to Rs 220. It may vary from one size to another. Some people also buy idols of Ma Lakshmi and Ganesh together.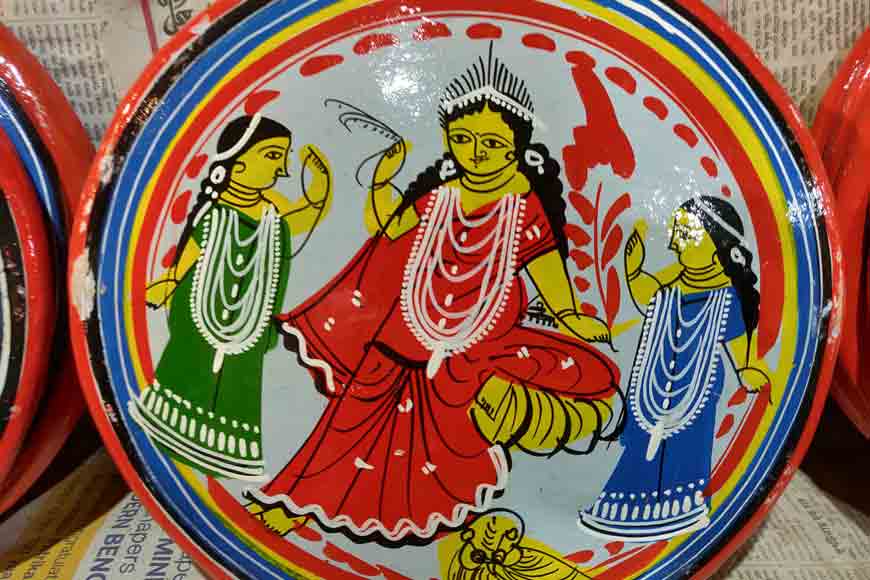 Shara of Lakshmi
A shopkeeper of a Dashakarma Store at Lake market said: "Some customers ask for plain sharas during Lakshmi Puja for ritualistic purposes. Some people even buy them so that they can paint Lakshmi on the saucers with their own hands and later worship the same."
Lakshmi puja is practised in almost every household of Bengal to gain blessings from the Goddess of Wealth. Those who wish to hold on to traditions, still prefer sharas as it gives them a warm familiar feeling. Some seem to connect with the sharas more as they feel nostalgic. While some prefer idols as it gives them a feeling of fulfilment that the puja went well as per rules and Ma Lakshmi is satisfied. The replacement of sharas with murtis is radical. Maybe the tables will turn again because dynamism has become a part of people's lives. What's more, the ancient art of shara painting needs to be preserved and carried forward. Else another art of Bengal will soon vanish.