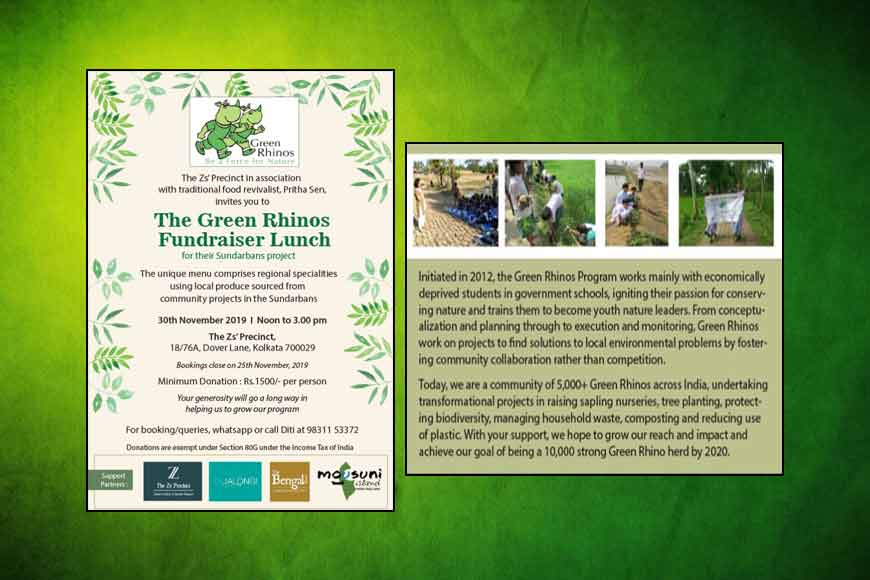 Social responsibility cannot just be a buzzword or style statement to be told and debated at events. Rather every organization and business venture can play a clear role in protecting the fragile environment and the Earth. In a bid to save the mangroves of Sundarbans, Z's Precinct in association with food revivalist Pritha Sen and support partners The Bengal Store, Jalongi and Mousuni Island will be organizing The Green Rhinos Fundraiser Lunch tomorrow. The venue is Z's Precinct, 18/76A Dover Lane, Kolkata 29.
Initiated in 2012, The Green Rhinos Program works primarily with economically deprived students of government schools, igniting their passion for conserving nature and training them to become youth nature leaders. From conceptualization to planning through to execution and monitoring, Green Rhinos work on projects to find solutions to local environmental problems by fostering community collaboration, rather than competition. As Rajesh Sen of Z's Precinct mentioned: 'This fundraiser lunch will help the project to reach to a bigger audience and the funds will definitely help to protect the interest of the locals of Sundarbans.'
Diti Mookherjee who leads ASED (Association for Social and Environmental Development) mentioned: 'Our Green Rhino Programme works with more than 5,000 school children across the country with a large concentration in Sundarbans. The recent Cyclone Bulbul has taught us again how important the mangroves are in protecting the whole of Bengal and survival for locals. Hence awareness to protect this fragile ecosystem is essential.'
The Bengal Store (www.bengalstore.com) that has a range of products from rural Bengal has been helping the locals of Sundarbans since long by acquiring organic honey and turmeric from the lands of the Sundari trees. They are also trying to revive lost varieties of paddy of Bengal, lost rural crafts and toys and will also join the fundraiser programme in a bid to give you a taste of their food ingredients including organic ghee, mustard oil and different varieties of organic rice that will be used in making the lunch items.
If you are interested to join this curated lunch do call up 9831153372 for further information.