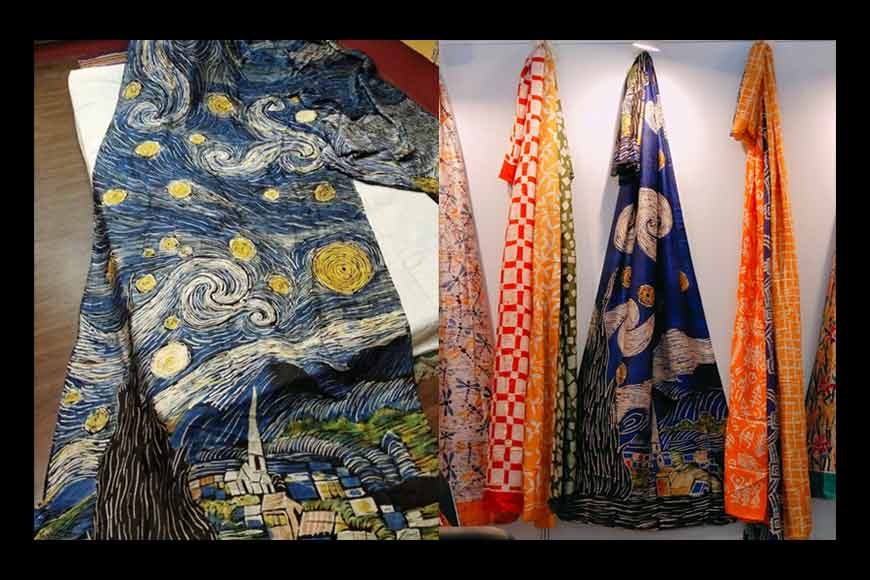 Batik sarees from boutique Swati, the main unit of Kakali Das Kapas
Batik is an artwork found on clothes, sarees, dupattas, dresses, and household decor. Well, it has been present for centuries and has been among the favourites of people's choice belonging to all generations. This ancient art form is usually done on silk fabrics and cotton. During the preparation of Batik painting, the artists use single, dual, and multi-coloured vegetable dyes. After the finished work, the Batik painted fabrics look beautiful, attractive, and eye-catching. The artists follow three main processes to complete the Batik paintings. They are dyeing, waxing, and de-waxing. Batik is a technique of wax-resist dyeing applied to whole cloth, or cloth made using this technique.
Batik is made either by drawing dots and lines of the resist with a spouted tool called a canting, or by printing the resist with a copper stamp called a cap. The applied wax resists dyes and therefore allows the artisan to colour selectively by soaking the cloth in one colour, removing the wax with boiling water, and repeating if multiple colours are desired. The intricate process of batik ends up creating beautiful designs. The tradition of making batik is found in various countries, including Indonesia, Singapore, Malaysia, India, Bangladesh, Sri Lanka, and Nigeria; the batik of Indonesia, however, is the best-known.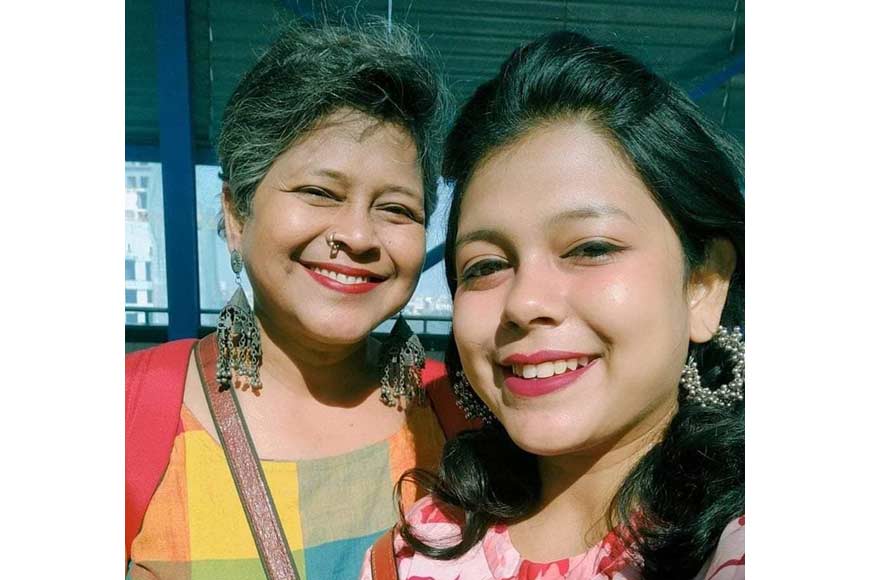 Batik designer Kakali Das Kapas with her daughter Yubasana Kapas
Kakali Das Kapas is an experienced Batik designer, her work is recognised at both District and State levels. Her principal expertise is Batik making and embroidery. She has been working with Batik for 20 years. Recently, inspired by Van Gogh's Starry Night painting, Kakali Das implemented the design on her Batik embroidery and dedicated an entire collection to the Dutch painter's finest and most popular creations. She told GB: "I have always been creative with my work. As Batik is my field of expertise, I keep experimenting with it. I keep having new ideas in my head which I implement on the sarees and dupattas that I make. I started my journey by experimenting with paintings of legendary artist Jamini Roy and once I was successful, I started implementing more of such ideas." The inspiration behind taking the venture of Van Gogh's Starry Night was her daughter, Yubasana Kapas, as it is one of Yubasana's favourite paintings.

She asked her mother to make something like Starry Night and informed her that Starry Night is really popular among her friends and with the youngsters of this generation. "My daughter was very enthusiastic about this work. She loves the Starry Night painting and wanted me to implement the art through Batik. She said that, because we are a production unit, it will be new and very beautiful once produced. I took up the challenge. It was not easy as I could not make it perfect in one go. It took a few trials and errors and in the end, I could amalgamate the two together on the saree and dupatta. I think I have made it almost similar to the artwork. The two are absolutely different forms of art, one is a painting and another is batik," Kakali added.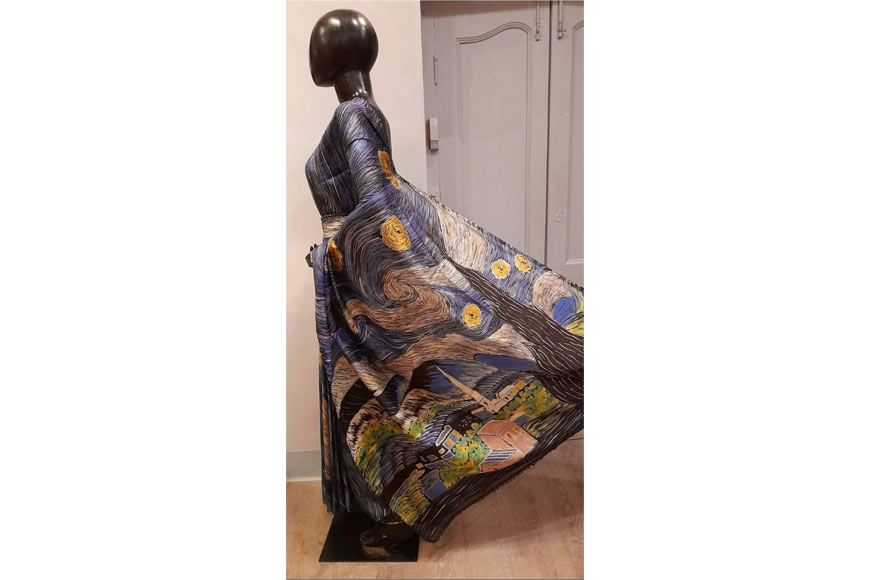 Vincent Van Gogh's Starry Night on Batik
It is evident that she is a perfectionist. Most artists want their art to be perfect as they put their all in every one of their creations and so did Kakali. The result of her venture is a beautiful one. The transferring of a painting on a saree, from a canvas to nine yards of cloth is not an easy job. Though the work was laborious, Kakali Das Kapas is happy with her work and glad that she took it. Other than Batik, she also did some block designing as well. Not only Jamini Roy, but she has worked with the designs of Maqbool Fida Husain, she also makes her own handloom designs, drawings and creations. In the future, Kakali Das Kapas is interested in making more such embroideries of famous paintings, she plans to transfer the Mona Lisa by Leonardo da Vinci in batik form.
Swati, is Kakali Das Kapas's main unit, situated at 70, Shambhunath Pandit Street, Bhowanipur Kolkata 700025. Kakali herself embroiders sarees and dupattas and 15 to 20 people work with her. Everybody helps in handicrafts and embroideries.