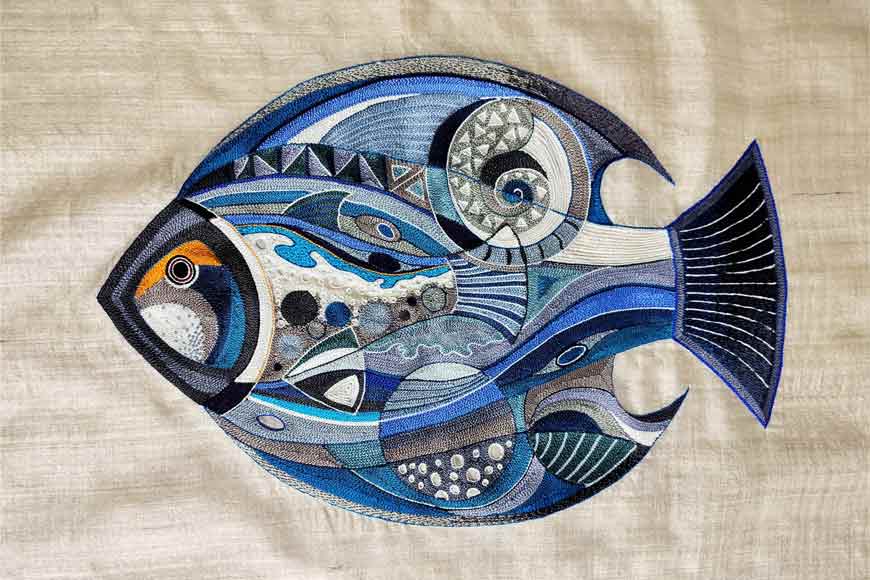 Matryoshka fish, inspired by Russian Matryoshka dolls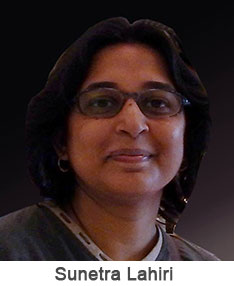 A beautiful sunset, brilliantly coloured birds, pouring rain, undersea miracles. All part of nature, all designed to evoke wonder. But what do we really see when we witness these marvels? Do we truly appreciate their elemental nature? Or is our admiration confined to superficial expressions? Have we lost the creativity our ancestors possessed in spades? These are the weighty questions that Kolkata designer Sunetra Lahiri chooses to address through her creations, and her medium of expression is her art. In the process, she has drawn upon embroidery techniques and motifs from various parts of the world to create unique works of quintessentially Indian art, all of which the city can soon see for itself at an exhibition.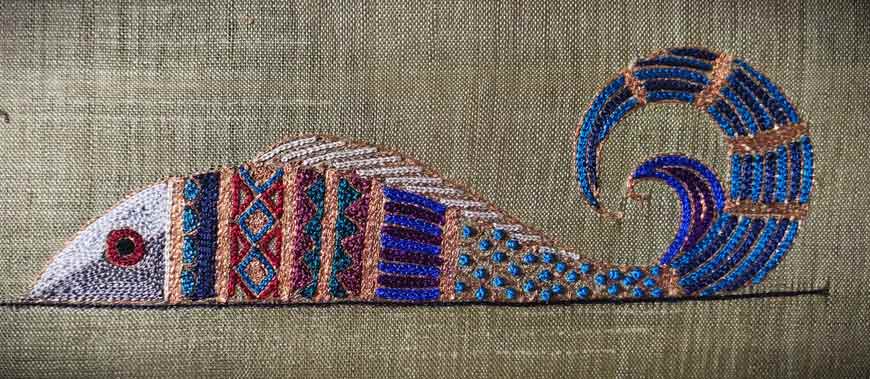 A Madhubani inspired creation
The National Institute of Fashion Technology (NIFT) graduate spent several years creating conventional clothes such as wedding wear before the urge to strike out on her own, doing what she wanted to do, became too strong to suppress. "I wanted to get into textile design, but I didn't get through so I had to opt for fashion design instead. I have always called myself an accidental designer," she explains. "I got into the rut of designer clothes and trousseaus, but my heart wasn't in it, though I was selling from some of India's best stores, at extremely high prices."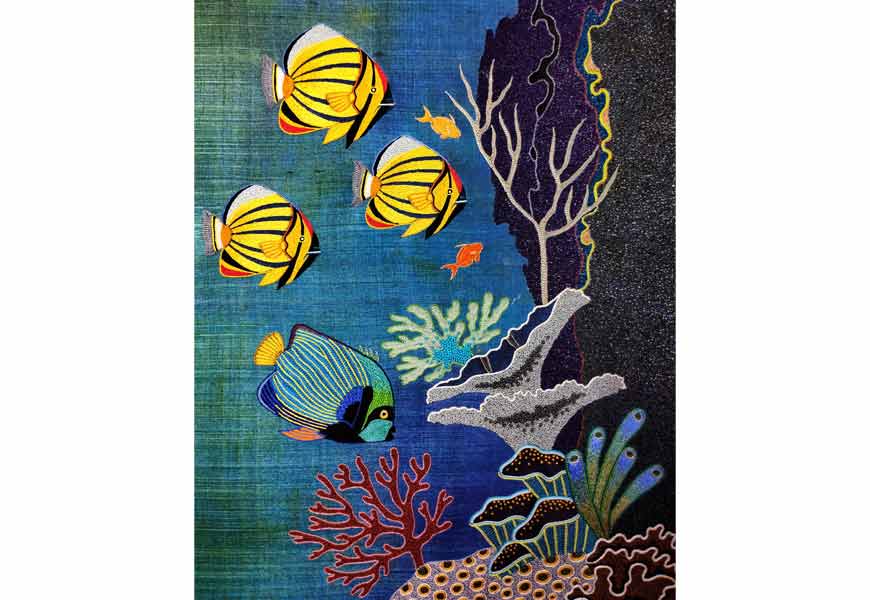 A piece from Deep Dive
About two years ago, however, as the Covid lockdown set in, Sunetra chose to leave the world of beautiful but conventional designs behind, and began reinventing herself. The result is a series of works that cannot be mass produced, painstakingly crafted by karigars at Sunetra's workshop from designs that she creates, with each piece indicating both her sense of wonder at nature's marvels, as well as her admiration for the ancients. "We have become too mechanised, full of information but no knowledge. I wanted to go back to doing things by hand," she says.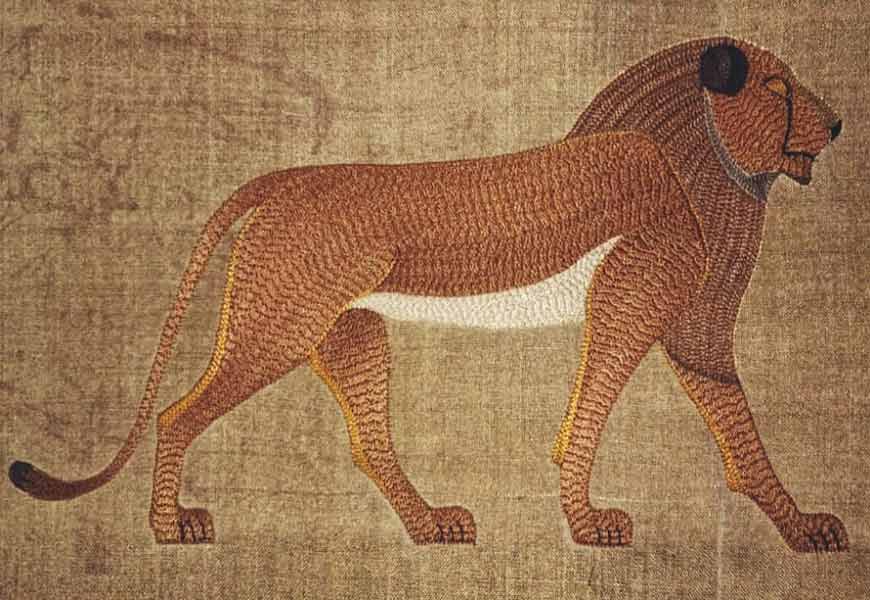 Berber Lion from Egyptian monuments
There was also a desire both to create works that would stand the test of time, as well as carry motifs and techniques beyond boundaries. "I wanted to bring the natural world into homes. I did a panel called 20,000 Leagues Under the Sea, where the focus was on coral reefs. The idea came to me both as a result of my own snorkeling experiences, as well as the TV shows of (legendary French marine conservationist) Jacques Cousteau, which used to fascinate me as a child when I watched them on Doordarshan." The other iconic naturalist who provided inspiration was Sir David Attenborough.
Series such as Kalpavriksha: The Tree of Life, "about the human story and the journey inexorably entwined with the elements of which we are made - earth, water, fire, air, and space. The story explores our world in which we live, we grow, we try to understand and we use to survive", reflects Sunetra's myriad influences.

Or take Deep Dive, where marine life comes alive in a plethora of exquisite colours and impossibly detailed yet precise embroidery. And like all Sunetra's other works, each piece tells a story of cross-cultural references. As she puts it, "It's wonderful combining motifs from different cultures. In the end we are all one, boundaries are a manmade illusion. I don't want art and craft to be confined to regions and GI tags." Added to this is her personal mission to draw attention to how human greed is destroying the world. A particular piece called Chlorophyll is all about this particular aspect of our relationship with nature.
Most of her works display kantha, ari and zardosi work, and she has begun to stitch kantha herself. She nurtures a firm belief that in order to appeal to an increasingly global audience, both the creator and the buyer must evolve as well. "There's no point crying about dying weaves and weavers, if you can't give them the space to innovate and evolve, and if the buyer isn't informed. As long as you keep buying machine made, template driven designs, the truly talented weavers will continue to be pushed out of the market. Invest in quality, not quantity," is her advice. "If you find a kantha stole for Rs 900, you must know it isn't the real thing. So save your money and buy a unique, handcrafted stole."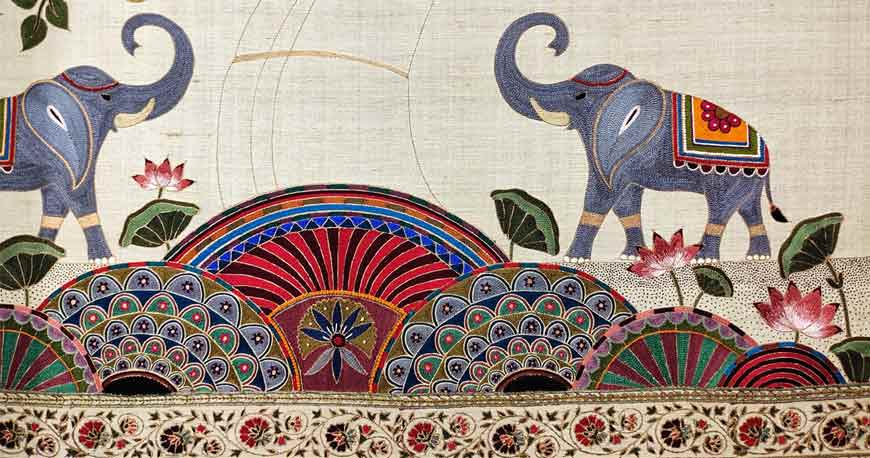 Detail of a large wall panel
On her part, Sunetra provides plenty of examples of innovation and evolution. A kantha work on tussar silk titled Mātsya-yan, for instance, shows an underwater vehicle inspired by Lord Vishnu's Matsya avatar. In the description, Sunetra writes, "Mātsya-yan is a 'yan', a vehicle. The ocean and the fish as protector and nurturer of life on this planet. It might be the only vehicle available as a refuge in the future for the survival & continuance of life. The basic craft form is inspired from Madhubani art, from which the artist weaves together the story of a contemporary Matsya avatar."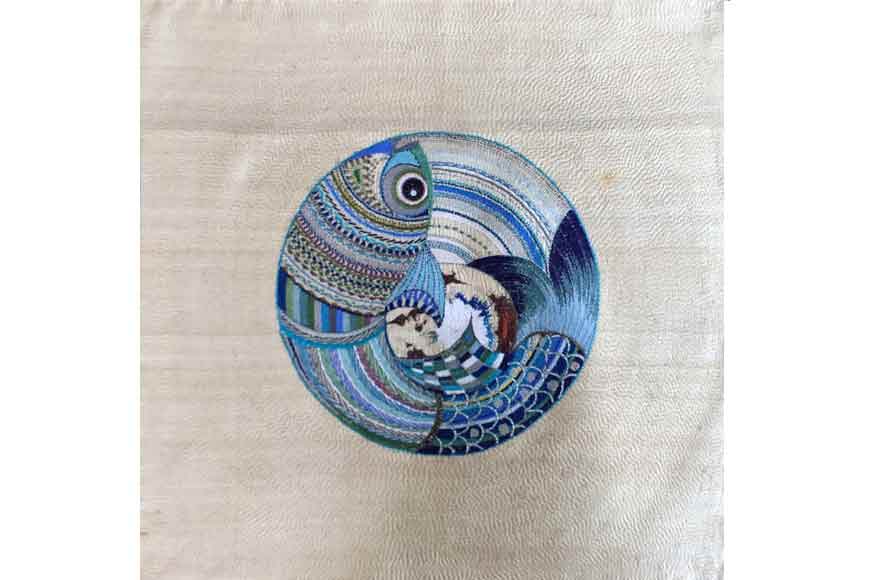 Matsya yan
Similarly, she describes a piece from the Antiquity segment of the Elemental series thus, "The Berber or North African lion revered in ancient Egypt is an extinct species. We can only imagine its regal mien from sculptures on Egyptian monuments…" Or indicates how a work titled Matryoshka Fish is inspired by Russian Matryoshka dolls, where a larger form contains many smaller forms.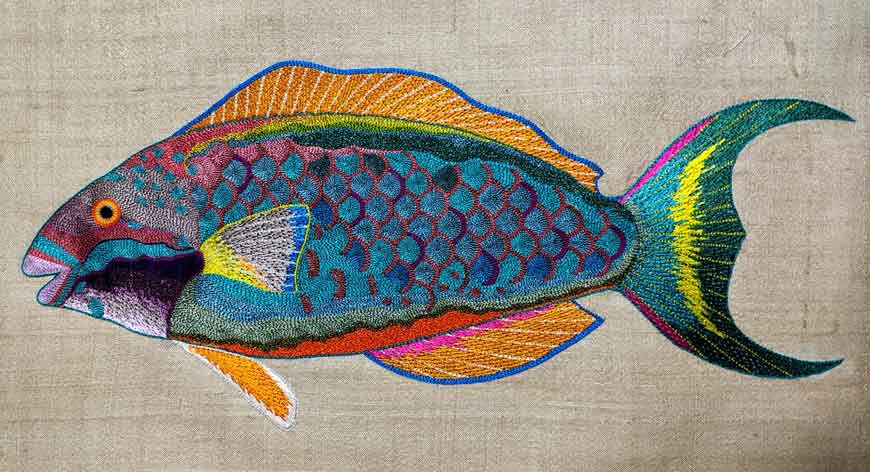 Parrot Fish from Deep Dive series
Conservation, mythology, folklore, cultural icons, history, all combine in these works, ranging from cushion covers to enormous wall panels. And kantha stitching, says Sunetra, is like meditation for her, having taught her the values of persistence and dedication. Her exhibition, scheduled for early this year, has now been postponed owing to the fresh Covid outbreak, but will happen soon enough. What words have perhaps failed to convey, a firsthand look certainly will.