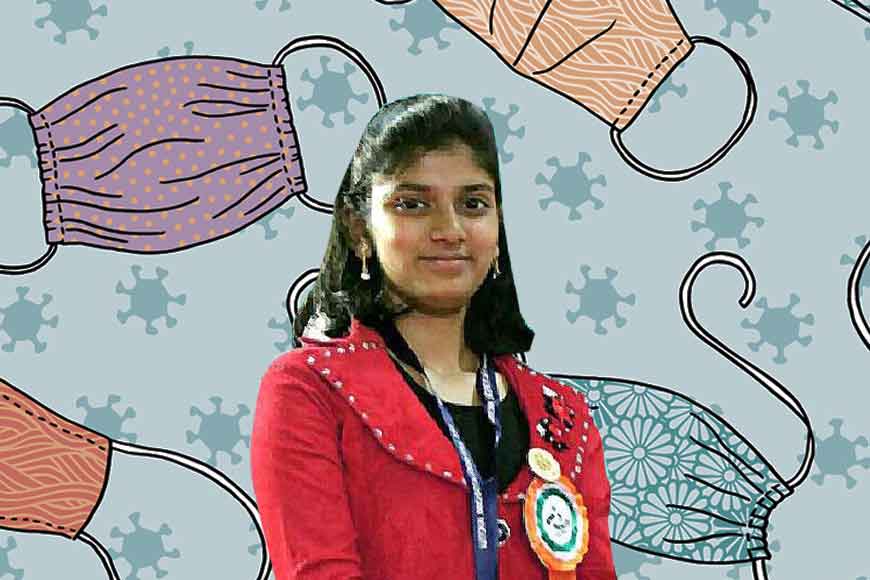 It's said that science and innovations keep us going. Even though COVID 19 is wreaking havoc all around, a high school teenager from Memari in Burdwan has successfully devised a face mask that can kill the virulent virus at the outset. Her anti-virus mask has been awarded the top 10 'Inspirational Design' by Google globally. It is currently on display in Google Arts and Culture, an online platform that features contents from over 2000 leading museums and archives throughout the world who have partnered with the Google Cultural Institute.
Digantika Bose, a Class XII student of Memari's V.M. Institution, Unit II, has also been a Kanyashree representative from her district and has received many awards and accolades for her innovative discoveries. Masks have become an integral part of contemporary life on earth. The mask made by Digantika has unique features that keeps dust and grime at bay, prevents the virus from entering the body and acts as an inhaler. She is a student of science and used her knowledge attained from books with everyday principles of science to devise her unique mask.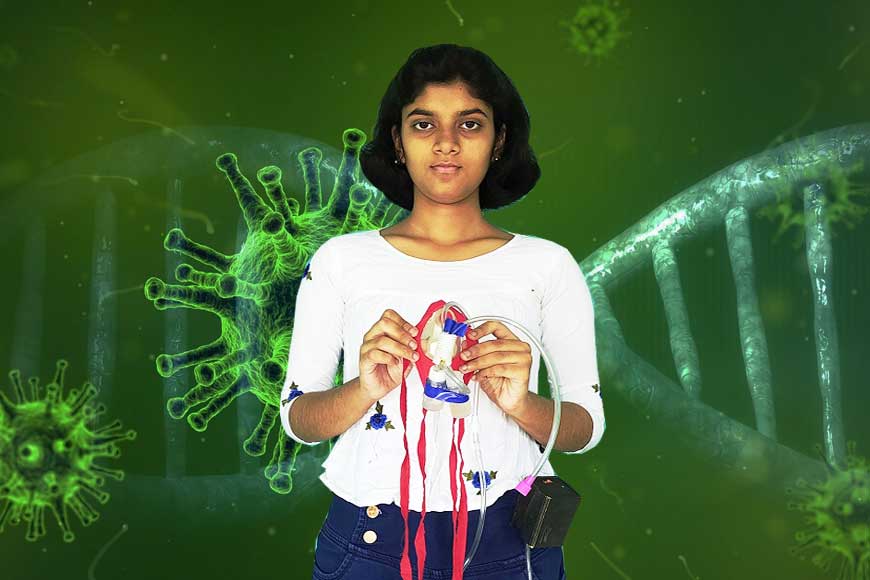 Digantika says: "Negative ions float in the air. These are molecules that have been charged with electricity. Negative ions exist in nature in tons of places, including ultraviolet (UV) rays from the sun, discharges of electricity in the air after a thunderclap or lightning strike. The most important benefit of negative ions is that they clear the air of airborne allergens such as pollen, mold spores, bacteria and viruses. Besides they also clear the air of dust, pet dander and cigarette smoke. Using this basic knowledge, she has used detergent soap mixed in water and connected it with two tiny chemical filters in the mask through which air is made to flow. This purified air reaches the nostrils through a pipe attached to the face mask. The virus gets trapped outside in the filters."

Digantika made a prototype of the mask and then, with the help of Museum of Design Excellence in Mumbai, she sent her dust free and virus deterrent inhaler mask model to Google Virtual Museum. Google acknowledged her invention and now her model is displayed in Google Art and Culture Museum where her name shines big and bright as the innovator of the mask. Her pursuit of creating a simple and effective solution to help the Covid19 affected patients fight the virus has been acknowledged by the Union Health Ministry and now efforts are being made to launch it in the Indian market soon. Digantika has made her family and teachers proud. She aspires to become a scientist to continue innovating in the field of healthcare advancement. She has raised the bar for herself as well as others in the field of scientific research and innovation and ensures India's name in the sphere of research and development in the global map.