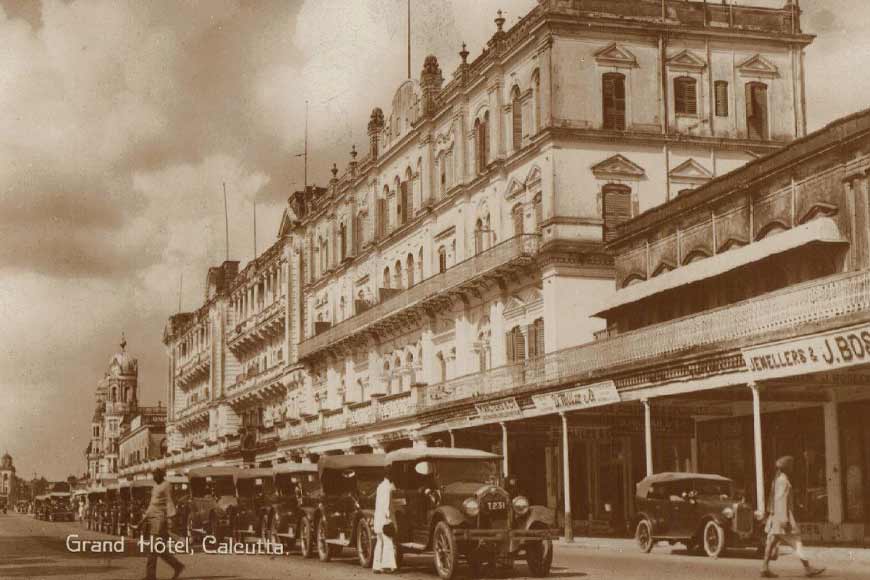 The hotel still stands in all its glory – marking an era of Kolkata that would live for generations. The Grand Hotel of Calcutta is not just another five-star hotel, rather it is a piece of history of Old Calcutta right from the plot on which it is built to its inception. The mansion of Colonel Grand was a regal structure by itself; and Plot No 13, Chowringhee Road on which the mansion stands was won in a lottery by the Colonel. Mrs Annie Monk, an Irish lady in 1870 started a boarding school in this mansion which definitely flourished. Her business expanded to the neighbouring houses Number 14 and 15 and then to 16 and 17 on Chowringhee Road.
At Number 16 was the Theatre Royal, once a famous theatre hall that drew big crowds. The Englishman reports that at Hudson's Surprise Party, Miss Ivy Scott used to bring the house down with her song 'I Do Love You.' On the ground floor of this same mansion was a billiard saloon, bar and lounge for those who attended theatre. Houses 16 and 17 were once occupied by an institution called Calcutta Club and were connected with each other by a plank bridge. The members of the club were mostly merchants, brokers and public servants.
Then came a phase when No 16 was converted into the Royal Hotel by Jack Andrews, who formerly owned the old Spence's Hotel. There was even an open air skating rink run by a private club. Annie Monk finally acquired them from Andrews. In 1880-81, Aratoon Stephen, a 20 years old young man of Armenian descent arrived in the city from New Julia, Ishpahan with barely hundred rupees in his pocket. He started with a barrow of wares, which is pushed up and down the Chowringhee. One day he entered the showroom of J Boseck and Co and asked for a job. He had an unusual gift - the knowledge of precious stones and art of crafting them into jewellery which he had learnt in his native land. Boseck helped him to further enhance his skills and he learnt the tricks of the trade. Gradually Aratoon got hold of some money and waited for the right opportunity to strike big. The opportunity came in 1894, when he bought the Theatre Royal at 16 Chowringhee Road. The theatre with all the glamour of its regal name, was not doing well then. During the staging of Shakespeare's Much Ado About Nothing, a horse had fallen through the worm-eaten stage and there was a huge furor to extricate that horse which was finally possible a day later.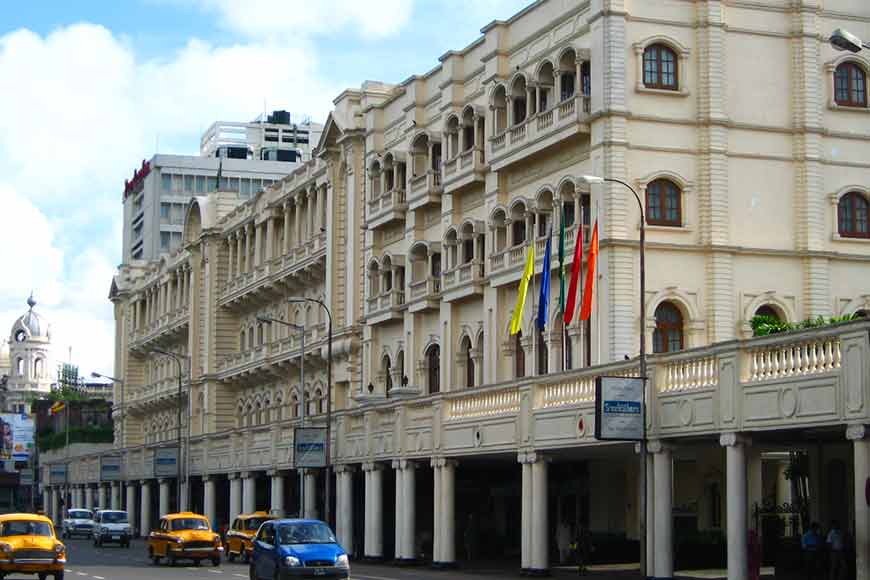 The Theatre Royal was burnt down on the midnight of 2 January 1911. Mr Stephen was fully insured and hence did not lose money. From the ashes of this burnt theatre rose a grand hotel, whose name would spread across the world. Stephen named it the Grand Hotel. Soon he acquired Mrs Monk's boarding school and all other houses that she bought along with a new premises on No 18, Chowringhee Road. The whole stretch from Corporation Palace to Humayun Place became one edifice and thus came up the iconic Grand Hotel. The street where Stephen had once pushed a barrow now turned him into a rich man. The hotel was two-storey high with the rooms placed in such a way that the gentle breeze from the river would waft in. Stephen soon added one more storey so as to allow a view of the green Maidan. Electricity was added in 1914 and soon a hydraulic lift was installed. This man also built another hotel, this time in the Queen of Hills Darjeeling, a favourite spot for Britishers. This hotel was named Mount Everest and did brisk business with foreign tourists. Stephen died in 1927 and was buried in the grounds of the Armenian Church. What was to come after his death would be the downfall of his hotel thanks to tropical diseases. Disaster struck in 1937 when sewage seeped through the hotel's drinking water and around six people of the hotel died due to enteric fever and typhoid. Several other occupants including Stephen's widow fell ill. Panic drove away most of the customers and the huge gates of the hotel shut down. The property was entrusted to a mercantile bank for lease or sale.

That led to a new story and a new glory for the hotel that would soon follow. Young Oberoi had arrived from West Punjab, now in Pakistan to Simla to give an exam for government job. But he failed to get the job and decided to try his luck at Hotel Cecil in Simla. The gatekeeper at the hotel would not let him in, so he waited for the manager. When the manager saw this smart young man in a well ironed suit, neatly tied cravat and shining shoes, he was impressed and asked him to meet the next week.
Mohan Singh Oberoi soon got a job at the hotel as a clerk at a salary of Rs 60 and the next manager gave him an offer that changed his luck. On his insistence he joined the Carlton Hotel and literally became all-in-one at the hotel looking after all the services. He was so good at his job that the profits doubled and manager Mr Clarke offered him shares. Oberoi did not have enough money to pay then, so he sent the money to Clark in England in installments. He renamed Carlton as Clarke's Hotel and became the owner of a 50-room hotel.
One day he bumped into a friend in Delhi and got to know that 500-room The Grand Hotel in Kolkata was up for sale. He lost no time and boarded the next train. He did not even inform his family. It was 1938 and as he stood in front of the palatial building he was so impressed that he immediately contacted the mercantile bank. The bank offered to lease the hotel to Oberoi at a monthly rent of Rs 10,000. The deal was signed and the only condition imposed was that the manager of the hotel has to be some European. Oberoi immediately remembered D.W. Grove of Cecil, the man who had given him his first job and first break in the hotel industry. Grove was extremely happy to join and he became the General Manager and later the Chairman of Oberoi Grand. And there was no looking back for one of the most iconic hotels of Kolkata that still stands tall in all its glory and grandeur.
(Some data taken from European Calcutta: Images and Recollections of a Bygone Era)