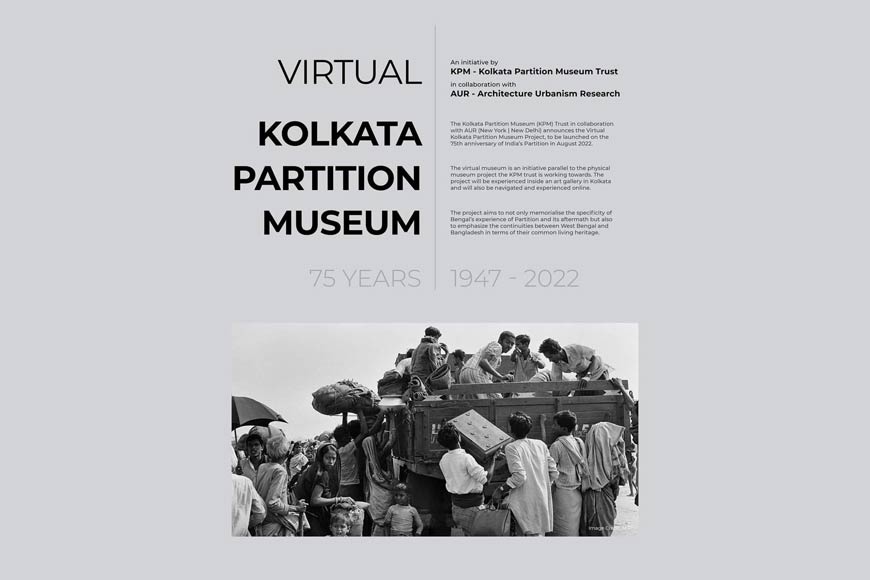 'The Legacy of Loss: Perspectives on the Partition of Bengal'. The title is fairly self-explanatory, but to make it clearer still, it describes an art exhibition on the Bengal Partition of 1947, on view until August 29 at Kolkata Centre for Creativity (KCC) in Anandapur, off the E.M. Bypass.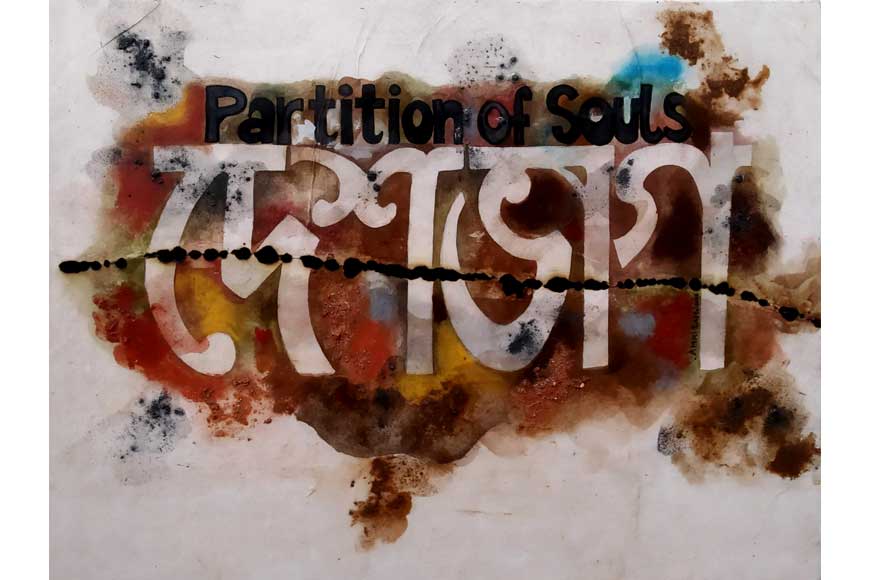 However, this is only one part of the Kolkata Partition Museum (KPM) project initiated by Dr Rituparna Roy, who is also managing trustee of the Trust that stears the project and which was registered in 2018. While the Covid-19 pandemic has hampered the hunt for physical premises for the museum, the happy news is that a virtual Kolkata Partition Museum is now on its way to completion, scheduled for an August 2022 opening.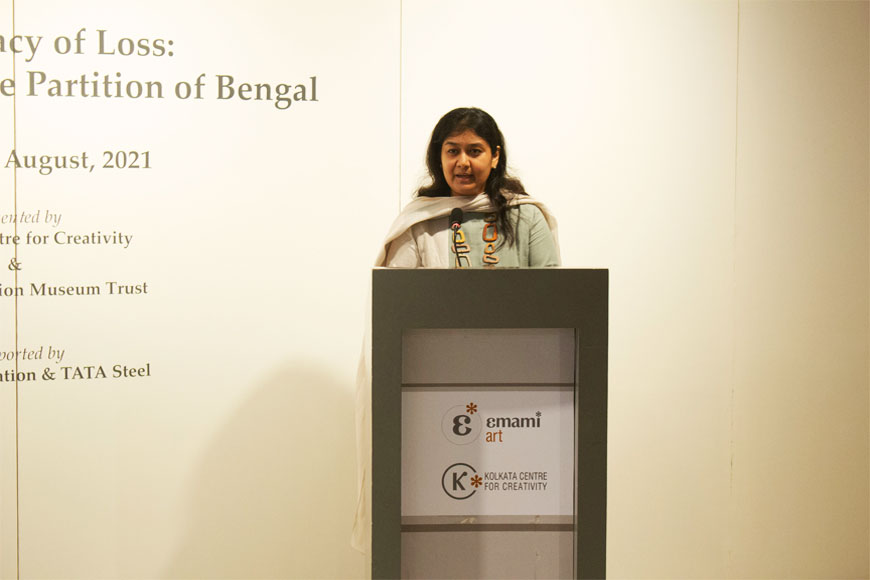 Ms. Richa Agarwal, Chairperson, Kolkata Centre for Creativity giving welcome speech at the inaugural ceremony of 'The Legacy Of Loss: Perspectives On The Partition Of Bengal'
"We are delighted that the exhibition at KCC is going so well. The next big event that we are gearing up for is the launch of a 'Virtual KPM' next August, to mark the 75th anniversary of Partition. This virtual museum is a collaboration between the KPM Trust & AUR (Architecture Urbanism Research), led by Aurgho Jyoti, a young Indian architect based in the US," Rituparna says. "But we will be in a position to say more early next year."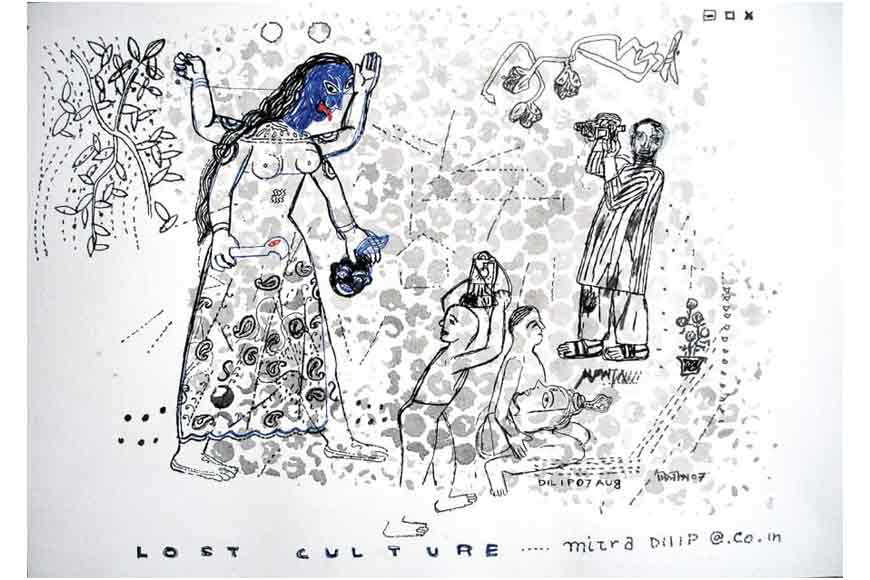 Artworks by Dilip Mitra
'The Legacy of Loss', a collaborative exhibition between KPM Trust and KCC supported by Tata Steel and Emami Foundation, showcases paintings, prints, photographs, installations, and more, featuring artists Amritah Sen, Debasish Mukherjee, Dilip Mitra, Paula Sengupta, and Vinayak Bhattacharya. It has been conceptualised and conceived by art historian Dr. Rajasri Mukhopadhyay, and curated by KCC.

At its most basic, the exhibition provides an intimate look at the disruption of harmony and the thwarted desire for togetherness on both sides of the political border between the two Bengals, though to be fair, the impact was perhaps greater on this side of the border owing to the sheer magnitude of the human migration from East to West Bengal. And that could be a reason why artists from Bangladesh are absent from the exhibition.
"The KPM Trust is confident that the exhibition will give fresh insights into and lead to further meaningful conversations on this most defining historical experience and its aftermath," Rituparna adds. Particularly significant since the Partition of Bengal often takes a backseat to the Partition of Punjab when it comes to commemoration. It is as though the nearly 5 million Hindus who left East Bengal for West Bengal, and about 2 million Muslims who left West for East immediately after Partition, amidst scenes of unimaginable violence, are the forgotten children of history.
Mr Goutam Ghose, Shri Shuvaprasanna Bhattacharya, Mr Gianluca Rubagotti, Italian Consul General along with Mr Sugata Bose lighting the lamp at the inaugural ceremony of 'The Legacy Of Loss: Perspectives On The Partition Of Bengal'
A student of English literature who went on to become a Partition scholar, Rituparna developed an abiding interest in the Partition of Bengal early on. Following her graduation from Presidency College, Kolkata, through academic sojourns in Amsterdam and Leiden University in the Netherlands, she retained her interest. As she said on an earlier occasion, "I realised that in India, we have virtually no public spaces to commemorate momentous events such as Partition. There are academic seminars and scholarly books, films and literature, but no public participation. Why couldn't we have a public museum, for instance, that commemorates Partition and its horrors? Through art, through artefacts, through living history?"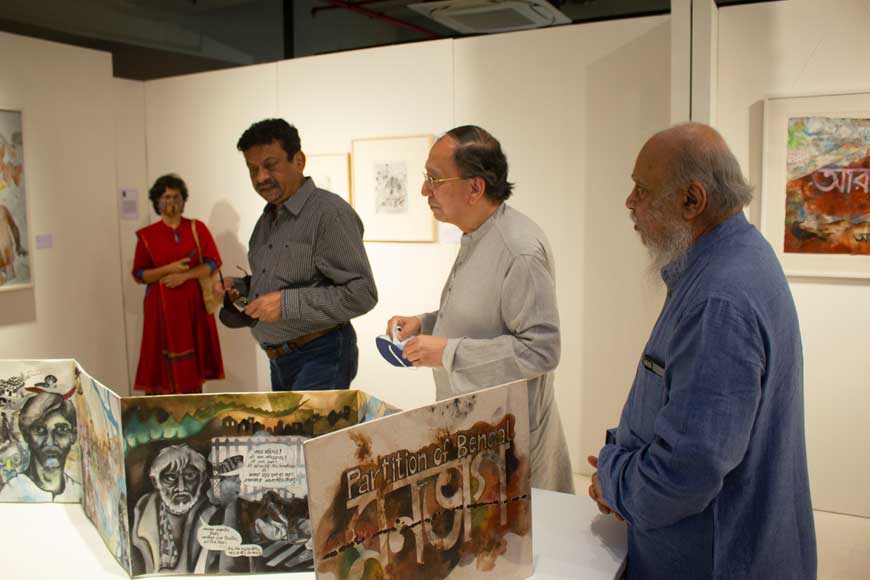 Mr Goutam Ghose along with Mr Sugata Bose and Shri Shuvaprasanna taking a tour of the exhibition
Back in Kolkata in 2017, after a decade in the Netherlands, Rituparna paid a visit to the Partition Museum in Amritsar set up that very year, but perhaps inevitably, she found that while Punjab occupied centre stage, the Partition of Bengal remained relatively neglected. And the urge to establish a Partition museum in Kolkata grew stronger.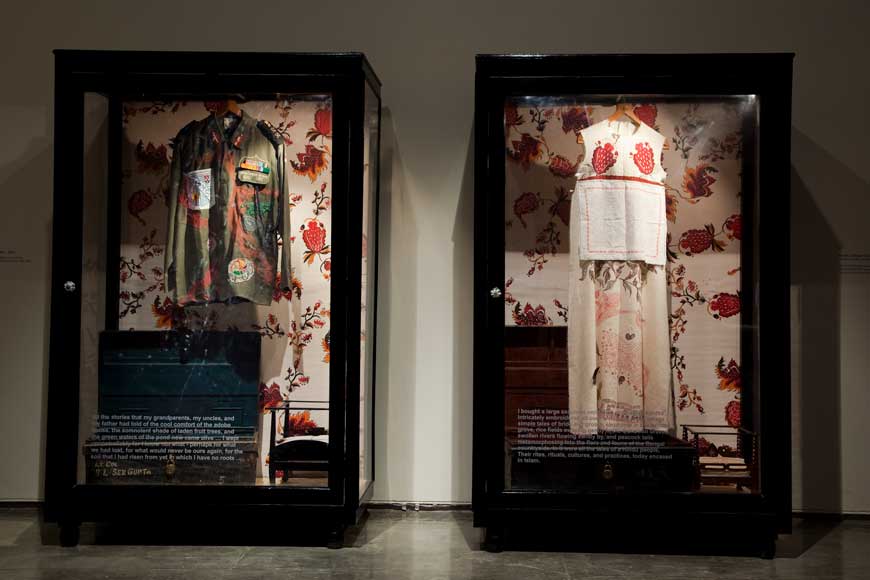 Rivers of Blood Caste Baidya, Village Batisha & Rivers of Blood Caste Baidya, Village Kalia
That urge has now led to the virtual museum. A parallel search for physical premises continues, and the brick and mortar Kolkata Partition Museum is, one hopes, only a matter of time.
The art exhibition is open for public viewing until August 29, 2021 (except Mondays and national holidays), 11 am-6 pm on the 5th floor of KCC