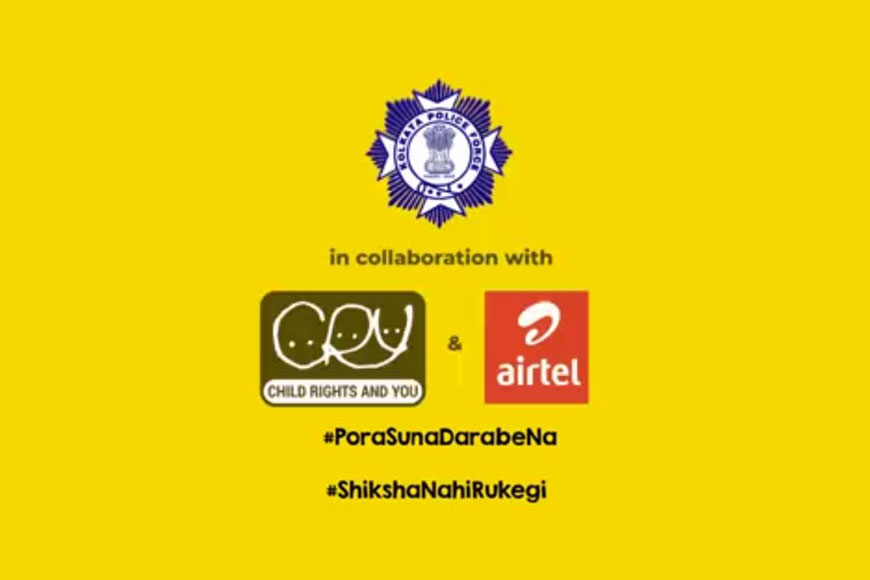 Everyone has the right to learn even in the age of e-learning when schools have shifted within the homes. Kolkata Police brings Duare Shiksha for the underprivileged students who have no means to continue with such online education due to lack of electronic gadgets. For the country's most impoverished children, the classroom is their only way to a better life. It is also their safe shelter, but the current Pandemic crisis deeply threatens that safe haven. Ever since schools closed last year and resorted to online classes, the vast 'digital divide' in education came into the fore. The rate of dropouts increased considerably and continues to do so steadily.
Kolkata Police has proved time and again that they are not just upholders of justice, but the best social friends that citizens could ever have. They have now joined hands with a mobile service provider in a bid to ensure poor children with little or no access to technology, do not drop out of studies. The collaboration between Kolkata Police, Child Relief and You (CRY) and Bharti Airtel has been titled 'Pora Shona Darabe Na' (Siksha Nahi Rukegi – Education will not stop). The collaborators have planned to empower school children from needy families with digital devices to continue their studies. Initially, 500 students between the ages of 14 -18 from impoverished families will be identified through KYC and given smart phones and customized data packs so that they can access online classes. This 'digital education at your doorstep' will be launched soon at 63 police station areas of Kolkata.

About 40 per cent primary school students could not attend online classes during the pandemic owing to digital divide, a report published by Nobel Laureate Amartya Sen's Pratichi (India) Trust had found. The study was compiled on the basis of experiences shared by hundreds of teachers across 21 state-run primary schools in Kolkata. Either these students don't have a digital device, or they don't have a good internet connection, or both. So, there is no reason to think that the experience will be different for high school students. As a result, the huge chasm is increasing between the poor and those who can afford the digital devices to continue classes from home.
These school dropouts are victims of various social atrocities. They are forced into the burgeoning child labour market, pushed into marriages and become easy victims of child trafficking, drug peddling and petty crimes. Trafficked children are often subjected to violence, abuse and other human rights violations. So, it is a challenge for the society to stop children being exploited as labour instead of attending school.
Kolkata Police officials realized many students, especially adolescents, who cannot attend classes due to lack of digital devices get frustrated and often get embroiled in criminal activities. Keeping this in mind, the current collaborative initiative aims to engage children in education and other allied co-curricular activities through bringing online education to their door-step. E-learning has a huge potential and it opens a new vista to the new emerging world and bridging this digital education divide can help realize the potential of each student.
"We are immensely happy to have joined hands with both Kolkata Police and Bharti Airtel in this initiative. They are known for their long-standing efforts to protect and nurture childhood, and I'm sure this collaboration will go a long way in supporting the underprivileged children weather the crisis," said Trina Chakrabarti, Regional Director, CRY (East).