Chequered journey of a girls' school from California to Dhaka, to Kolkata – GetBengal story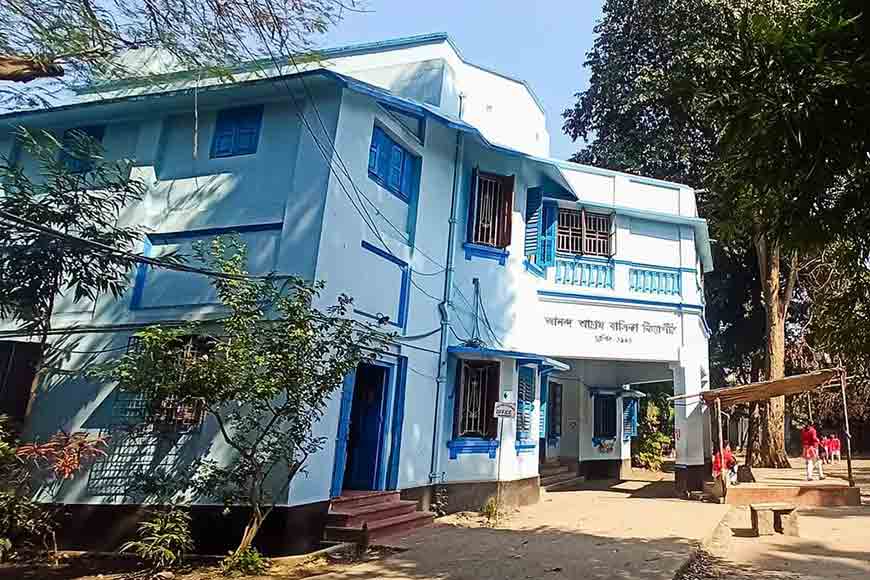 Ananda Ashram Balika Vidyapeeth
Among the modern Indian religious reformers, Swami Vivekananda (1863-1902) was empathetic towards women's oppression and worked tirelessly for their emancipation. He identified ignorance among women was the main hindrance for the salvation of the country and stressed on the importance of education for their ennoblement. In Swamiji's words, "The idea of perfect womanhood is perfect independence".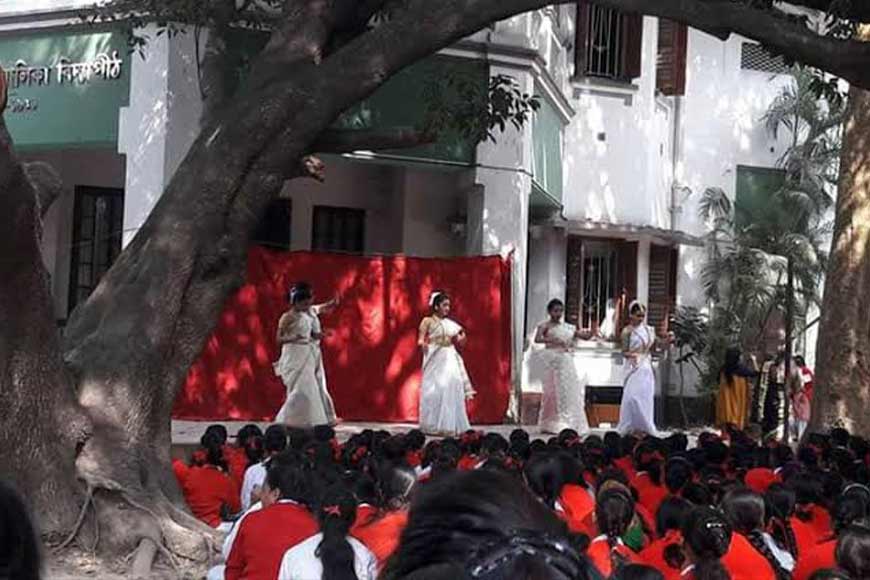 Education is a tool to open the door from darkness and ignorance, and then knowledge will shine out dazzlingly. It enables women to respond to the challenges; to confront their traditional role and change their life-style. It eliminates inequalities and disparities as the means of recovering their status within and out of their families. According to Swamiji, true education builds character and develops personality.
To carry on the task left by Swami Vivekananda following his demise, his disciple of the order of the Ramakrishna Mission, Swami Parmananda established the first Ananda Ashram for girl students in California in 1924. The institution was set with the objective of imparting general education as well as training girls in arts and craft, to make them self-reliant. A few years later, on February 20, 1931, Swami Parmananda with the help of the Ramakrishna Mission, established the second branch of Ananda Ashram in Dhaka. After he deceased, Charushila Devi took charge of the institution. However, following Independence, it became difficult to run the Ashram in Dhaka (then in East Pakistan) from Calcutta. On February 20, 1951, Ananda Ashram set its base in Dumdum, on the outskirts of Calcutta, but the area was crammed and the school authorities needed more space. Accordingly, the school management committee approached the then-West Bengal government for land to set up the ashram and the state government donated a plot in Naktala. Finally, in the same year, Ananda Ashram Home moved to No. 352, Netaji Subhash Chandra Bose Road, Naktala, Garia, Kolkata 700047, and that became the permanent address of the institution.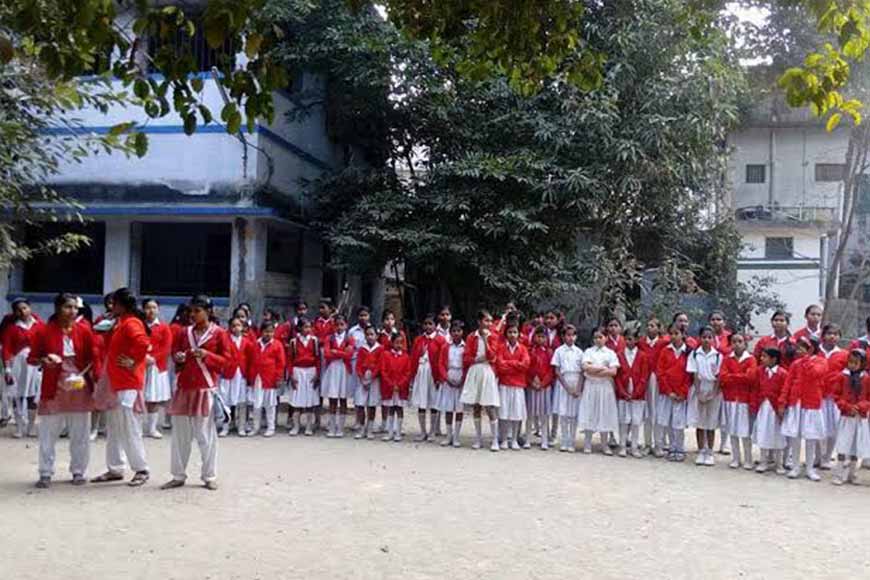 Ananda Ashram Home opened its gates for the female students with the aim to offer general education along with training in arts and craft. The syllabus centered around extensive educational and philanthropic work with emphasis on the ideals of religious and spiritual teachings propagated by the Ramakrishna Mission. Over time, Ananda Ashram was rechristened Ananda Ashram Balika Vidyapeeth, a government sponsored higher secondary school. Aseema Chakraborty, a former pupil of this revered institution shared the fascinating history of the school with us. She is one of the few students who had the opportunity to behold 'Ashram Maa' Charushila Devi. She says, "When I was a student at Ananda Ashram Balika Vidyapeeth, Charushila Devi used to come from the US and visit the school sometimes. She was always draped in simple white attire. As soon as words went around that Ashram Maa had come from America, I would rush to see her. Initially, we were not aware that her name was Charushila Devi. I later came to know her name from my father. Everyone in the school knew her as Ashram Maa."
Madhumita Sengupta, another former student of the school who passed Higher Secondary Examination in 1974, said, "During our time, all classes were held regularly. There was a huge mango tree in the school premises and our daily prayers were held under the canopy of the mango tree. Our school always excelled in state-level board exams. In those days, the school leaving examination clubbed the syllabus of Class IX, X and XI to appear for the Higher Secondary Examination. I was in the commerce stream. Our teachers taught us with great care and patience. I have not seen Charushila Devi, but we all know she was called Ashram Maa. I have heard many captivating stories about her from our teachers."
However, with the passage of time, Ananda Ashram Balika Vidyapeeth has undergone many transformations. Ananda Ashram Home, the vocational training wing of the school still exists and girls are imparted training in art and craft, but the camaraderie and togetherness seem to be missing, feel former pupils like Chakraborty and Sengupta. Nilanjana Dutta, the current headmistress of the school, echoed the same sentiment. She said, "We have shortage of teachers and have been asking for permanent teachers for the past three years, but till date nothing has been done. So, we are compelled to recruit part-time teachers to teach the students and this obviously affects the quality of education."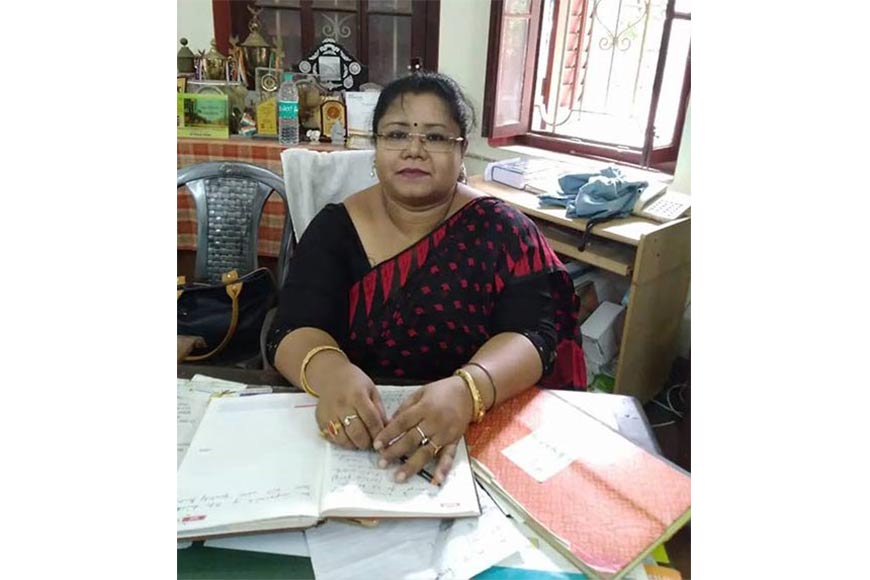 Nilanjana Dutta: Head Mistress, Ananda Ashram Balika Vidyapeeth
At present, we have 876 students studying in the school. There are 25 teachers, including the head teacher and two para-teachers (contractual para-teachers are employed by the government to work as school teachers on a contractual basis. They are hired as temporary staff to fill in the gaps created due to the shortage of permanent teachers). There are also three non-teaching staff including a librarian and two clerks.
In the Higher Secondary section, the school offers all there streams namely Science, Arts and Commerce. However, there is an acute dearth of teachers, especially for the senior classes. Our physics teacher retired and his post lies vacant. Similarly, there is no economics teacher since 2016 and in 2018, after the superannuation of our mathematics teacher the post lies void. He used to conduct mathematics classes from Class IX, X, XI and XII. No teacher has been recruited for the posts. Besides, there are no commerce, philosophy and political science teachers. Casual teachers teach all these subjects. Temporary teachers also teach computer applications. Part-time teachers are currently conducting most of the classes.
Headmistress Dutta says, "Three years ago, we excluded commerce and appealed to the state government to fill up the posts of the vacant teachers' slots, but so far, nothing has been done and we are still waiting for a positive step from the authorities. Despite struggling against so many impediments, our school fares really well in the board exams. In 2023, 106 girls took the Higher Secondary Examination school exam and procured 84%, the highest from the school. This batch of girls faced the greatest impediment in the form of Covid-19 pandemic.

Higher secondary results in 2020 were better. The highest score obtained then was 90.8%. In 2022, the highest mark scored in the Higher Secondary Examination was 94. In 2020, 88% was the highest marks scored by one of our girls in Secondary Examination (Madhyamik exam). In 2021, the state government waived the examination procedure due to the pandemic and all students passed that year. In 2022, the highest mark was 92% in Secondary and in 2023, it was 79%."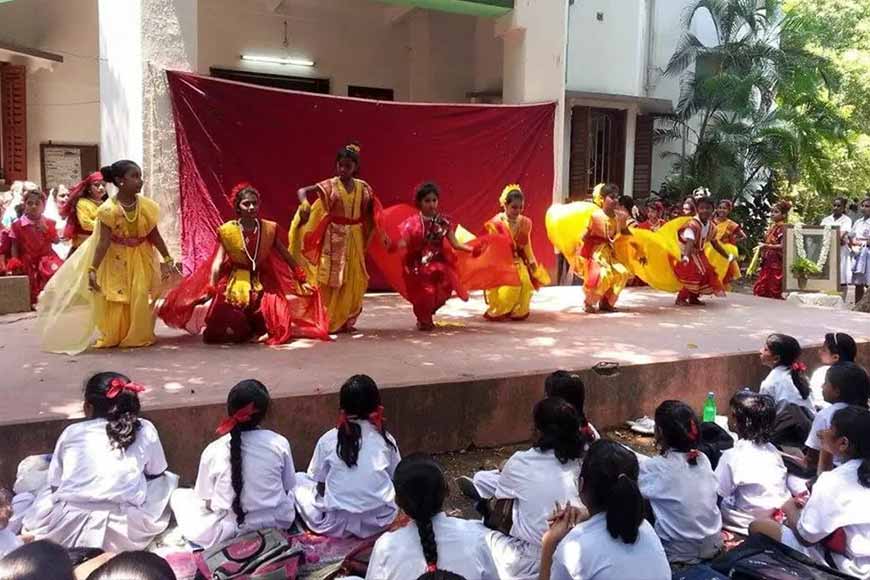 The headmistress informed there is practically no school dropouts here. However, a few girls tend to drop out in eighth or ninth grade. Some of them join other schools. Many students from the economically weak section of the society come to study in the school. Someone's father works in a factory or is an auto driver or someone's mother works as a domestic help. There are girls from broken homes and girls whose fathers have deserted their families. There are also first generation learners among them. "We hold three meetings with parents every year to sensitize them on various social issues and raise awareness. There is a Student Safety and Security Committee in the school. The female sub-inspector (SI) of the local Netaji Nagar police station is a member of this panel. The government physician of Borough Number 10 committee of Kolkata Municipal Corporation is also a member of the board.
There is a Vishakha Committee in place to deal with complaints of any sexual harassment of female students. If our students lodge any complaint, we take stringent measures against the perpetrator of the crime. If we realize the gravity of the situation, we take initiative to inform the authorities through the Child Line number. This initiative is not restricted within the premises of the school. If any girl approaches us with complaints of sexual harassment at home or outside school, we assist the victim and counsel her. We work in tandem with a number of NGOs that help us sort the problems.
This counselling has been made an integral part of the entire education mission with participation of girls of class VIII, IX, X, XI, XII made mandatory. This counseling is called 'Missing Link'. "When necessary, I personally call parents and students for counseling if they face any problem. In most cases, girls come up with myriad issues like someone reluctant to attend school, or someone is willing to come to class but does not want to study, or someone in school uniform goes out with a stranger and remains irretrievable for hours without informing the school authorities or her parents/ guardians. We befriend them and try to help them in every possible way. We help girls apply for scholarships, grants and endowments including Kanyashree Prakalpa, a government of West Bengal scheme aimed at improving the status and well being of girls, specifically those from socio-economically disadvantages families through financial help. However, there is a tendency among a number of girls to attend school to get the grant and then become irregular once the cash flows. This is a major problem. A few girls who misuse the government's encouragement policy to continue education take undue advantage. Money seems to be the only driving motive among a class of students," Rues Ms Dutta.
During Covid-19, teachers attended school to distribute mid-day meals to the students, and help the girls apply for scholarships like Kanyashree, Aikyashree (an initiative to encourage the education of students mainly from the minority community of West Bengal) and Medhasree (for OBC students belonging to minority communities, studying at any government institution can apply). The teachers make sure that their pupils do not face any hurdle while applying for these government grants.
Saraswati Puja is a big event in the school and is celebrated with much pomp and grandeour. Ananda Bhojan, a community eating ritual on the Saturday following Puja. The teachers are striving to move forward on the track manifested by Charushila Devi. However, owing to government protocols for government-aided schools, it is becoming difficult to recruit new teachers and fill up the vacancies. As a result, Ananda Ashram Balika Vidyapeeth continues to struggle to maintain the eminence of the school and fulfill the goals envisioned by Ashram Maa.
References: Asima Chakraborty, Madhumita Sengupta (School Ex)
Nilanjana Dutta: Head Mistress, Ananda Ashram Balika Vidyapeeth