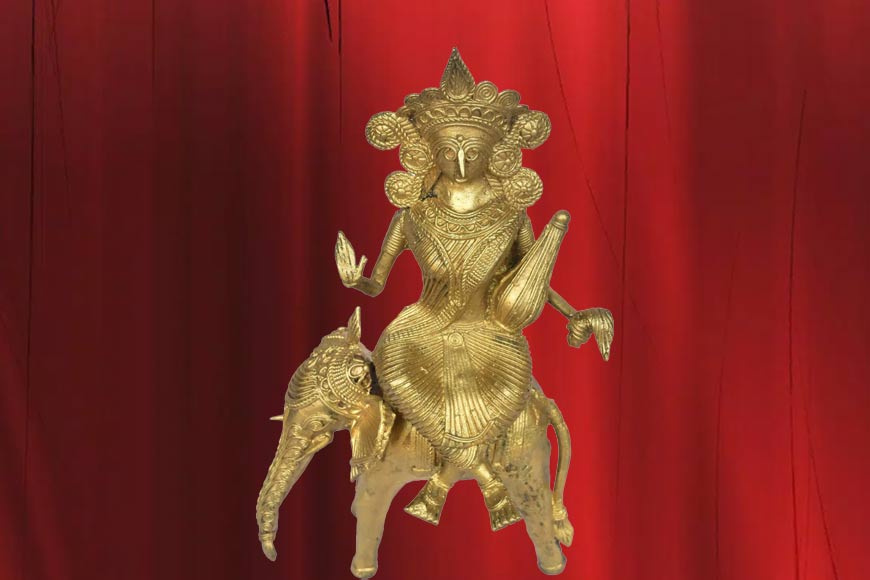 Lakshmi baskets were once preserved in almost all households in Medinipur, Bankura, Hooghly and Purulia districts. The baskets were usually opened for worshipping Goddess Lakshmi and contained an idol of Lakshmi, mounted on a brass elephant along with separate idols of Narayan, Kartik and Ganesh and assorted animals like elephant, horse, owl, peacock, fish and deer as well as a variety of fruits and vegetables. These brass articles were mostly hollow and light. At first sight they seem to be made of cane or split bamboo, but they were actually composed of brass. Thin brass strings were produced by a very special method and then rolled to give shape to these objects.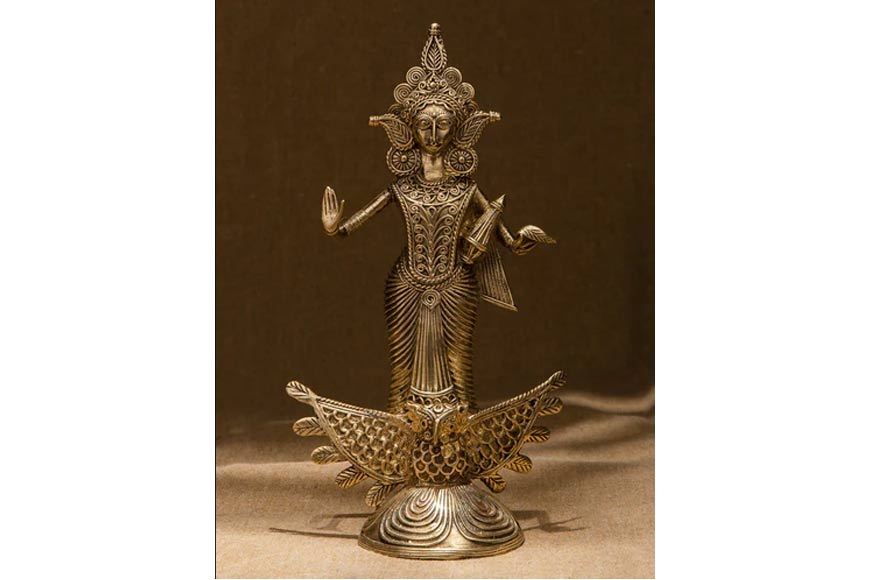 On account of their large variety and exquisite craftsmanship, these brass articles were counted as wonderful specimens of folk art. The creators of these brass articles were blacksmiths belonging to the Dhokra or Dokra community. In some parts of Bengal, these artisans call themselves Mal or Malhar and there were some who introduced themselves as Shyakrahs or goldsmiths. In Medinipur, these blacksmiths were known as Dheppo.
The ingredients used by these artisans in producing brass articles were brass, wax and frankincense and the procedure adopted by them was known as Lost Wax in English and Chire Purdue in French. The process could be explained as a type of metal work with wax moulds. In the artistic terminology of ancient India, this method was known as Madhuchhista Bidhanam. It has been described in the mythological volumes of Mansar, Agnipurana and Matsyapurana. At one time, the Dokra community belonged to a nomadic group of metal workers in Eastern India. In Bengal, this community had settled mostly in Bankura, Burdwan, Purulia and Medinipur, but lately quite a few of these artisan groups have moved from Bankura to Dariyapur under Aushgram Police Station. There they live in colonies set up by the state government.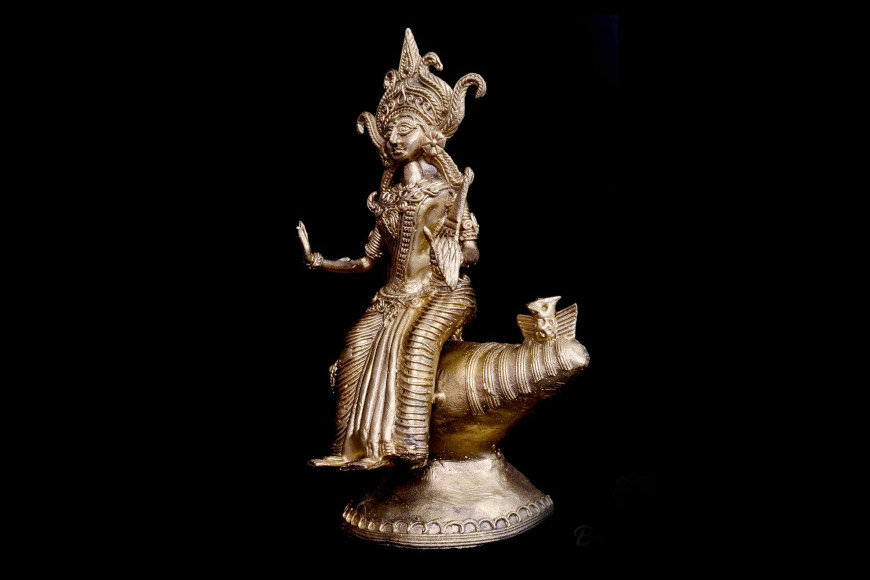 In Bankura several artisans have shifted from Rampur to Bikna where separate colonies have been built by the government. These articles currently produced by the artisans of Dariyapur and Bikna include three-legged flower vase, large and small elephants, metal lamps, elephant bearing lamps, elephants with idols of Lakshmi Narayan, peacocks, Lakshmi, Kartik-Ganesh, Jagannath, Hanuman carrying Gandhamadan, Ravana, Durga with her family, Jagaddhatri, Shiva with tomtom in hand and snake, owl, hen, ankle bell, vermillion box, kohl compact and various vessels for measuring rice.

The blacksmiths of Dokra community living in Purulia make rice bowls of different shapes carrying decorations of leaves and creepers, fish and geometric designs, ankle belts and vermillion box. Owing to dearth of brass, these artisans have started using aluminium for producing the articles. Potters of the Mal community in Kharagpur make horses, elephants and Lakshmi's ornaments. The religious status of these blacksmiths is somewhat unusual. From consideration of religious rites and ceremonies, they are neither Hindus nor Muslims – much like the painters community of West Bengal. Some Dokra artisans settled in Purulia, North Bankura and few areas of Medinipur claim that they are Muslims and bear Muslim names and surnames as well. On the other hand, Dokra artisans of South Bankura and Burdwan call themselves Hindus.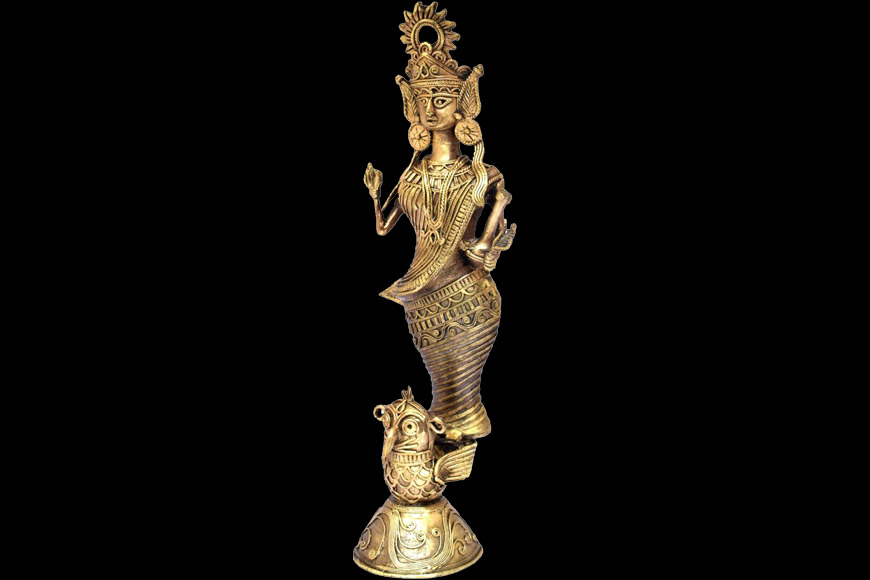 Apart from the artisans of the Dokra community, other rural blacksmiths were also known to make household items of solid brass. Some of the wonderful works of art which they produced were betel boxes, some in two parts shaped in the form of a woman's face, kohl compacts, nutcrackers with decorative designs, vessels to hold the hookah, lime containers and so on. But sadly this particular folk art involving the use of molten brass has become practically extinct today due to the lack of patronage.
(Data from Folk Arts of West Bengal and the Artist Community by Tarapada Santra)