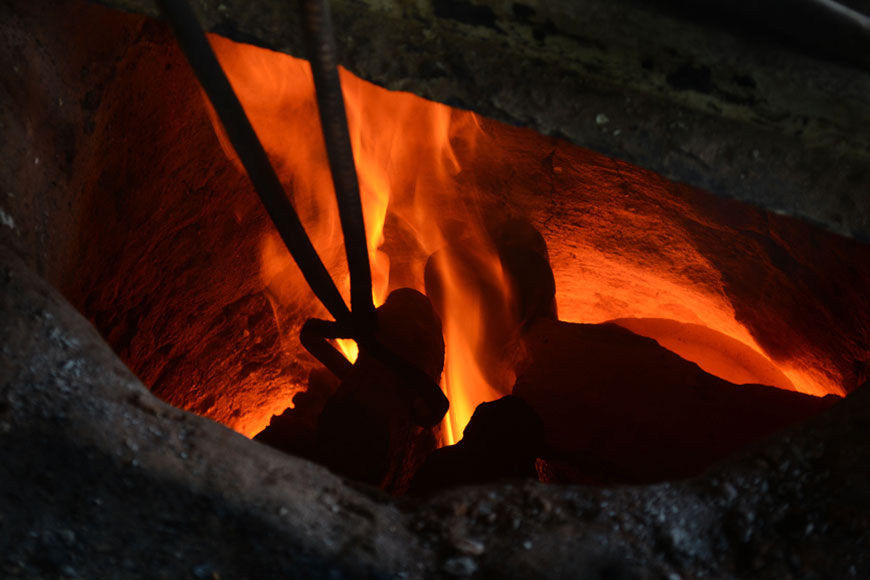 Nestled amid nature in Bankura lies a quaint hamlet. From the highway, a long, dusty, rusty-red laterite soil path leads to Bikna, a village renowned for its ancient Dokra Art form. Connoisseurs of art and craft from all over the world throng to this village to view the craftsmen execute their inheritance of creativity, skills and aesthetics down generations.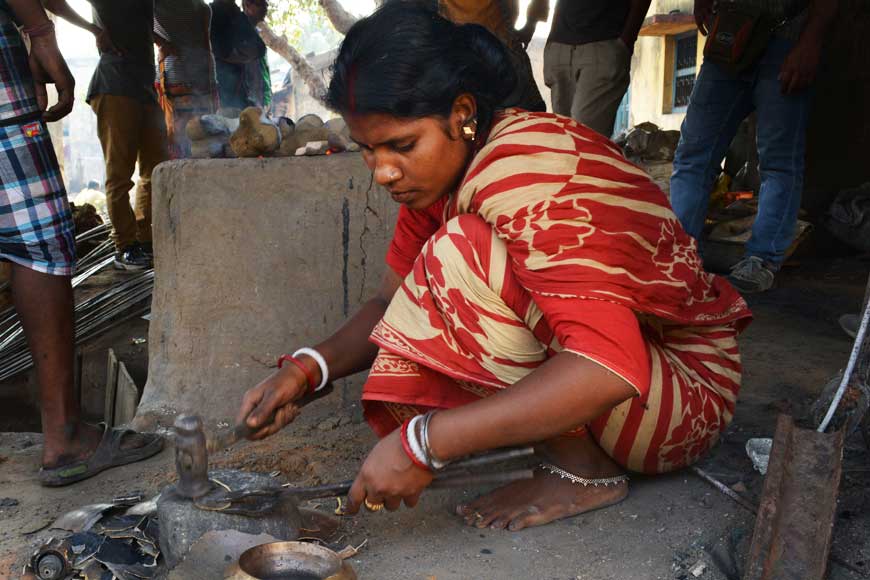 Artisan of Bikna at work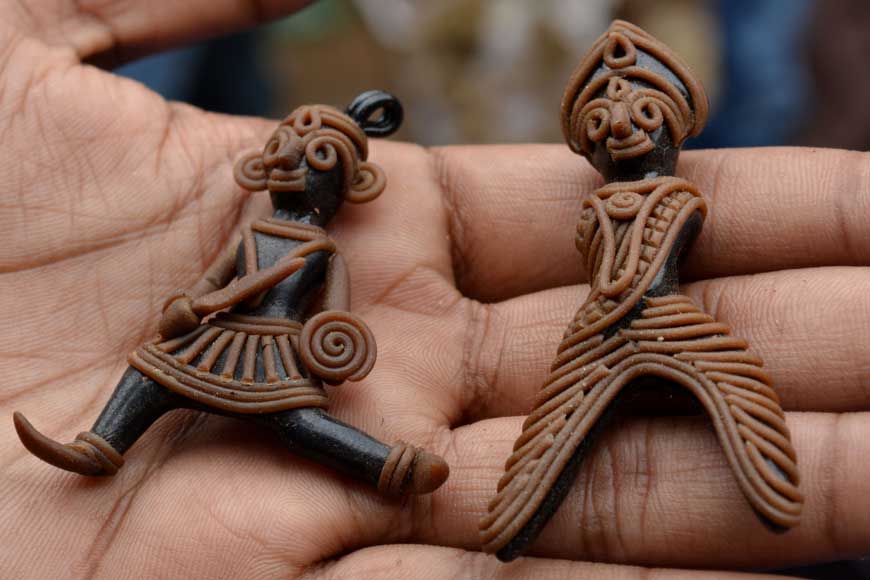 The exquisitely crafted Dokra human figurines
The village is home to approximately 42 artisan families -- where all practice this form of metal art. The villagers do not know how or from where they inherited this art form or for how long they have been making Dokra artefacts. The elderly craftsmen hinge on oral history and insist they have been at it for generations, may be 150 years or more. Dokra is the art of melting figurines using a 4,000-year-old near-extinct metal casting technique called lost wax casting aka Cire Perdue Technique. In Bikna, the artisans use clay and wax to form intricate metal masterpieces. The earliest example of this art form is from the Mohenjo-daro period. Dokra is characterized by primitive simplicity, rustic beauty, imaginative designs and patterns making it a coveted collector's item.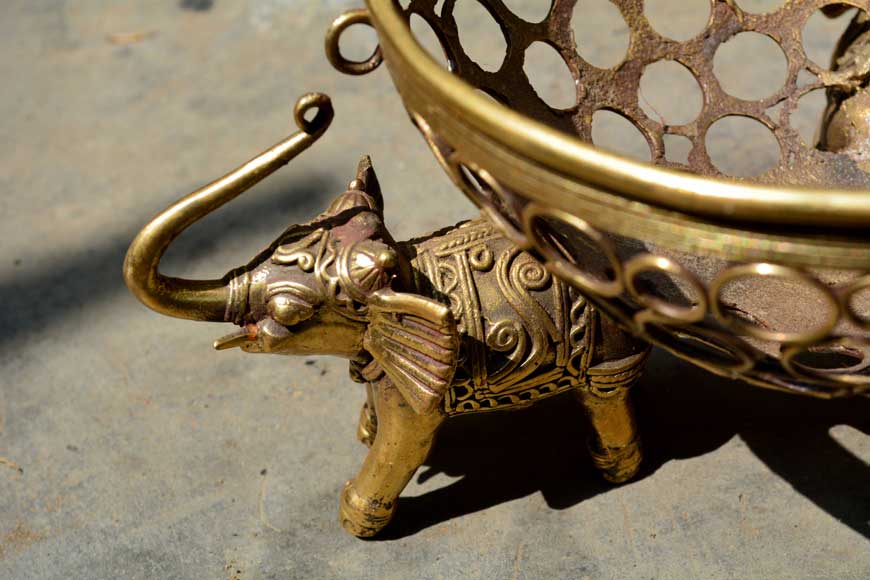 The wondrous Dokra elephant figurine
Times have changed and so have the taste of buyers. Previously, craftsmen made household utility items for rural markets like Lakshmir bhanr (piggy bank for collecting coins), kunke (an utensil for measuring grains), figurines of animals like cattle, horses, elephants or divine idols of Ganesh, Lakshmi, Saraswati, Narayan et al. With evolving times, Dokra Art has extended its scope and craftsmen have incorporated changes in designs and diversified to cater to the urban crowd. The artisans of Bikna are adapting their traditional way of working to the demands and possibilities both of a new technology and a new commercial environment.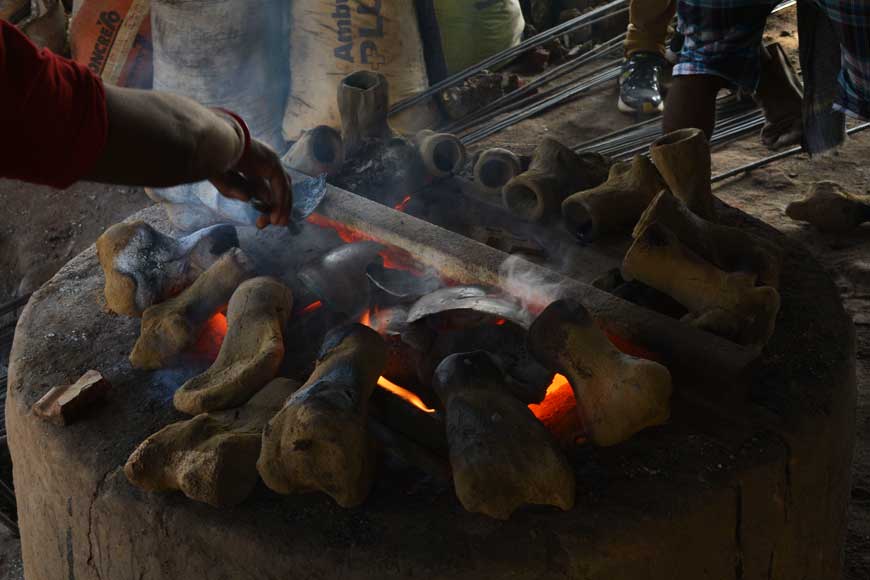 Lost wax casting method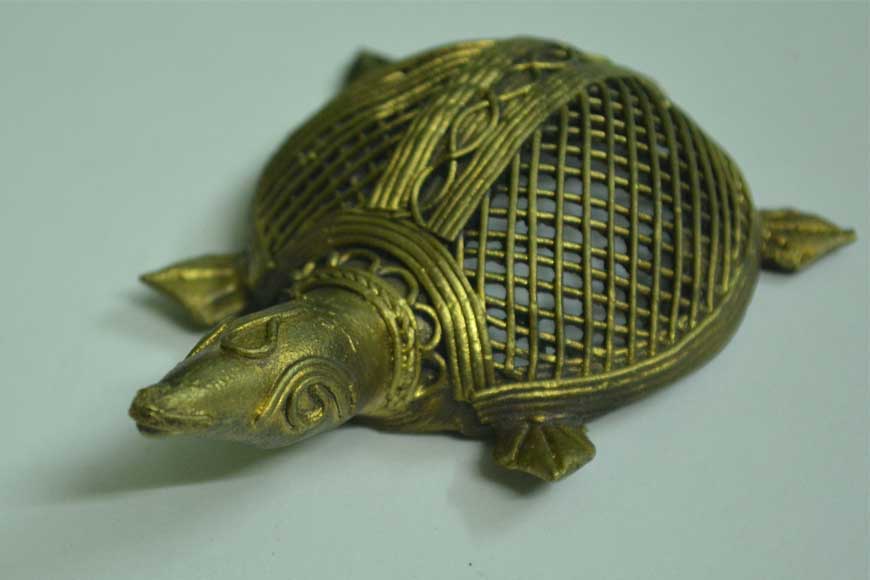 Eye-catching Dokra tortoise
They make decorative wares for the urban masses including fruit baskets, ash trays, soap case, ornate jewelry box, show pieces, planters etc. Dokra jewelry like hanshuli, earrings, danglers, chokers, bangles, bracelets and other miscellaneous items have a very high demand in the market. The lost wax casting method, also known as Cire Perdue Technique involves six stages --- Core-making. A clay core is made, slightly smaller than the final intended size of the artefact. The core may be hardened by firing or sun-drying. A detailed wax model is built up around the core, to the thickness of metal desired in the finished object. Next the wax model is coated with a thin layer of very fine clay. When this layer is dry and hard, further layers of clay are added to the mould. One or more pouring channels are provided, through which molten metal can run to fill the mould. The mould is pre-heated to melt the wax, and the molten wax is poured out which leaves a cavity of exact size, shape and surface contours. Molten metal is poured into the cavity and the mould is left to cool. As a finishing touch, the artefact is broken out of the mould. Traces of baked clay are removed and surface blemishes and defects repaired. There are many refinements and variations, but the above outline applies to most of the traditional styles of cire perdue work still extant.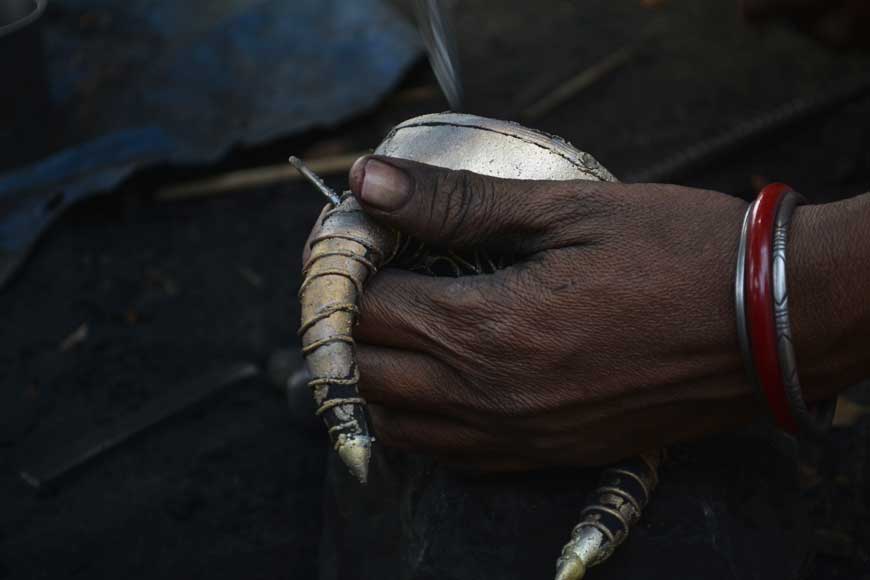 Breathing life into Dokra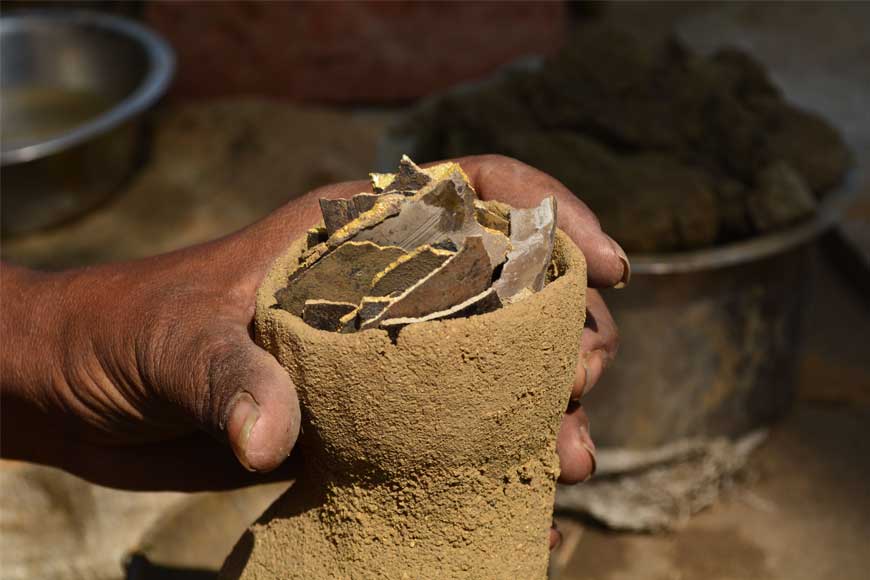 Traditional style of cire perdue work
One of Bikna's famous artisan is Juddha Karmakar who is no more. He was honoured with the President's Medal in 1988 for his creations. Dokra Art is also practiced in Guskara and Dariyapur in Burdwan district, but the intricate jali (net) work which looks like machine-made, is a unique trait perfected by the artisans of Bikna only.
The repertoire of Dorka artefacts from Bikna