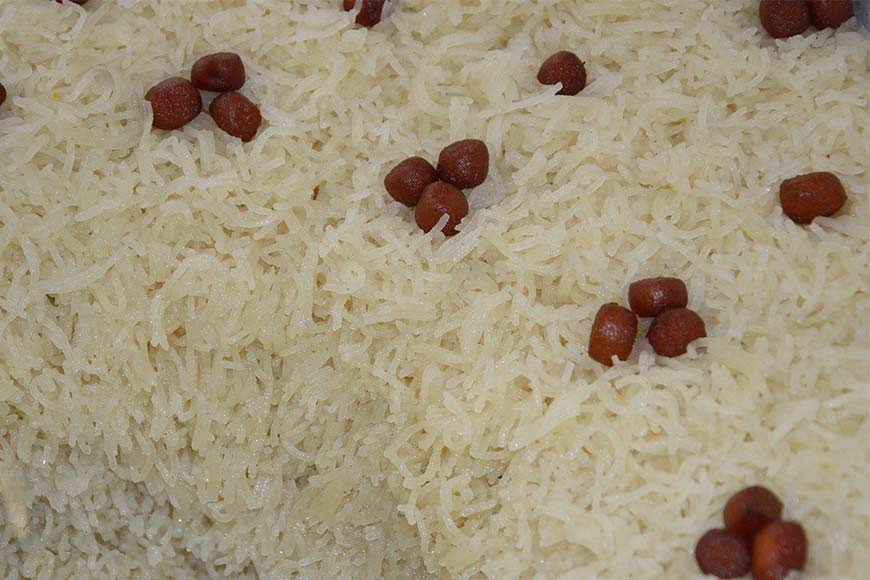 Those sweet, sugary white strands with the perfectly geometrical round brown balls dashed into it --- one of the most exclusive sweets made in Colonial Bengal. Guess what? Sitabhog ofcourse. Speak of Burdwan and the plates of Mihidana and Sitabhog are to die for once you land up at the Burdwan Railway station. Cottage cheese or chhana and powdered rice are rolled into a dough. It is broken into tiny bits and fried in ghee, then soaked in sugar syrup and strewn with tiny pieces of Nikhuti, or small gulab jamuns. With the appearance of vermicelli or pulao, this sweet had attracted the attention of Europeans since long.
Traditionally, Sitabhog was made from Sitashol rice (probably from which its name was derived), but nowadays it has been replaced by Gobindobhog rice which is easier to procure. The process of making mihidana and sitabhog are almost identical but the ingredients differ. The color of Sitabhog is pristine white, whereas, Mihidana is bright yellow in appearance. Mihidana, often described as the micro-cousin of the traditional Boondi, is derived from two words, Mihi meaning fine, and Dana, meaning grain. However, now-a-days, Sitabhog is sold separately and is often given a bright yellow tinge, something that is strongly disapproved by traditionalists.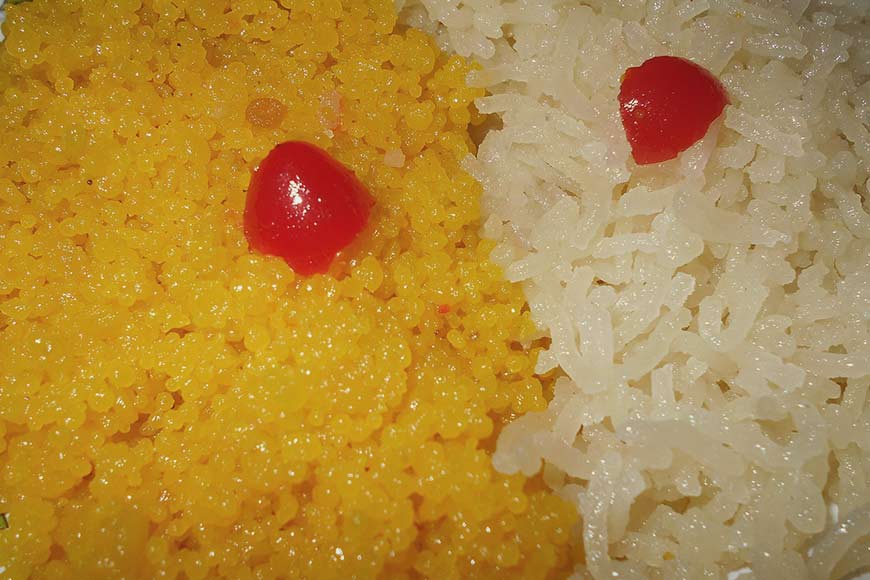 Sitabhog and Mihidana
Burdwan's Sitabhog and Mihidana made it to the finishing line of the coveted GI (geographical indication) tag in 2017. There is a myth associated with the naming of this sweet. According to legend, the princess of Mithila and Ayodhya's King Ram's wife, Sita, was very fond of this particular sweet and hence it was named after her. Although a traditional sweet of Burdwan, it is available in other parts of the state as well. It is very popular and preferred as the perfect dessert by 'mishti' lovers after a sumptuous Bengali meal.
The origin of Sitabhog has an interesting tale. According to Late Nagendranath Nag, his grandfather Late Khettranath Nag invented the sweetmeats, Sitabhog and Mihidana during the regime of Maharaja Late Mahatabchand Bahadur. Seventy-two years after this invention the name of Sitabhog and Mihidana became famous all over India after the arrival of Lord Curzon in Burdwan and his appraisal of these two sweets. No doubt the colonial history associated with the twin invention added to their glamour and ready acceptance all over India.
Viceroy Lord Curzon visited Burdwan on August 19, 1904, to confer the title of 'Maharaja' on the then-zamindar of Burdwan, 'King' Vijaychand Mahatab. To make the occasion memorable, the king summoned the famous 'karigar' Bhairab Chandra Nag and ordered him to create some unique sweet dish for the revered guest. Nag raked his brains and then decided to experiment with 'boondi.' As he got the dough ready for frying, by mistake he used a very fine variety of 'jhaara' (sieve) and as a result, the boondis created were really very small and mihidana was produced. It's said that Sitabhog was invented at the same time with a different combination of ingredients.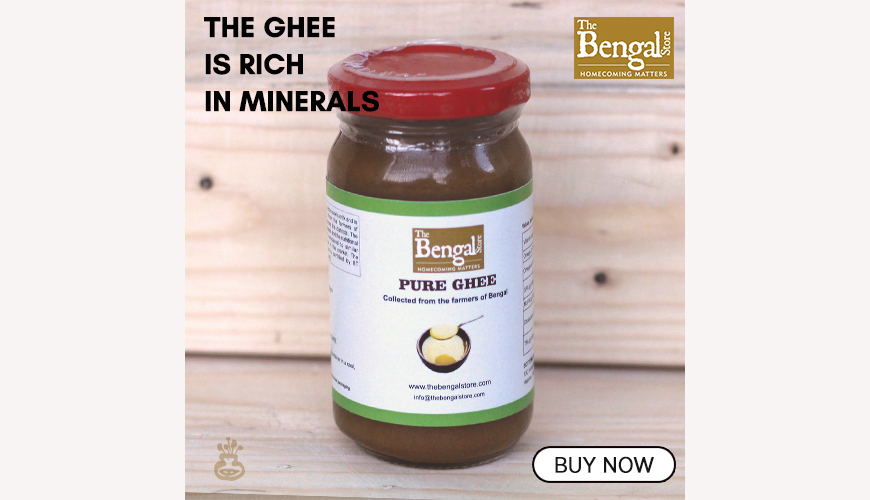 Lord Curzon was floored by the sweetmeat served at the feast held in his honour. He was all praise for Nag and even issued him a certificate where he confessed, he had never tasted anything like the mihidana-sitabhog combination ever before. Late Nagendranath Nag, son of Late Vairabchandra Nag, related this incident on Radio on 15 November 1976.
For the best Sitabhog-Mihidana experience in Burdwan, the name of Ganesh Sweets crops in. Situated in a narrow lane, it is quite close to the famed Curzon gate. The small, non-descript shop is renowned for its premium quality Sitabhog Mihidana combination. There is another shop located opposite Ganesh Sweets named Bhagaban Sweets which specializes in Sitabhog Mihidana fried in ghee.