Malda teen javelin thrower aspires to win medals for India at the Olympics - GetBengal story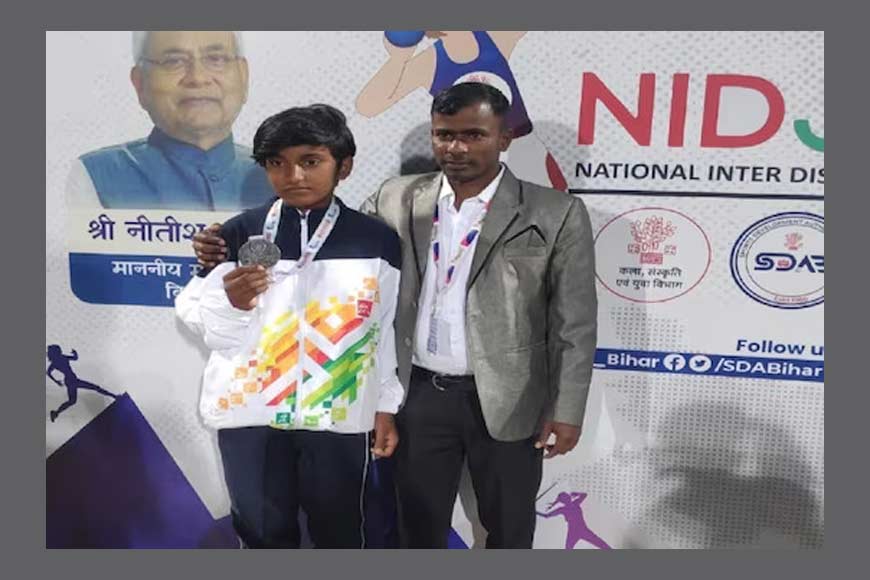 Javelin thrower Mishti Karmakar with her father - Image courtesy : News 18 Malda
Residents of Malda district are basking in the reflected glory of their gifted young athletic champion, Mishti Karmakar, the girl who has brought laurels for her district with her brilliant performance in the recently concluded 2nd National Javelin Day on August 7. National Javelin Day is celebrated annually across India on August 7 to commemorate Neeraj Chopra's 2020 Tokyo Olympic gold medal and also to promote Javelin at the grassroots level by the Athletics Federation of India (AFI), the apex body for athletics in India.
This adolescent girl's quiet demureness is elusive. When she steps into the arena, Mishti undergoes a transformation, and out comes her prowess as a tigress from behind her meek and modest persona. Once she ensures her grip on the javelin, she is a powerhouse of energy. The district sports community is elated by Mishti's performance and is pinning hopes on this budding athlete to achieve international glory and bring laurels to the country in the future.
Life has not been a bed of roses for Mishti, though. A resident of Mishra Colony in the English Bazar town of Malda, this Class VIII student of Malda Railway High School has seen her parents struggle to make ends meet. Her father, Sanjay Karmakar, is a railway hawker, and her mother is a homemaker. Earlier this year, Mishti put the name of her district on the list of medal winners in the Inter-District Junior National Championship held at the Patliputra Stadium in Bihar from February 10 to 12. Competitors from different districts participated in the athletic events held there.
Mishti was one of the 10 participants from Malda. She was a competitor in the javelin throw event in the under-14 category, where the competition was tough with 1200 athletes vying for the medal. Despite the tough challenge, she secured the second position with a javelin throw of 34.25 meters. Her performance ensured her a ticket to join the national camp for training. After a brief stint at the camp, she was back home and participated in the 2nd National Javelin Day on August 7. Mishti showed her class and triumphed as the topper in her event. Her hard work and tenacity are accelerating her path to success as a talented athlete.
This year, the 2nd Javelin Throw Day was organized by the West Bengal Athletic Association in Kolkata. Two athletes from Malda district qualified and participated in the event. Mishti competed in the Under-18 Girls category and threw her javelin at a distance of 33.59 meters to win gold in her group.
Throwing the javelin as a sport evolved from the everyday use of the spear in hunting and warfare. It was widely practiced in Ancient Greece and incorporated into the Olympic Games in 708 BC as part of the pentathlon. It has been part of the modern Olympic Games programme since 1908 for men and 1932 for women. Javelin is a very technical sport and requires a combination of strength, power, timing, coordination, precision, and timing.

Javelin in India is no longer an event quietly unfolding. Olympic champion Neeraj Chopra has single-handedly lifted it to a marquee event in Indian athletics. There is a certain pride now in holding the spear. You can see that on the beaming faces of the javelin throwers, whose chests puff up as they assemble like gladiators, waiting to display their skill, power, and technique. In addition, make the javelin soar into the night sky. They are the new age athletes who have been lured into the sport by Neeraj Chopra, the pied piper of India, hitting the high notes in javelin. Neeraj Chopra has risen to prominence in the world of athletics with his extraordinary talent and unwavering dedication, he has become an inspiration to aspiring athletes not only in India but also around the globe.
Mishti trains under her coach, Asit Pal, and practices diligently in the field of the District Sports Association, Malda. The officials of the district sports organization are upbeat by her consistent improvement in her accomplishments and are confident that her hard labour will bear positive outcomes in the future. Her family also supports her and prays ardently for her winning streak to continue. Mishti knows she is her own competitor and works continuously to outdo her own performance. She is intent on improving her abilities and determined to clear all hurdles, participate in national and international events, and bring laurels to her country. Her ultimate destination is the Olympics, where she wants to repeat the feat of her idol, Neeraj Chopra.