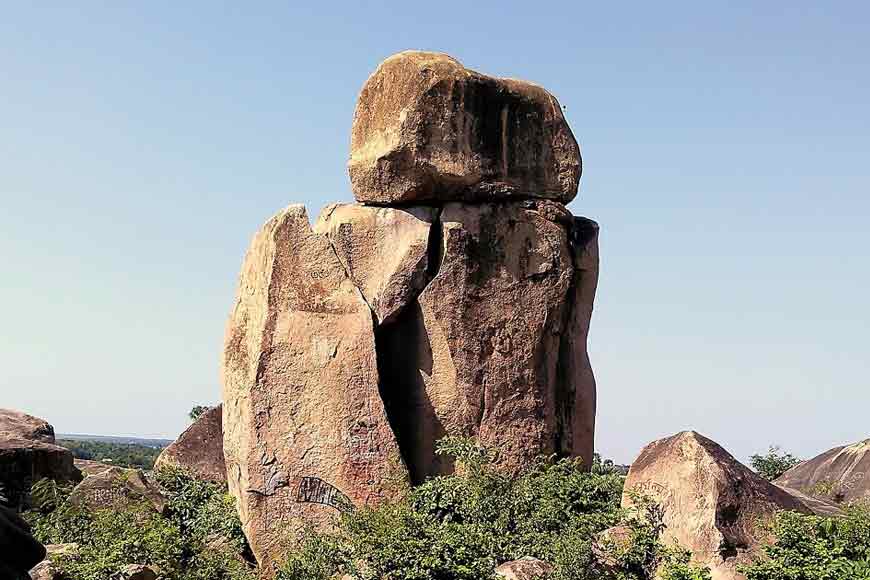 It was perhaps owing to Satyajit Ray's iconic Bengali film 'Abhijan' (1962), shot largely in Birbhum district, that the 'Mama Bhagne' rock formation properly came to the notice of the outside world. In the film, the extraordinarily balanced formation of one spherical rock sitting neatly atop another becomes a symbol of the burden of guilt that humanity carries on its shoulders. In reality, Mama Bhagne has become a tourist attraction in the Dubrajpur area, drawing enthusiasts from far and wide.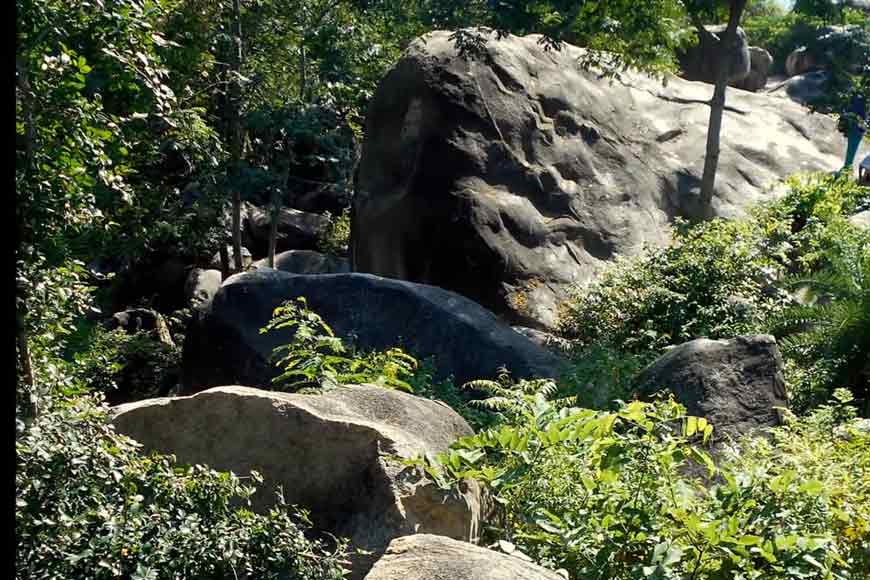 In Bengali, 'mama' means maternal uncle and 'bhagne' is his nephew, specifically his sister's son, a traditionally close and loving relationship. The two rocks look exactly as though someone has spent some time placing one on top of the other, giving rise to more than one local legend. Geologically speaking, the two spherical boulders are granite rocks, and the site where they are located is littered with several similarly circular boulders of grey granite, pink quartz, grey feldspar and black mica. However, no other boulders are balanced so neatly one on the other.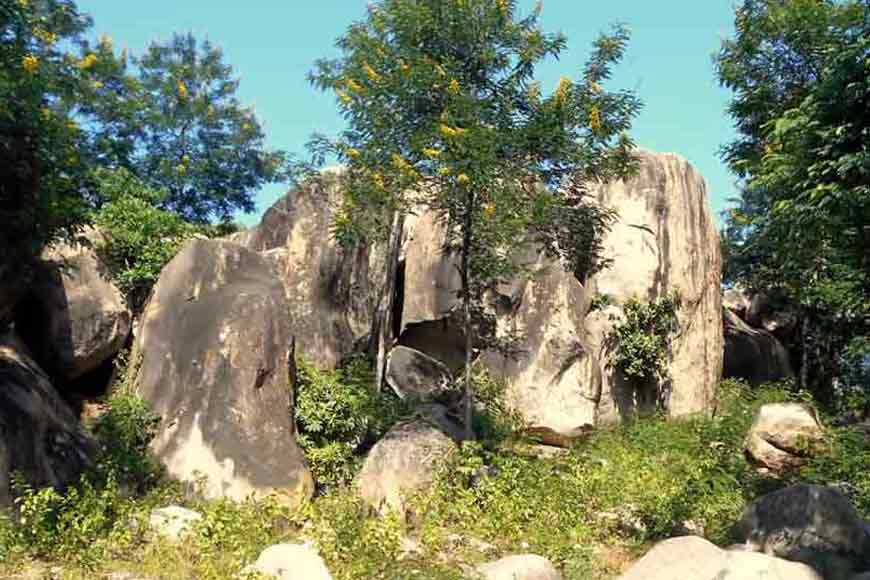 That said, it also must be said that the location does come as something of a surprise, situated as it is in the midst of agricultural greenery, incongruous and sudden. As an explanation, locals have come up with various legends, as we said. One of them has it that when Lord Rama was preparing to attack Ravana, and needed to lay a bridge across the sea from the Indian mainland to Sri Lanka, he flew to the Himalayas in his chariot, picked up the rocks he needed, and flew back. On the way, some of the rocks dropped out of his chariot, which are the ones we see in Dubrajpur.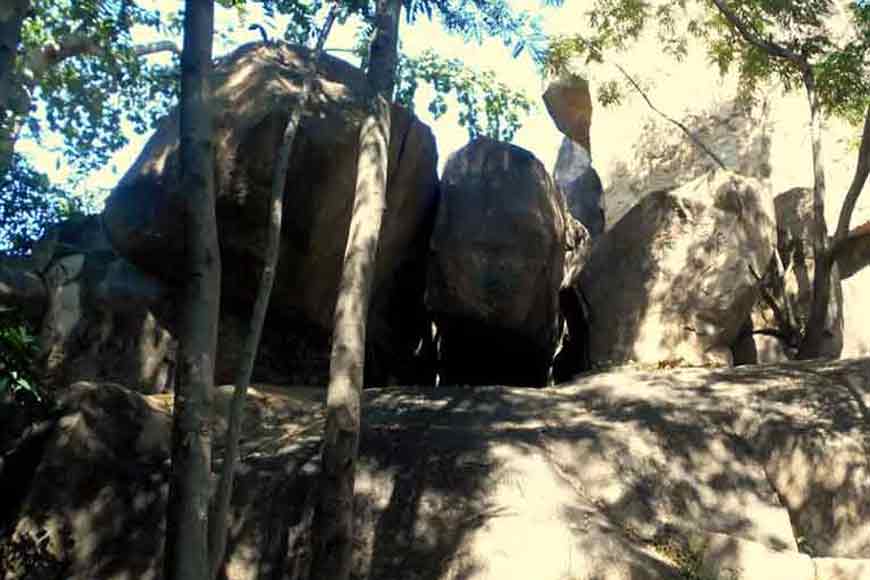 Yet another story goes that the great sage Viswakarma, trying to build a second Kashi (Benaras) in one night at the command of Lord Shiva, left his work unfinished as dawn broke, and the rocks he left behind are the ones at Dubrajpur.

Folklore apart, geologists believe there might have been a volcanic eruption that led to the formation of the Chhotanagpur Plateau, which in turn led to the rocks coming to the earth's surface. Neither mythology nor geology, however, has been able to satisfactorily explain how the Mama Bhagne boulders came to be so precisely balanced, or how old they are, and why the upper boulder has not rolled off the lower one!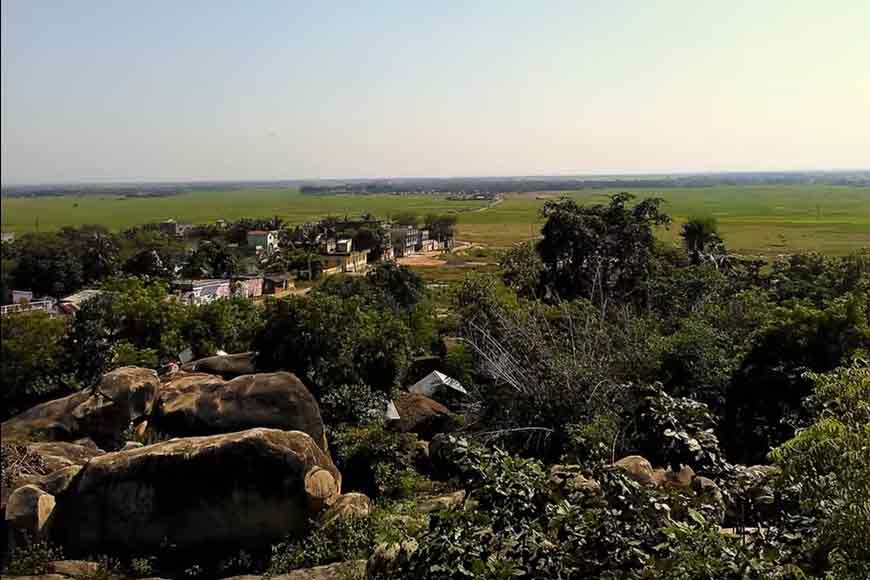 The area surrounding the spot is worth a visit in itself, with the kind of eerie, desolate beauty that will draw your attention and hold it. Sparsely populated, the only sign of life for miles may be the shepherds and their herds of livestock at the bottom of the hills, where you can also take in the famous Shiva temple of 'Pahareswar'.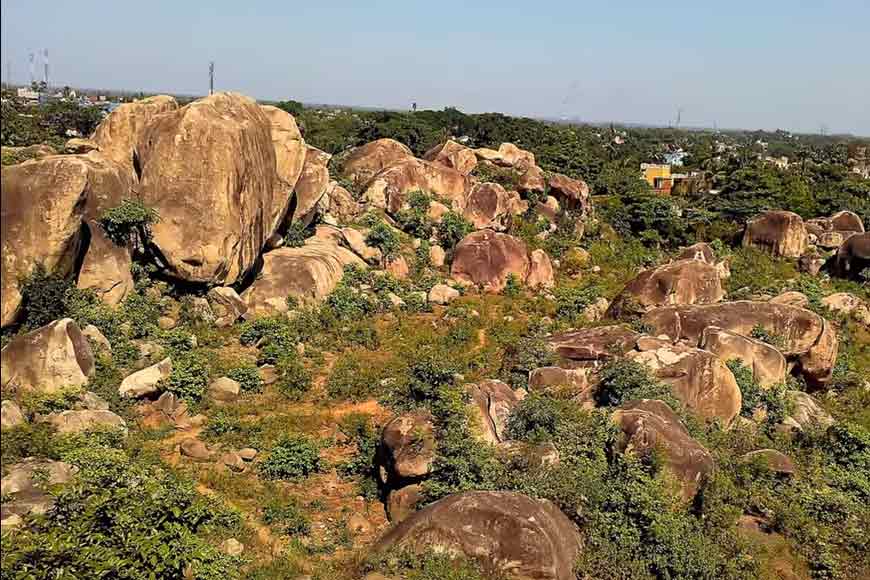 Dubrajpur is 23 km from Siuri, the Birbhum district headquarters, and about 45 km from Santiniketan. The best thing to do would be to make a day trip from Santiniketan, which is easily accessible from Kolkata by both road and rail. While at Santiniketan, it is highly recommended that you stay at the picturesque Shantobitan Tourism Property belonging to the West Bengal Tourism Development Corporation. For bookings and other details, contact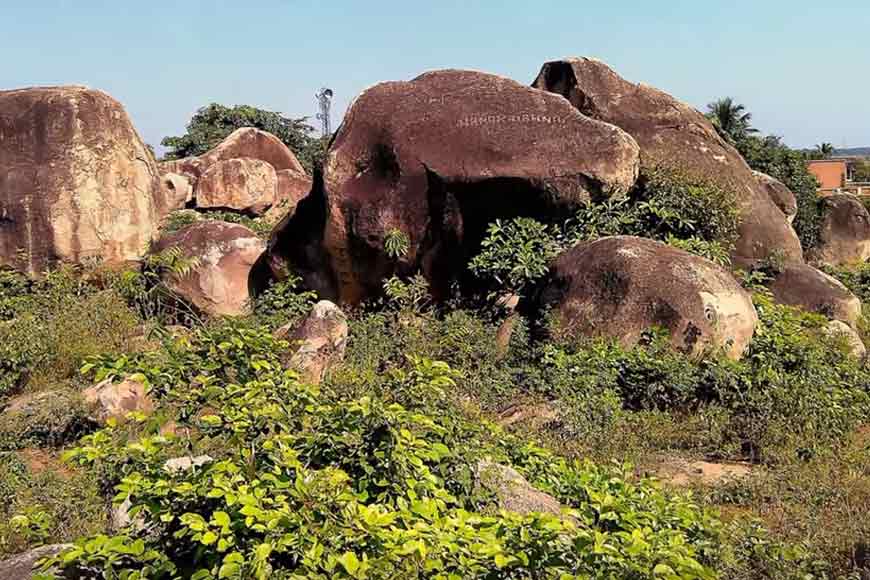 West Bengal Tourism Development Corporation Ltd
DG Block, Sector-II, Salt Lake
Kolkata 700091
Phone: (033) 2358 5189, Fax: 2359 8292
Website: https://www.wbtdcl.com/
Email: visitwestbengal@yahoo.co.in, mdwbtdc@gmail.com, dgmrwbtdc@gmail.com