Manasi Mridha, Kolkata's first pink cab driver was abandoned by her dad for being a daughter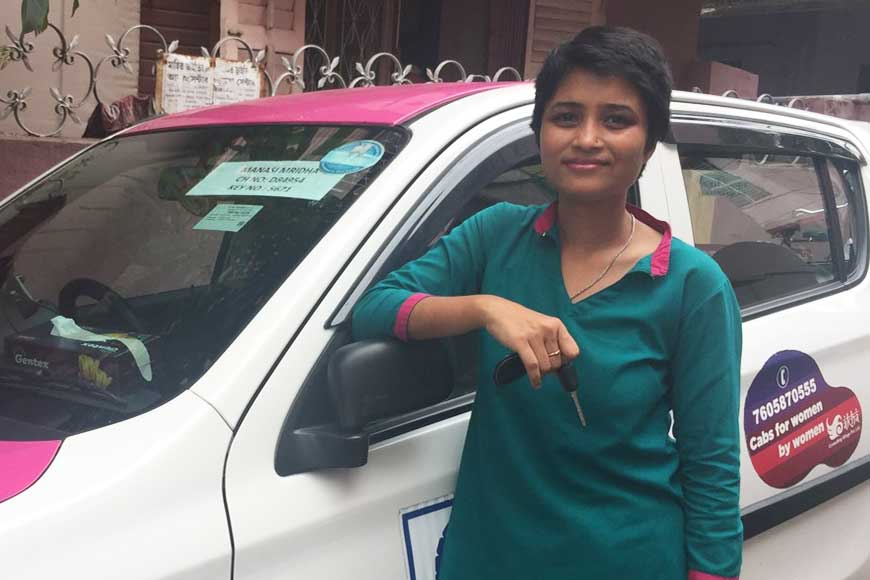 This is the story of an ordinary middle-class girl, who by her sheer grit, determination and indefatigable spirit, has transformed her life and become an inspiration for millions of girls. She is Manasi Mridha, a first-generation pink cab driver of Kolkata, who has been bypassing through various dead ends in her life to make a difference.
She hails from Chinsurah, Hooghly and now stays in Santoshpur. But the journey from Chinsurah to Santoshpur was not an ordinary one. But Manasi's relentless war against all impediments have paved her way to success and glory. Her father never wanted a daughter and when she was born, her father refused to go to the hospital and see her. That was the first rejection she had, though she was not aware of it then. Three years later when her mother gave birth to another daughter that was the final nail in the coffin. Their father dumped the family in disdain, foregoing all his responsibilities although he was a government service holder.
Within 13 days of birth, Manasi's sister was detected with thalassemia. Her mother was in extreme distress as she needed money for the infant's treatment and to feed the family. She took up a cook's job that compelled her to stay outdoors for long hours. She would cook for the two kids and leave but their father would storm in during their mother's absence and devour everything, leaving the helpless kids starving.
Manasi's mother got her admitted to school but her father would not let her attend school and forced her to stay back home. At this point Manasi's grandfather came forward and again arranged for her readmission. He helped them financially too but that was inadequate for the family. Finally, when Manasi was in Class IX, the situation at home worsened and their mother had no other alternative but to leave home with her two children and seek refuge in her parental home.
While staying at her maternal uncle's house, a wedding proposal came for Manasi and her mother agreed. Manasi was 16 when she got married and shifted to her in-laws' house at Barasat. Her husband was very sympathetic and loved and cared for her but unfortunately, he died suddenly, leaving Manasi with their infant. A teen mother, she was kicked out by her in-laws. She returned to her uncle's house, but she was not welcome there. Her father too, turned her out. So Manasi worked odd jobs to feed her son.
She took up a sales executive job for a bank in Howrah and shifted to Sonarpur with her son and got him admitted to school. On her holidays, she used to frequent a church in the locality in search of better employment opportunity. There she met a lady who took her to Azad Foundation, a social enterprise that supports resource-poor women to gain 'Livelihoods with dignity.' During this period, she acquired driving skills, worked as a private driver and imparted lessons to young women. She was then introduced to the NGO's sister organisation, Sakha Consulting Wings Pvt. Ltd, a social enterprise, launched to provide safe transport solutions for women by women in urban India. For Manasi, coming in touch with Sakha was a great help. This NGO helps women to own and drive cabs in the city and they provided Manasi with encouragement and helpful advice. That was way back in 2016. She now shifted to a rented apartment in Santoshpur with her son. She was earning well but now she dreamt of owning a cab. Meanwhile, the State Government decided to launch 'Woman only' Pink Cabs in Kolkata under the Gatidhara scheme. Gatidhara is a self-employment scheme of the transport department to encourage youths to buy small vehicles and use them for earning livelihood.
The Pink Cab was launched on February 20, 2019, to encourage women to be in the driver's seat. Manasi applied along with 150 others and when the list was published, her name was right on top. She is the first Pink Cab driver. Getting her cab flagged off by the Chief Minister was indeed a moment of pride for Manasi, but this was just the beginning.