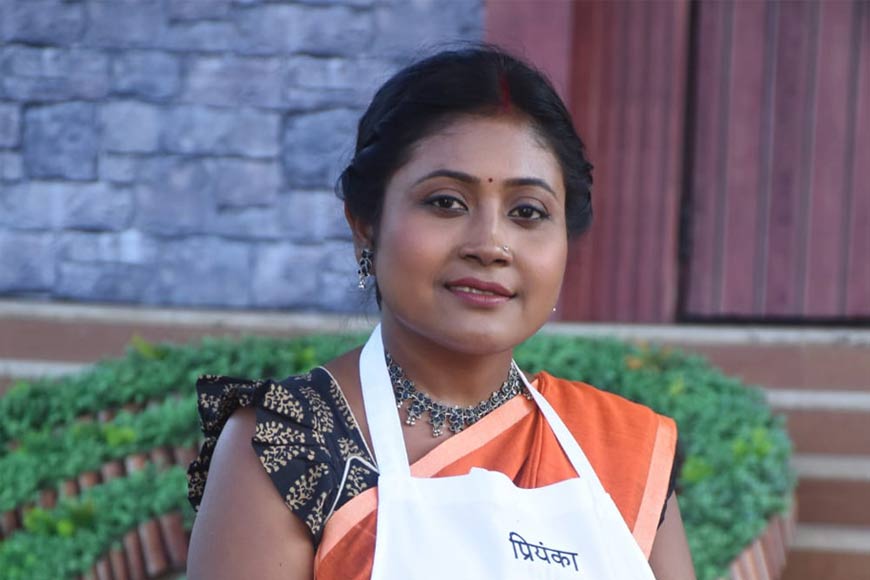 Priyanka Kundu Biswas, the "Queen of Desserts," a title she received from none other than celebrated chef Vikas Khanna at the MasterChef contest, very quickly won the hearts of everyone including the Bengalis around the world, with her amazing baking skills. The 32-year-old who resides in Dum Dum in Kolkata, used to work at a Multinational Company (MNC) for five years. She was among the 14 people who were chosen for the job out of over 650 candidates. She is well-educated and is a very good student who can also be referred to as a "geek".
Even after being such a good student and earning a lot for herself, she chose to switch careers. "I used to cook in my free time to relax and in my office, people used to call me MasterChef. So, I thought to myself that for five years, I worked for someone else. Why not give two years to myself? and I planned my exit accordingly. I left my job three or four days after I completed five years in the company. I even decided that if the plan does not work out then I will return to the corporate field after doing an executive MBA. I did not inform my parents that I quit my job, as they were not willing to allow it, so I told them that I was taking a break and if I cannot do anything in the two years then I will return and within these two years, my name was on an international magazine."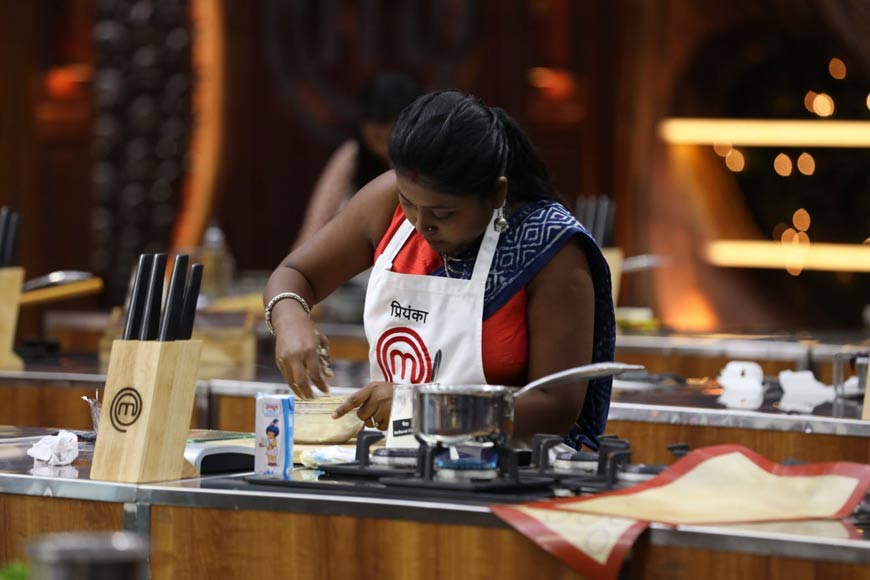 Her parents realised that, though Priyanka's earnings had comparatively decreased, she was a lot happier pursuing something of her own. Priyanka is a proud Bangaal and can cook all sorts of dishes starting from ghoroya ranna (home-cooked meals) to restaurant-style dishes. She chose baking over any cuisine partly because the Season 4 winner of the competition was a baker. "I was inspired and I could bake cakes quickly. I have a habit of reading various cookbooks and watching a lot of cooking videos as well. Baking is something about which I did not have much knowledge at first. Decorating a cake is basically a blend of art with food. My dad and brother both are national-level artists. I belong to a family of artists. It seems that art flows in my veins. I am a commerce student, so I could figure out that cake decoration can be profitable. Thus, I made cake decoration my profession and I kept studying baking simultaneously. I did not go to any patisserie school. It is a wrong concept that going to a certain institute and pursuing a course is the only way to learn something. With all the technological advancements in today's world and also due to Covid, we got access to a lot of courses that would have cost lakhs but now can be learned for free at home. These helped me learn new things."
Biswas could grasp the concepts of these videos and books accurately. She has over 80 books only on baking, aside from other cookbooks. "I kept on trying, so this trial-and-error method worked for me. Even understanding that I am doing something wrong will eventually educate me on the right way. Everything was so interesting to me and I kept on experimenting. Starting from my house help to the neighbours, my family members had to have a lot of cakes due to my continuous practice. I did not sell a single cake for the first one and a half years. I have to be perfect, that is my motto. If I do some work, I have to be perfect in it or else I will not do it."
Biswas kept prepping herself and this was her third attempt. "I have to keep myself updated with whatever the last contestant or the last winner had achieved as in the next season it will be considered as the basic standard."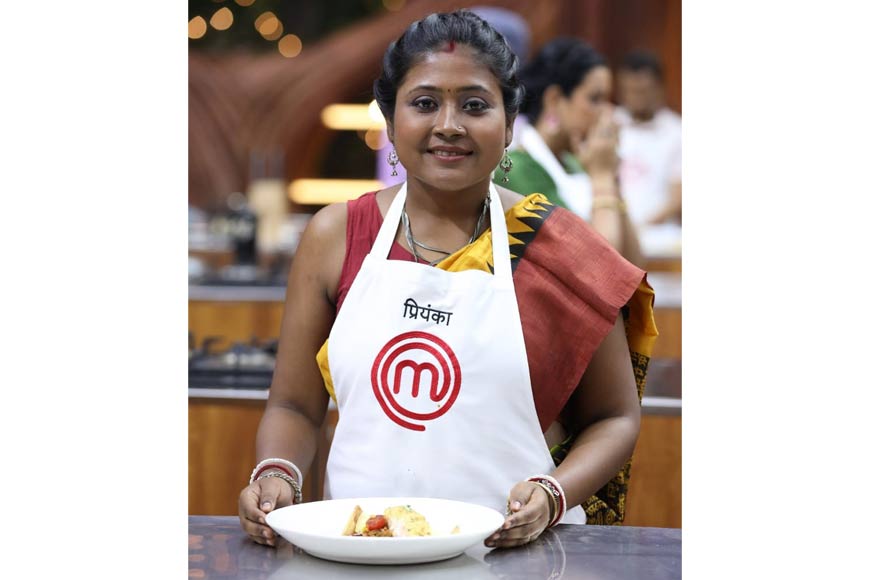 To Priyanka, the whole experience of MasterChef was a dream come true and she could not believe it at first. "Everything seemed like a fairy tale which I often watched on the television. Suddenly, I was there and it all happened so fast. Even after returning from Goa, still it feels like I was in a dream." First, she had to go through the auditions in Kolkata, two rounds were held on the same day, and she reached home late at night. The next day there were the cook-offs. After that, she had to go to Mumbai for the first selection, and again for the second selection. The second time all the participants went with at least 25 pairs of clothes. If not selected, one had to return home with everything, while if they get selected, they had to stay there till elimination. "Along the entire journey, I had mixed feelings, as I was excited and nervous at the same time. After selecting Baa (Urmila Jamnadas Asher, a fellow contestant), I could not believe that I was selected."
For four months she was engrossed with nothing but food all around her. One has to be prepared to face whatever challenge is put in front of them. Their first photo with the judges was after reaching the top 10. She was overwhelmed by the whole experience. From a distance, it might be easier for one to judge the contestants but according to Priyanka, everyone was giving their best and every one was worth their space. French pastry patisserie is one of her favourites as she found it interesting. "If I went to any institute to learn this, I would have had to spend about 10 lakhs for it. But I learned it without spending money."
Nowadays, Biswas is busy making different kinds of bread. "Bread is made with the same basic ingredients such as flour, water, yeast, salt, or sugar, but one can create different types of bread by just changing the hydration technique and the temperature of proofing and so on. It seemed fascinating to me."
Priyanka conducts classes in different levels at her house and the charges start from Rs. 6000 for 5 days workshop, 3 hours a day in level 1. She aims to make baking an affordable education system so that everyone gets the opportunity to learn from a professional expert. She even makes arrangements to get her students government-recognized certificates. In the last one month, every day she wakes up at 5 in the morning and goes to sleep at midnight. It has been crazy for her but she has been loving it. Every day she gets around 5 to 10 orders for cakes and amidst all, she has to take classes as well. Her slots are almost full till November 2023.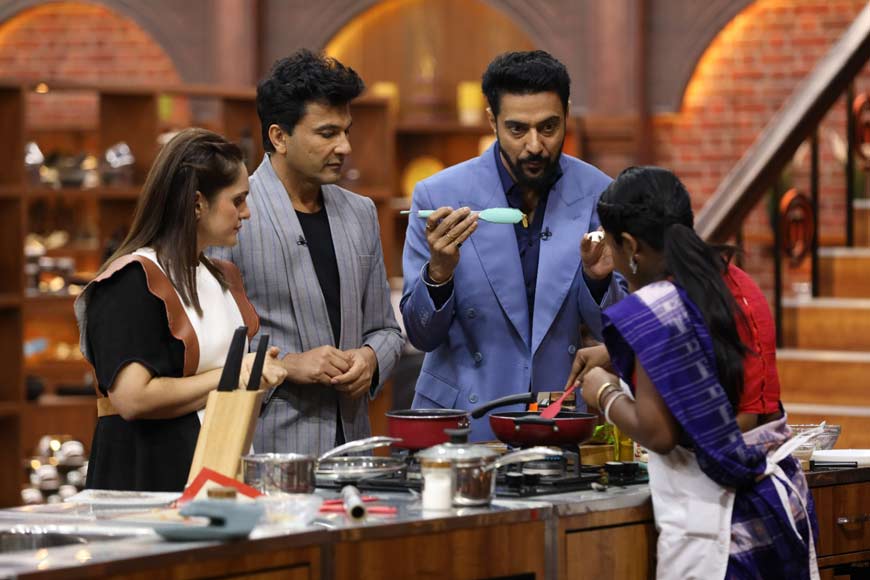 Currently, Priyanka aims to help the underprivileged sections as well, she has talked to some institutions about conducting online classes on baking. Priyanka also has plans for opening a café but at a later stage. "I got many offers from those who wanted to invest in my café and asked me to open a café. But I want to do it all by myself." She does not want to be tied to a bakery as she thinks she has yet to learn a lot.
Priyanka feels that learning never goes to waste. She has kept the rates of her cakes very affordable. Her fresh pineapple cake costs Rs 500 per pound, while the chocolate cake costs Rs 700 per pound, even after using premium products. The humble perfectionist loves to dream and her dreams took her to new avenues. Her quest for more knowledge has always made her explore and take up new ventures. She is an inspiration to all the dreamers out there.