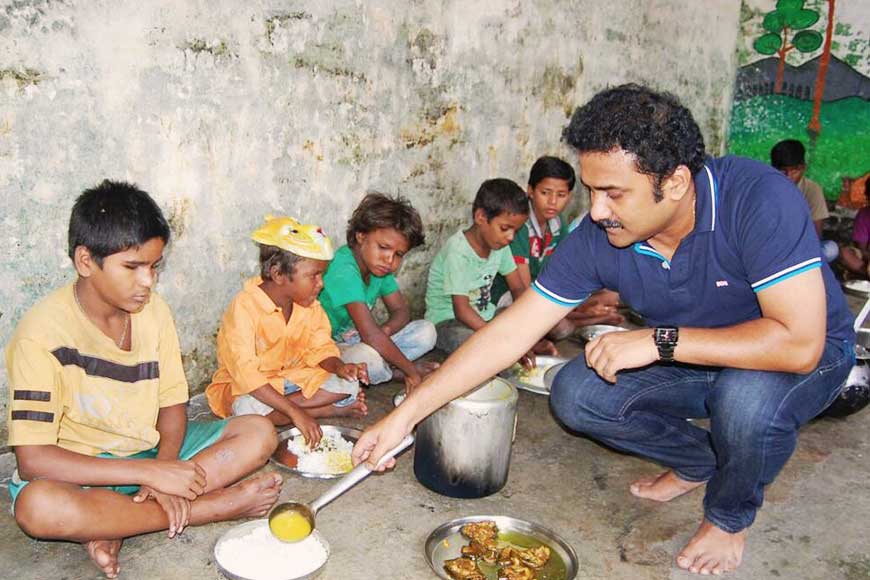 If you are in Sundarbans, the destruction trail of Cyclone Amphan is still visible all around. A trip to Ground Zero throws up tales of good Samaritans who have joined hands with local NGOs to keep these people alive and pave their future employment or earnings, as all are staring at a bleak future. Within two days after the super cyclone hit Sunderbans on May 20, 'Foodman' Chandra Sekhar Kundu, a Computer Science Teacher at Asansol Engineering College, has been running the community kitchen at Baburamchak in Kultali, South 24 Parganas. Veteran actor Rudranil Ghosh had read about this kitchen on social media and he wanted to help.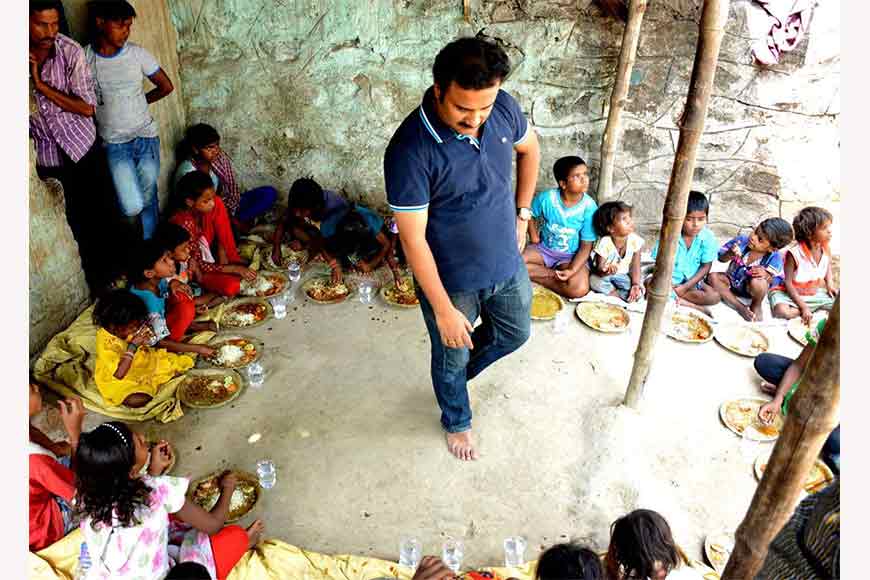 Chandra Sekhar Kundu, the man behind spreading happiness
Ghosh travelled to Baburamchak to join Kundu and took charge of feeding around 400 people. Kundu's effort has been highly appreciated and people from all walks of life have come forward to help him. Many organizations, clubs etc have extended a helping hand. However, the lockdown situation is impeding relief work and with each passing day, circumstances are becoming more difficult for the affected people, says Kundu. It is heartbreaking to witness locals forming a serpentine queue for a morsel of food every day and with each passing day, the number of hapless humans is increasing, putting tremendous pressure on the resources.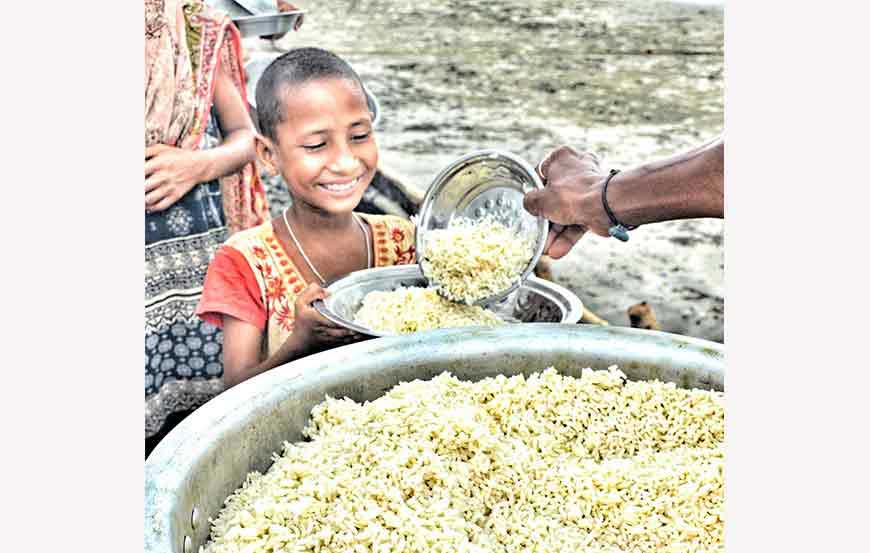 A gratifying smile
The first kitchen was opened on May 23 at Prabhati Mondal's school at Kultali's Lot no 36, for serving food to 600 people from 200 families in the locality who were immensely affected by the cyclone. Within a week of opening the kitchen news started pouring in from other areas which were devastated by the impact of the cyclone. Gradually, community kitchen services were initiated at Mousuni Island (Dweep), Sandeshkhali, Nyajot, Chituri and Baburamchak at Kultali.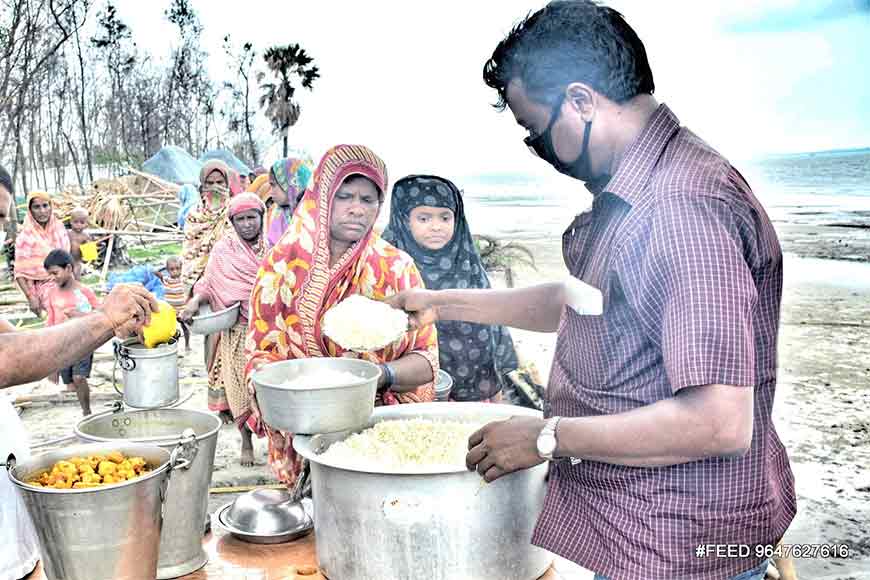 Food being distributed
Kundu was shaken to the core to witness the pitiable condition of the locals. He was moved to tears when he saw how these hapless people have been struggling for generations to live in harmony with nature only to be refused and retorted by a volatile nature that often spews fury in myriad forms like floods, cyclones and storms.
Kundu has been running community kitchens for the past four years. He has a number of projects operational in different parts of the state including Asansol, Bankura and Purulia. This experience has come in very handy when he started his initiative in the Sundarbans. At the community kitchen in Kultali, rice and soyabean nuggets cooked with potato, a simple but delicious and nutritious fare, is served to the people.
Cooking starts at 3 am every day. Locals cover a distance of four kilometers or more on foot to reach the kitchen for food. These hungry people form long queue to collect foodstuff from the kitchen. Distribution starts at 10 am. Kundu, the founder of Food, Education and Economic Development (FEED) along with his four co-founder friends have been cooking and distributing food from their kitchens set up at five centers in Sundarbans and feeding 2,300 people daily. Fresh and nutritious food is cooked under hygienic conditions and given away to the needy.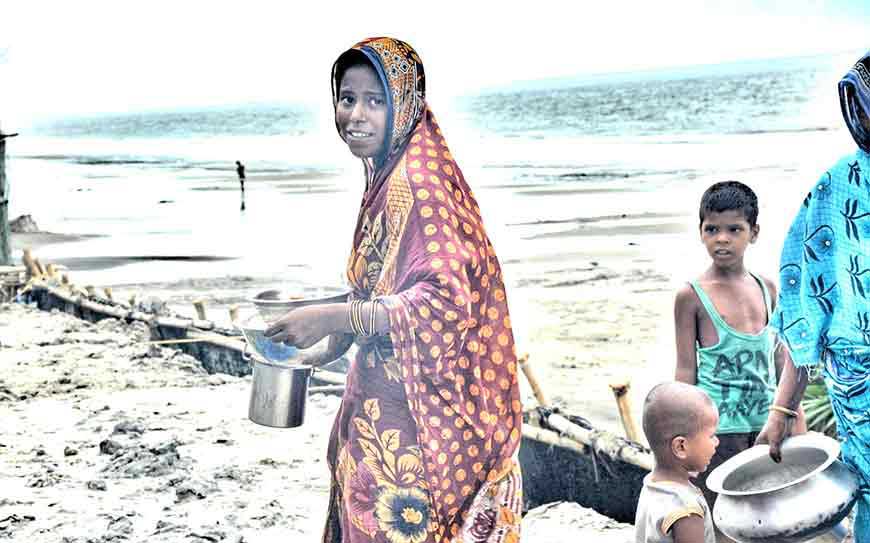 The ray of hope
Kundu had initially planned to run the kitchen for a month after the Amphan disaster. However, he has changed his plan after observing the abysmal condition prevalent in the Sundarbans and has decided to continue his community kitchen project for the next two months. He is very enthused by actor Rudranil Ghosh's decision to shoulder a part of the burden and hopes people like him will inspire others to join the cause and come forward to feed the destitute.
Story Tag:
Chandra Sekhar Kundu, Foodman