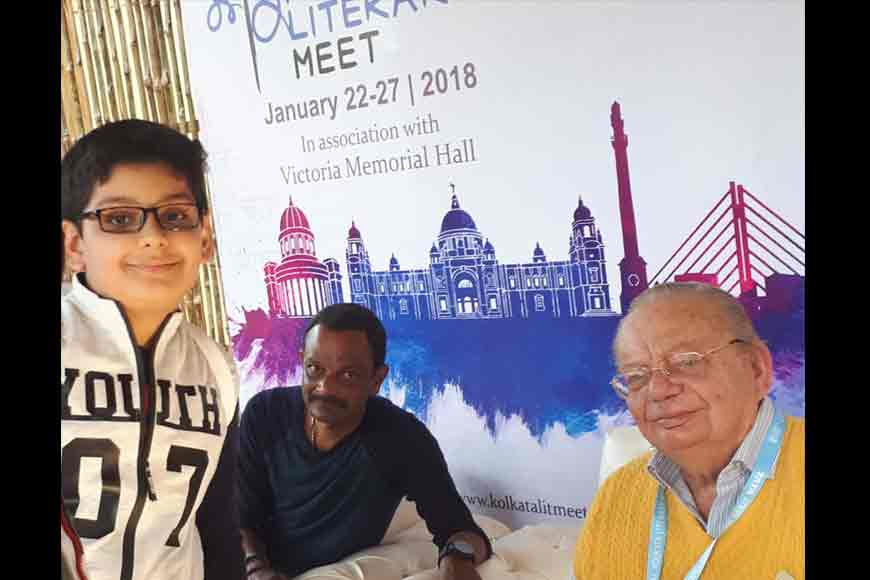 I was lucky the first day, to listen to what Ruskin Bond had to say! He told us that the story 'A Face in the Dark', though finished when Mr. Oliver saw no eyes, nose or mouth on the guard's face, had one more part. Some children had the story in their literature syllabus, so the publishers had cut the last part. It said that Mr. Oliver had a heart attack and he instantly died. But, according to him, the publishers cut it so that our teachers didn't get a heart attack! I asked him that when he had run away from school, how did the dacoits catch him and his friend, Daljit. Because according to the story 'Running Away', there was no one to be seen, so how did the dacoits appear out of thin air??

But the answer was inaudible because of my friend. He had not been able to talk to Mr. Bond, so, a shoulder push or a murmur about something like 'You asked him that stupid question' or 'I was about to tell him about the poem I've written' were disturbing. I only heard one word from the answer to my question, and that was 'Daljit'. Still, it was indeed a fun experience to listen to Ruskin Bond.

The next day came Devdutt Pattanaik! If anyone asks me, what Devdutt Pattanaik told me, the answer would be "Cool Down", because every question he asked would be answered by me, mostly correct, but always attempted. He told us that if we had ever played the game 'Dog and the Bone', we would understand the concept of Mahabharata. To him it was just a story of a hundred dogs fighting against five to get a bone, that the bone was the part of land that belonged to the father of the Pandavas, Pandu, which the Kauravas had got hold of. He had so much knowledge! He wrote the Ramayana as 'The Girl Who Chose' and the Mahabharata as 'The Boys Who Fought'. He told us that the Lakshman Rekha was first written by Krittivasa, a Bengali poet who wrote the Ramayana in Bengali. Before that, none of the versions of the Ramayana had this concept of the Lakshman Rekha. Mr. Pattanaik didn't know how the Pandavas and Kauravas looked, so he drew Emojis instead of real people. While I was getting the books signed, he looked up at me and smiled. It was a wonderful feeling.