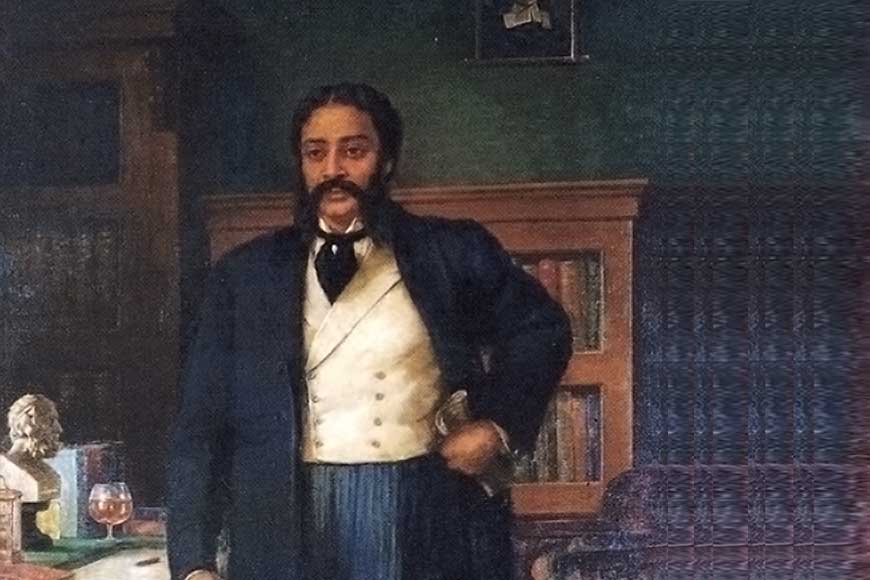 Nobody who has read Michael Madhusudan Dutt's Bengali works without knowing his background can imagine how reluctantly he took to the language he had once professed to hate. But then, the man we know as one of the most original practitioners of Bengali literature was always a bundle of contradictions.
As renowned scholar Ketaki Kushari Dyson wrote of him, "Michael's exceptionally colourful personality and his unconventional, dramatic, and in many ways tragic life have added to the magnetism and glamour of his name. Generous in friendship, romantic and passionate by temperament, he was also fond of the good life, financially irresponsible, and an incorrigible spendthrift."
That paragraph sums up Michael Madhusudan Dutt the man in a nutshell. However, only those who have read his works will know what a literary genius he was, an outstandingly original thinker who may well be called the father of modern Bengali poetry, though he himself would probably have scoffed at the notion.

Born on January 25, 1824, Madhusudan (Madhu to friends and family) died on June 29, 1873, roughly six months short of his fiftieth birthday. His second wife Henrietta, or Emilia Henrietta Sophie White, predeceased him by three days. Their last days were marked by dire poverty, with the family surviving on the charity of generous friends and benefactors, notable among them being Ishwarchandra Vidyasagar and Gour Das Bysack (Basak). Gour Das was a friend from Madhu's Hindu College days, and their close relationship has been practically eroticised in Sunil Gangopadhyay's cult classic 'Sei Somoy'.
Nonetheless, going by his two tempestuous marriages, Madhusudan was determinedly heterosexual. He became the first Bengali to marry a European or Anglo-Indian woman when he married 17-year-old Rebecca Thompson Mctavish in Madras in 1848. Rebecca, an Indo-Scottish-Briton, and he had four children together, as his letter to Gour Das in December 1855 shows. However, when his father died that same year, Dutt returned from Madras to Calcutta in 1856, apparently abandoning his wife and children. Nobody seems to know what subsequently happened to Rebecca and her children. In 1858, he was joined in Calcutta by the 22-year old Henrietta, the daughter of Madhusudan's colleague at the Madras Male Orphan Asylum. They had two sons, Frederick Michael Milton (1861-1875) and Albert Napoleon (1869-1909), and a daughter, Henrietta Elizabeth Sermista or Sharmistha (1859-1879). A fourth child was stillborn.
The names of his children typify Madhusudan's deep attachment to English literature and European culture, which had caused him to begin his literary career in English, churning out works which may politely be described as adequate. It was also this love which led him to convert to Christianity, in protest against his father's attempts to marry him off, and the Hindu culture of arranged marriage.
It is perhaps a measure of the impact his personal life had on contemporary society that we tend to remember the literary giant more for his wayward habits than the brilliance or significance of his Bengali works. The first to write in blank verse, and the first to compose sonnets in Bengali, Madhusudan should be remembered every day for his contributions to Bengali literature, not just on the day of his death.