Modern Masterpieces: Madhumati, the film that nearly won Ritwik Ghatak a Filmfare award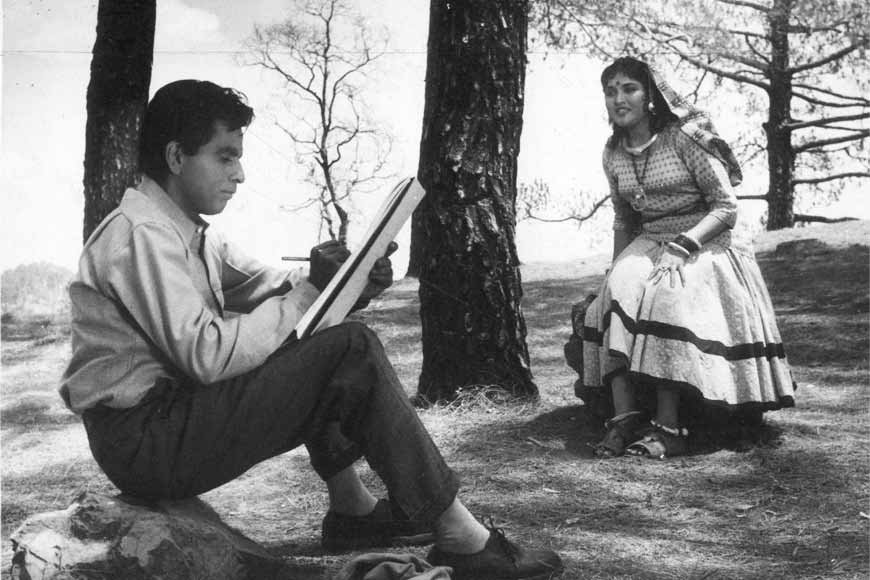 Madhumati (1958)
Cast: Dilip Kumar, Vyjayanthimala, Pran, Johnny Walker
Director: Bimal Roy
Rs 81 lakh was a great deal of money in 1957-58. But that was what it took to make Madhumati, Bimal Roy's magnum opus which overshot its production schedule by months owing to several logistical disasters. When it was released however, it smashed numerous contemporary records by collecting nearly Rs 400 lakh at the box office, making it the biggest commercial success of 1958 by miles. Adjusted for inflation, the film's earnings would have totalled roughly Rs 480 crore today!
It is important to begin with this crucial data, because there was a lot depending on Madhumati's success, not least the future of director Bimal Roy and his production company, which was on the verge of bankruptcy following the huge commercial failure of his earlier film Devdas (1955).
What Roy needed, above all, was a good story and screenplay, which would take him out of his comfort zone of socially relevant issue-based films (Do Bigha Zameen, Parineeta, Biraj Bahu) and give him something new to work with.
Enter Ritwik Ghatak, who would have turned 97 on November 4. The maverick who would become known worldwide for his immortal masterpieces as a director and scriptwriter was yet to properly begin that phase of his career. In 1957, he had cut his teeth in Bollywood with the story for director Hrishikesh Mukherjee's debut film Musafir, and it was Mukherjee – also the editor for Madhumati – who reportedly connected Ghatak to Roy.
Since most of us presumably know the story of Madhumati by heart, it would seem pointless to repeat it at any length. But because Ghatak's story played such a huge role in Madhumati's success, we feel the need to put it down nonetheless.
Engineer Devendra (Dilip Kumar) finds himself in an old mansion on a rainy night on his way to the station to meet his wife and child. The house seems eerily familiar, and he finds an old portrait which he recognises. Experiencing flashbacks of another life, Devendra begins telling his story.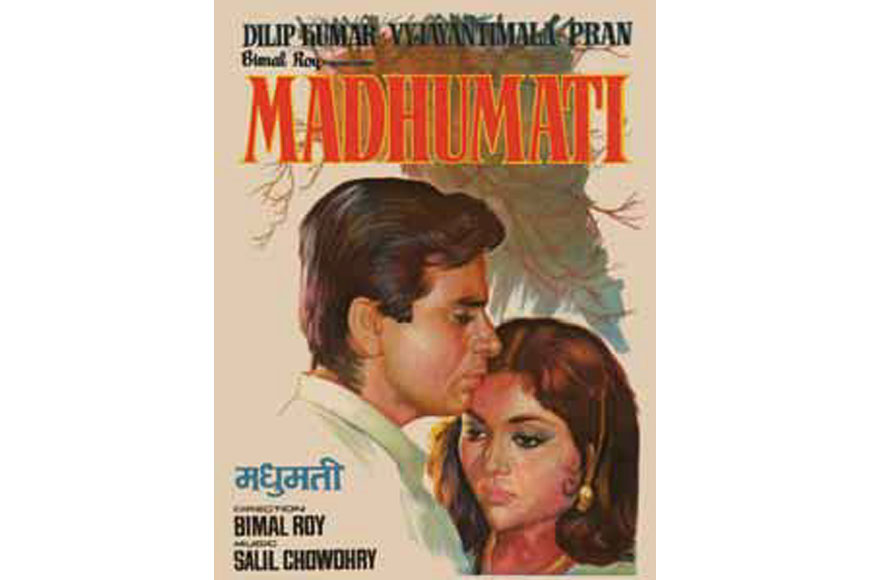 We learn that Devendra was Anand in that life, the new manager of Shyamnagar Timber Estate, whose owner Raja Ugra Narayan (Pran) is an arrogant, ruthless man. An artist in his spare time, Anand meets and falls in love with Madhumati, a beautiful tribal girl who also catches Ugra Narayan's eye. Tricking Anand into going on an errand, Ugra Narayan lures Madhumati to the mansion and attempts to rape her. In an effort to escape him, a terrified Madhumati falls to her death from the mansion's parapet.
Desperate to find out what has happened to Madhumati, Anand confronts Ugra Narayan, but is beaten unconscious by the raja's thugs. He survives the assault and meets Madhvi, a woman who looks exactly like the deceased Madhumati. The meeting gives Anand the idea of using Madhvi to scare Ugra Narayan and force a confession out of him.
On the appointed night, Anand reaches the mansion to find Madhvi already there, in conversation with an agitated Ugra Narayan. Puzzled by the extremely authentic and unrehearsed questions that Madhvi is asking, Anand is shell shocked when the real Madhvi walks in through the door, and realises that the woman he assumed was Madhvi must actually be the spirit of Madhumati herself. Smiling, the spirit beckons Anand upstairs. He follows in a daze, and eventually falls to his death from the same spot that she did.
We return to Devendra, and to news of an accident involving the train his wife Radha and their child were on. In a blind panic, he rushes to the station to find them unharmed. We will not reveal the ending for the sake of the few of our readers who are yet to watch Madhumati. But both the story and its climax represented a genre that Indian audiences were largely unfamiliar with.
This was not simply a supernatural saga. This was a romance that transcended time and space, through several births and rebirths, and incorporated subtle political and social statements into the narrative on the side. When Ghatak brought his layered, nuanced story to Roy, the latter liked it so much that he went into pre-production immediately.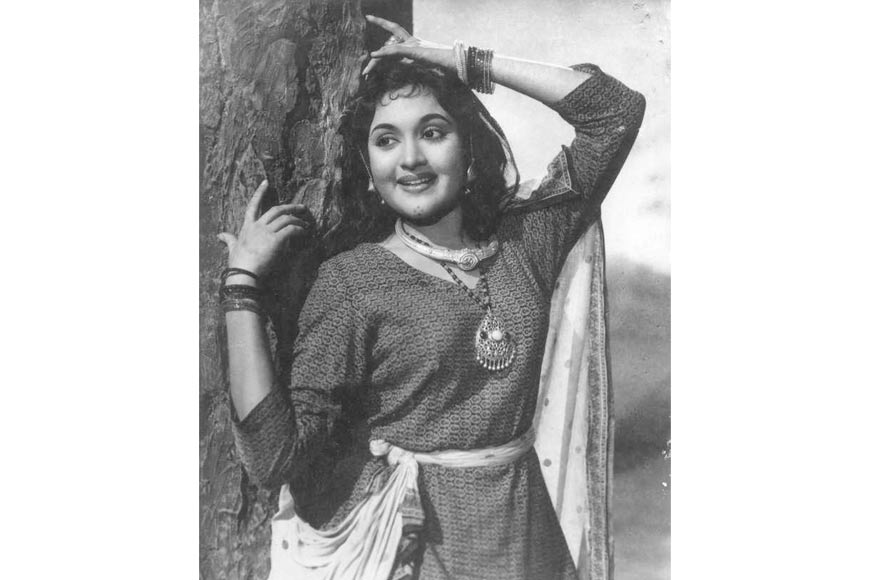 The rest is the proverbial history. From its superhit run at the Indian box office to widespread acclaim abroad, this saga of unfulfilled love and the encroachment of capitalism upon an idyllic rural landscape touched hearts wherever it was screened. In fact, Madhumati became the first Indian film to be launched internationally when its mahurat was performed at the Karlovy Vary International Film Festival Theatre in what was then Czechoslovakia.

Through the years, it has become the template for almost every reincarnation saga in Bollywood, from Subhash Ghai's Karz (1980) to Chetan Anand's Kudrat (1981) to Farah Khan's Om Shanti Om (2007). In their 2014 Encyclopedia of Indian Cinema, editors Ashish Rajadhyaksha and Paul Willemen have also drawn a parallel between Madhumati and Ghatak's debut directorial film Ajantrik (1957), in the way that "the beautiful Madhumati" is linked with nature and "tribal cultures beyond the grasp of capitalist appropriation".
Until Dilwale Dulhania Le Jayenge came along with 10 wins in 1996, Madhumati held the record of most Filmfare awards (Best Feature Film in Hindi, Best Director, Best Actress, Best Actor in a Supporting Role, Best Music Director, Best Female Playback Singer, Best Dialogue, Best Editing, Best Cinematography, Best Art Direction). Ghatak was nominated for Best Story, but unfortunately did not make the cut, for reasons unknown.
Award or no award, and whatever the commercial fate of his own films, Bollywood should remember Ghatak with gratitude for not merely rescuing Bimal Roy and his company from doom, but for gifting the Hindi film industry with a story that would become a masterclass in its genre.