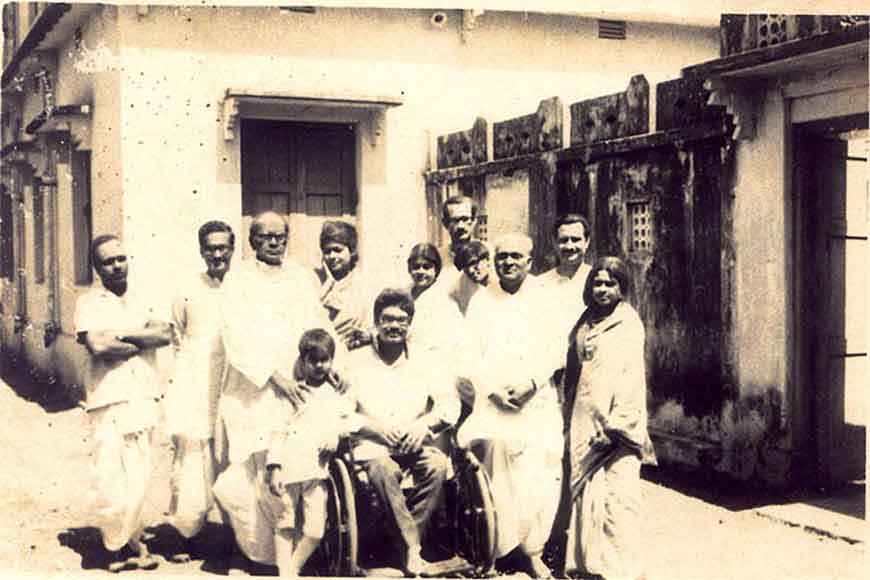 Nemai Chand Boral was a man of few words. Sometimes he would casually ask Mohan Singh to drop in at his quarter saying, "Come over to our house this evening. My wife will be cooking luchi and aloo dum curry." After dinner music would follow. A few rare Bandish would be resurrected from memory and songs would be recorded. Nemai Babu was very fond of recording. Mohan Singh learnt the technique of using the microphone to one's best advantage from Nemai-Da. Nemai Babu had a very good quality harmonium. It belonged to Nemai-da's uncle, the prodigal musician, Raichand Boral. Once, Nemai-da's Guruji came to Sangeet Bhavana. He asked Mohan, "I have a programme this evening, you play the harmonium. You have a very good sense of melody."
"But I didn't even know how to play the instrument in the first place!"
"No, no. You have to play the harmonium today."
Video courtesy : bongodorshon.com
The programme was held on a stage in front of Sangeet Bhavana. Nemai Chand Boral was supposed to play the harmonium. But that day, Nemai Babu played the Taanpura and Mohan Singh played the harmonium. Guruji sang a number in Behaag Raag. Every day Nemai-Da would arrive early in the class at Sangeet Bhavana. There was no system of bells to notify the end of the class, but he was always very punctual. He would come in at 8 am sharp and would teach till 11 am. He would ask Mohan to accompany him and the entire class sat in silent admiration as the teacher and his pupil created magic with their vocal and musical jugalbandi.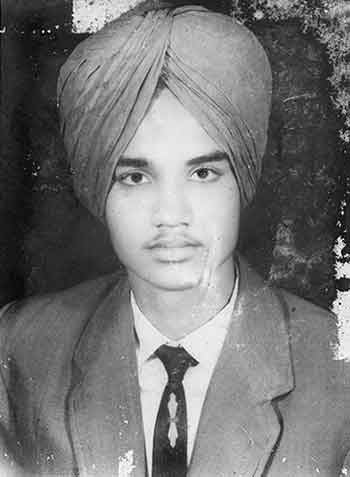 Mohan Singh Khangura always reiterates that the most difficult task is to judge oneself and one's own music as a third person. If the music is in tune, if the taan is being imposed in the right place, how the raga should be utilized, where and how it should be done – all these decisions have to be taken by the self. Singh was an avid radio listener from his childhood and that's how music had entered his system. He was the only student at Sangeet Bhavana hostel who owned a radio. "Ashesh-Da (Ashesh Bandopadhyay) would announce, I am coming in the morning. There's going to be some music. He would drop in and make tea." After this, Mohan would listen transfixed as Ashesh-Da played his instrument. This was like a daily riyaaz ritual for both. "Ashesh-Da had a very good sense of humor. One day, after our class got over and we came out of the room, we saw a couple of goats grazing on the field outside. Ashesh-da instinctively said, "See there, the toppa' gharana has come. He would point out at cows and shriek in glee saying, 'Look there! The Dhrupad Gharana is right here. 'We had a very cordial and friendly relationship with our teachers outside the classroom. All our conversations centred around music. How can vocal music be played with instruments or the typical traits of musical instruments etc. Days would be spent on fruitful exchanges of ideas."
Once a bagful of kites was bought from Lucknow. We all went and congregated at the large Visva Bharati playground at 10 am. But the day was very humid and there was no wind, so the plan to fly kites had to be dropped altogether. But both Mohan and Tuku (Ranadhir Roy) were so engrossed in their effort to fly kites that they simply forgot to have lunch! This was the kind of relationship that Mohan and Ranadhir Roy shared.
Mohan Singh shares another incident that was initiated by him in Santiniketan. Singh had immense enthusiasm about automobiles. He was passionate about cars. During the Poush Mela in 1985, the first car was booked from a showroom. The car would have to be brought from Asansol. It had cost a whooping Rs19,000 in those days! He applied for a loan from Visva Bharati and then drove to Siuri in his scooter in 55 minutes to get his vehicle registered. But the people at the Motor Vehicles Registration office were stumped. They had never seen any vehicle like this before in the entire Birbhum district. None could specify the category under which the vehicle could be put for registration. They had to be told that this vehicle was a side car scooter and then the registration formalities could be completed. A number was allotted.
Transcribed from an original interview of Mohan Singh Khangura taken by Arpita Chatterjee
Story Tag:
Mohan Singh Khangura, Shantiniketan, Rabindrasangeet