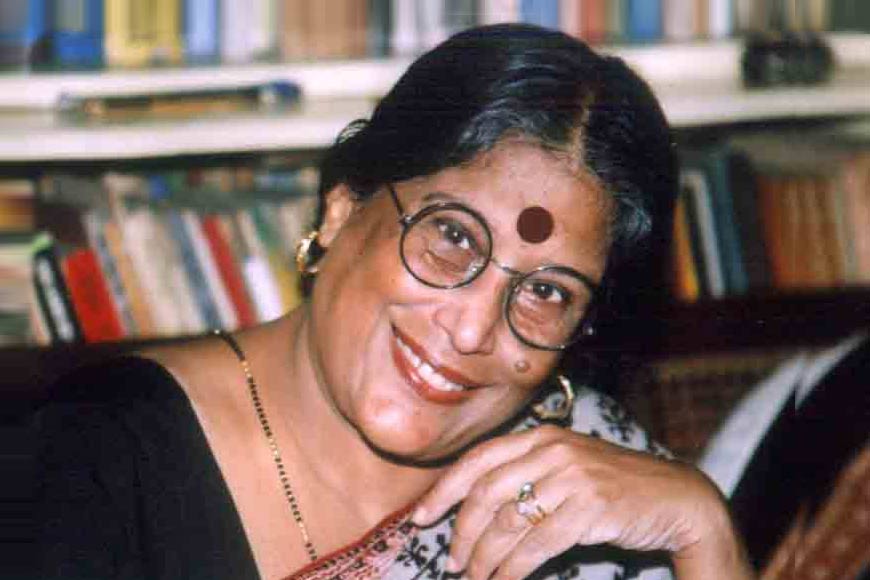 "We consider ourselves free spirits, but our words remain unfree. Women are late comers to writing and unwelcome ---" that's what Nabaneeta Dev Sen said in her keynote speech once at the National Colloquium of Women Writers. Each of her short stories speak of that freedom, conveyed in a subtle manner, laced with humor and dialogues. Even if we call her a feminist and quite a strong one at that, she never pushed the ideology of 'women first' aggressively. She was more like Ashapurna Devi, Pratibha Basu or Maitreyee Devi, who established their free spirits and their rights as a woman in a lopsided patriarchal society through their fluid words and encouraging stories.
Those who grew up in the '80s and '90s, reading Bengali literature, know there were just a handful of women writers in those days. Those like Mahasweta Devi, whose revolutionary words had a different appeal and Nabaneeta Dev Sen, whose flawless and fluid style of writing impressed all. She will always be remembered for her unconventional style while depicting tales that seemed ordinary, but had an extraordinary message subtly hidden within. Every reader had to dissect it layer by layer to understand that offbeat feminism.
Nabaneeta Dev Sen was literally all in one --- a noted poet, novelist, short story writer, playwright, humorist and travel writer. Her words were free-spirited, her humour was refined. She somewhere understood the dynamics of human relationships well, her writings always spoke of middle- class issues and problems. Born to accomplished literary parents, the poet couple Narendra Dev and Radharani Devi, she was named by none other than Rabindranath Tagore. She was also an internationally renowned academician. Professor at the Jadavpur University, the founder secretary of the Indian National Comparative Literature Association, a visiting professor and creative writer in several universities in the United States, including prominent names like Harvard, Cornell, Rutgers, Columbia, Smith College, and Chicago.
Her journey, starting with her first collections of poems, Prothom Pratyay, published in 1959 to her critical works, Ami, Anupam (1978), Seeta Theke Shuru (1996), Nati Nabaneeta (1983), NabaNee Nirbachita Rachana Sankalan (1996), Jara Hatke ebong Ananya (2000) has come full circle with myriad milestones of literary accomplishments. These include distinguished international awards, honors and felicitations like the Celli Award from the Rockefeller Foundation in 1993, Sahitya Academy Award in 1999, Padmashri, the fourth highest civilian award in 2000, and the Bharatiya Bhasha Parishad Award.
She had a unique style of self-expression, while she portrayed complicated social, political, psychological problems of the post-colonial, middle-class Bengalis, often using women as central characters. Her literary creations, including Bama-bodhini, Nati Nabanita, and Seeta Theke Shuru reflect an urgency to demonstrate her presence within the parameters of patriarchy. Nabaneeta Dev Sen always tried to construct a world where women can themselves inspire and complement men in all their needs, probably something she did herself in the life with her ex-husband Nobel Laureate Amartya Sen.