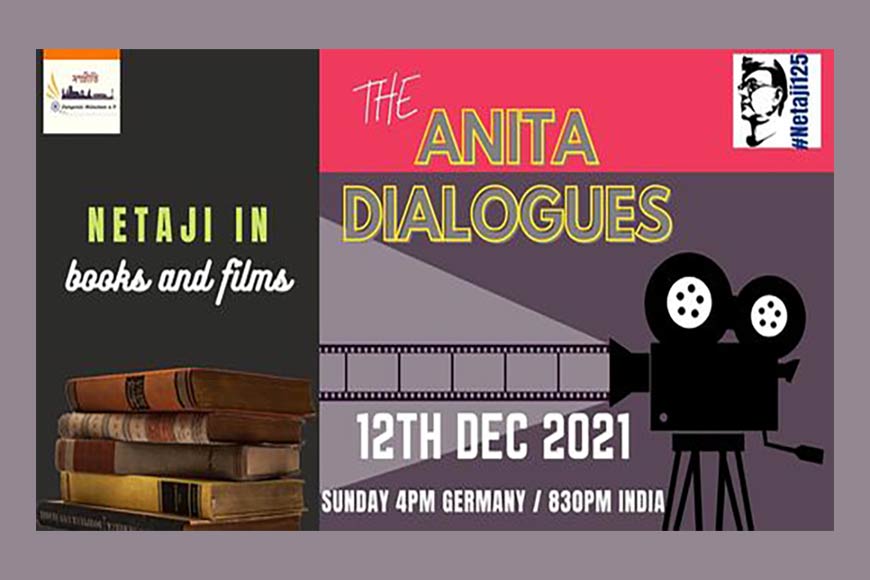 In the eleventh and penultimate episode of 'The Anita Dialogues', the discussion revolves around the many books and films about Netaji Subhas Chandra Bose. The Anita Dialogues is a series of monthly conversations with Netaji's daughter Dr Anita Bose Pfaff, aired on YouTube and conducted by Sampriti, an organisation of Bengalis in Germany, to mark the 125th year of Netaji's birth. The conversations, which end next month, are being moderated by Sampriti's founder and current president, Shaibal Giri.
The two featured guests on this edition are Prof Leonard Gordon, one of the world's foremost researchers and biographers of Netaji, and Getbengal.com columnist and award-winning film critic Shoma A Chatterji, who share their thoughts on the best works of art and literature covering Netaji.
Prof. Gordon claims that for those truly interested in learning more about Netaji, the best place to start would be the nationalist leader's own autobiographical writings, such as 'An Indian Pilgrim' and 'The Indian Struggle'. He also recommends various other writings of Netaji, such as the anthology edited by Sisir and Sugato Bose, as well as writings by Netaji's friends and comrades. Shaibal adds to this a reference to 'Choronrekha Tobo' in Bengali, written by the late Krishna Bose.
Gordon further recommends the book 'F. Kikan: Japanese Intelligence Operations in Southeast Asia during World War II' by Lt Col Iwaichi Fujiwara, an officer in the Imperial Japanese Army in World War II, and founder-commander of the special operations F. Kikan unit, which greatly assisted in the setting up of the Indian National Army (INA). Incidentally, Fujiwara established F. Kikan in 1941, and it was tasked with developing and aiding freedom movements in British India, Malaya, and Dutch East Indies.

When it comes to cinema, films on Netaji date back to the 1940s, and one of the foremost names in this category is renowned Japanese filmmaker Yasujiro Ozu's 'Derii E Derii E (To Delhi, To Delhi)', a documentary commissioned in 1943 by the Azad Hind Fauj. Chatterji refers to this film, and also two films from the 1950s - 'Pehla Admi' (1950) by Bimal Roy, and Samadhi (1950) by Ramesh Saigal, both of which revolved peripherally around Netaji and his call to the Indian youth to sign up for the Azad Hind Fauj. She states how she was particularly disappointed by the former, owing to its muted and generic references to Netaji.
Mention is also made of the highly controversial 'War of the Springing Tiger' (1984), a documentary by Granada TV UK, on which Gordon was asked to collaborate but refused when he found out his collaboration would be uncredited. During the discussion, Gordon declares that the makers of the documentary misled Sisir Bose by showing him a script that was quite different from the one eventually used to make the film, and calls the makers dishonest. Interestingly, this documentary went to be banned.
For more such fascinating tidbits and trivia, do tune in to 'The Anita Dialogues' from the link provided above, and join us next month for the finale.