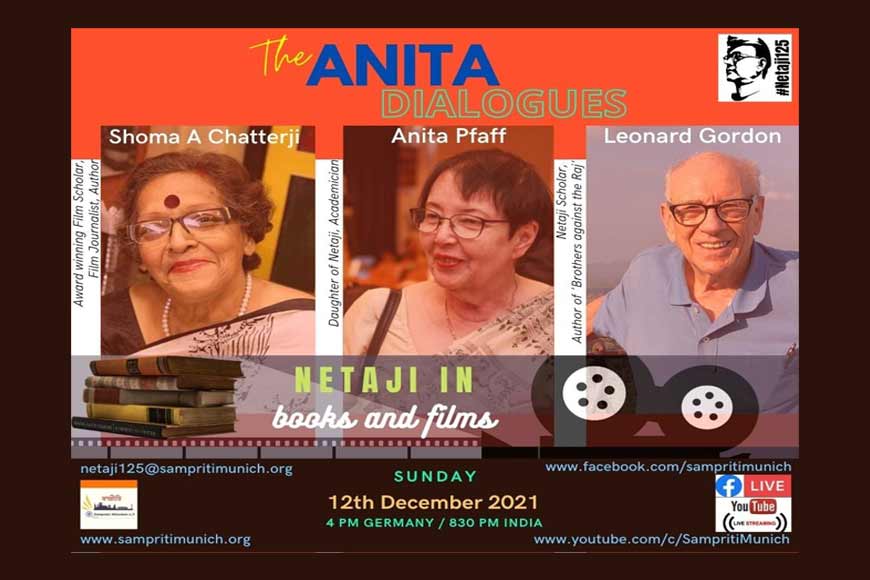 How has Indian cinema treated Netaji Subhas Chandra Bose? This is the topic for the December 12 edition of 'The Anita Dialogues', a series of monthly conversations with Netaji's daughter Dr Anita Bose Pfaff, aired on YouTube and conducted by Sampriti, an organisation of Bengalis in Germany, to mark the 125th year of Netaji's birth. The conversations, which will continue until February 2022, are being moderated by Sampriti's founder and current president, Shaibal Giri.
The discussion will take in both the well-known representations such as Srijit Mukerji's 'Gumnami', and little known productions such as famous Japanese filmmaker Yasujiro Ozu's reported full-length feature film, the subject of which was the struggle of the Azad Hind Fauj in India. "The actors were drawn from India or Indians settled in Singapore. But when Japan's loss in World War II became certain, Ozu claimed he destroyed the reels of the film", says Getbengal columnist Shoma A. Chatterji, who features in the discussion as a guest speaker.

She adds, "One of the first nationalist biographical films based on the life of Subhas Chandra Bose was New Theatres Ltd's Pehla Admi (1950), directed by Bimal Roy. It was basically a love story with songs set to music by Raichand Boral and carried stock shots of the Indian National Army, which were the only frames of reference to Bose. The film starred Pahari Sanyal, Asit Baran and Smriti Rekha Biswas, but did not really have much to do with Netaji."
The discussion also takes in a number of different films either directly or indirectly related to Netaji, which you can hear for yourself once you watch the exchange, but bear in mind what Chatterji says: "Indian filmmakers shy away from making biographical films on national leaders because these films have little or no commercial viability, and filmmakers fear political and censor-related problems because interpretation of historically renowned figures often raise controversy." That should give you an idea of why our cinema has perhaps not focused on Netaji as intensely as it could have.