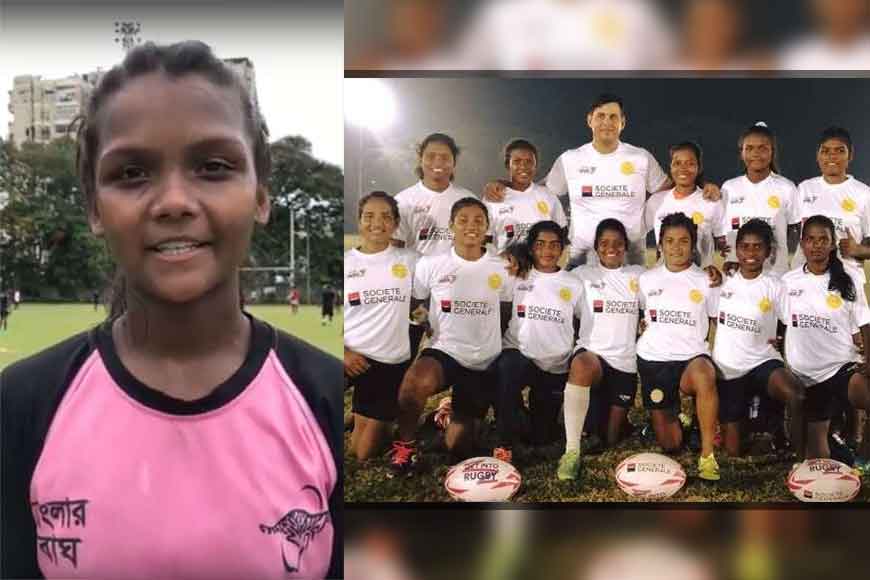 Sixteen-year-old Rushmita Oraon from Jalpaiguri Estate, the captain of Bengal Junior Rugby team made us proud. She brought home the Champion's Trophy of the National Rubgy 7's. Twenty-four girls had travelled to Chandigarh to represent the state in the Societe Generale Junior National Rugby Sevens Championship 2019. The girls defeated Bihar while the boys defeated the Maharashtra in the finals on June 16.
The victory is not only important for Bengal but also for Rushmita. Her journey with rugby was certainly not a cakewalk. Hailing from Saraswatipur Tea Estate in Jalpaiguri, Rushmita was introduced to Rugby in 2013 by Paul Walsh. Since then, she has been playing for the team Jungle Crows. Belonging to an impoverished tribal family, Rushmita's father is an ambulance driver and her mother plucks tea leaves at the estate. The whole concept of a girl playing Rugby did not go down well with her neighbours.
Rushmita's family also had to deal with taunts as neighbours mocked her for wearing shorts. However, her family was very supportive and Rushmita has indeed silenced them through this victory. Jungle Crows also helped her continue her studies. They paid her tuition fees and have provided her with a cycle so that she can travel 7 km to her school daily. Rushmita's formidable force, precision and force on the rugby field kept her going closer to her dreams. Irrespective of the there was a tournament or not, the team kept on practicing rugby relentlessly and passionately. As they, 'nothing succeeds like success.' Rusmita and her team's victory have truly silenced her critics and have initiated a change in the response of the people.