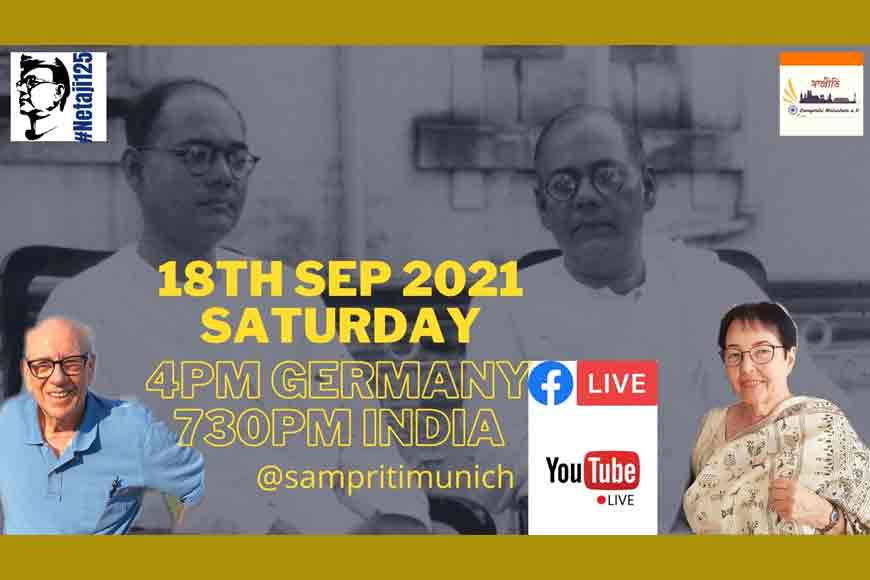 "I realised that the most important Hindu leader who opposed the Partition not only of Bengal but of India was Sarat Chandra Bose…" so says Prof Leonard Gordon, the internationally acclaimed historian whose book 'Brothers Against the Raj: A Biography of Sarat & Subhas Chandra Bose' was first published in 1964. This month, to mark Sarat Chandra's 133rd birthday on September 6, the eighth edition of 'The Anita Dialogues' features a discussion on Netaji Subhas Bose's stalwart older brother, involving Prof Gordon and Subhas' daughter Anita Bose Pfaff.
The Anita Dialogues is a series of monthly conversations with Dr Bose Pfaff, aired on YouTube and conducted by Sampriti, an organisation of Bengalis in Germany, to mark the 125th year of Netaji's birth. The conversations, which will continue until February 2022, are being moderated by Sampriti's founder and current president, Shaibal Giri.
Prof Gordon points out how Sarat Chandra stepped in to fill the vacuum in India's freedom movement whenever Netaji was away, either in prison or abroad, trying to gather support for India's cause. He also observes how Sarat Chandra never sought the limelight, though he was elected to several offices, and was a "very well rounded personality". As he writes in his book, "Somewhere along the line of my investigations, I saw that Subhas Bose was extraordinarily close to his brother Sarat Bose and Sarat made important contributions to his brother's activities, to the Bose family, and to Calcutta, Bengal, and India. It made sense, therefore, to include him in a dual biography. Some biographies of Subhas hardly mentioned Sarat and there was no biography of Sarat - a few memoirs, but no significant historical writing."
The illuminating discussion throws up many fascinating aspects of Sarat Bose's life and character. The brilliant lawyer who loved English literature, the devoutly religious man who spoke perfect English, the loving brother who stood by his younger sibling through the most trying circumstances - all these facets find expression in the words of Prof Gordon, who brings up another point he also mentions in his book: "Somehow neither at school nor at college did Sarat Chandra shine as a student. He got a second class in B.A. while his brilliant friend Rajendra Prasad topped the list. But there was always something striking about him. His teachers never had any doubt that Sarat would be 'somebody' someday."

Yet another notable feature of Sarat Chandra's life was his reputation as a superb orator. Such was his brilliance that, as Prof Gordon points out, the wives of prominent English officials would turn up in the Assembly just to hear him. Gordon also dwells at length on the strong opposition to Partition from Sarat Chandra, and reads extracts from his book.
Dr Bose Pfaff reveals facets of Sarat Chandra the man, the uncle, and the father. She recalls how she couldn't really speak to him as a child because she didn't know any English, but remembers him as an extremely warm individual. "He hasn't got full recognition for his contribution," she says.
For much more of this fascinating discussion, do tune in to Sampriti's YouTube channel from the link we have provided.