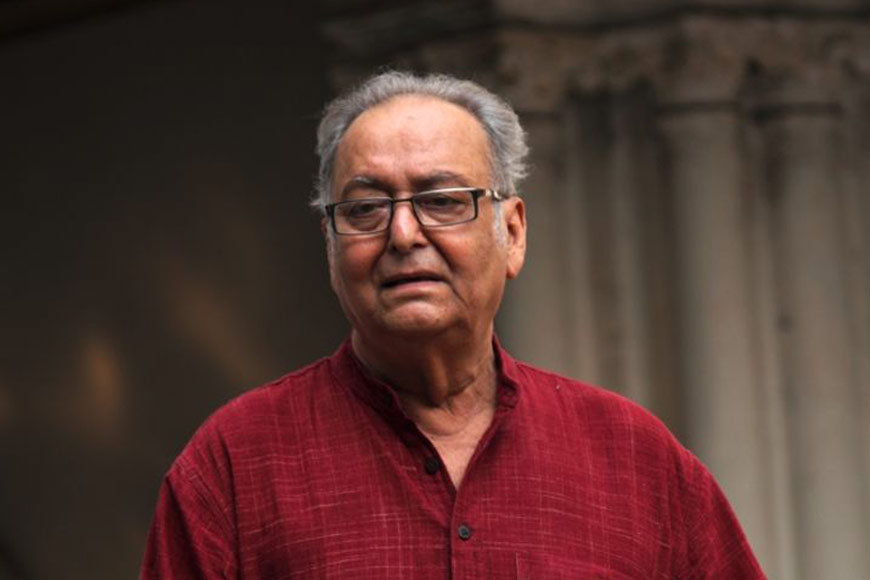 Nothing could have looked better for the Bengali film industry if the legendary actor Soumitra Chatterjee would have continued to live on. Nevertheless, at this moment, the legend lives on. Banking on memories, Soumitra and Deepa Chatterjee Foundation in collaboration with Shyambazar Mukhomukhi has organized events like exhibitions, conversations, and a play, to commemorate his legacy.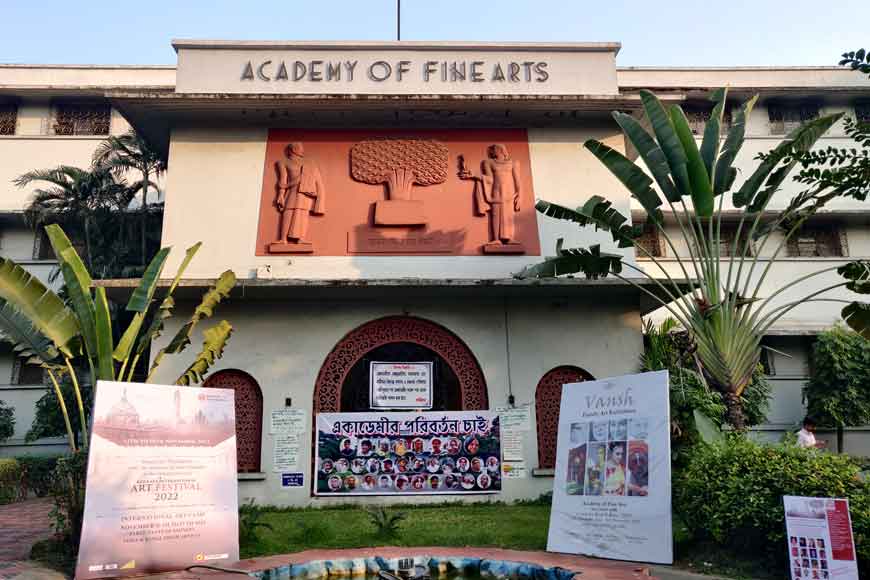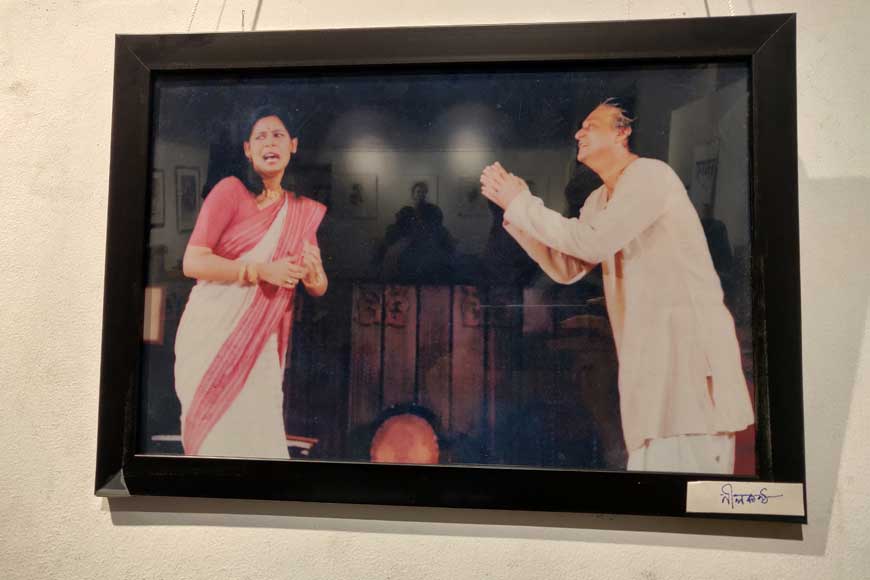 Fondly known at home and in local Bengali film circles as Pulu, the Bengali film industry lost Chatterjee two years ago at the peak of the Covid-19 pandemic in November. It was our biggest loss since the passing away of another legend and Bengal's matinee idol Uttam Kumar in the early '80s. Until now, both losses seem irrecoverable. A born-thespian and a cultural Marxist by choice Chatterjee was a prodigy and a legacy to be taken forward by the coming generations. Born in 1935, he got involved in acting under the aegis of the noted thespian Sisir Kumar Bhaduri. He started his journey as an actor in 1959. Chatterjee grew up holding hands with the cinema legend director Satyajit Ray with his debut film Apur Sansar. Ray was Chatterjee's very own 'Manikda,' with whom he worked in films like Charulata, Aranyer Din Ratri, Ashani Sanket, Hirak Rajar Deshe, Ghare Baire, and many more. He is admired by many young aspiring actors.
Costumes of Soumitra Chatterjee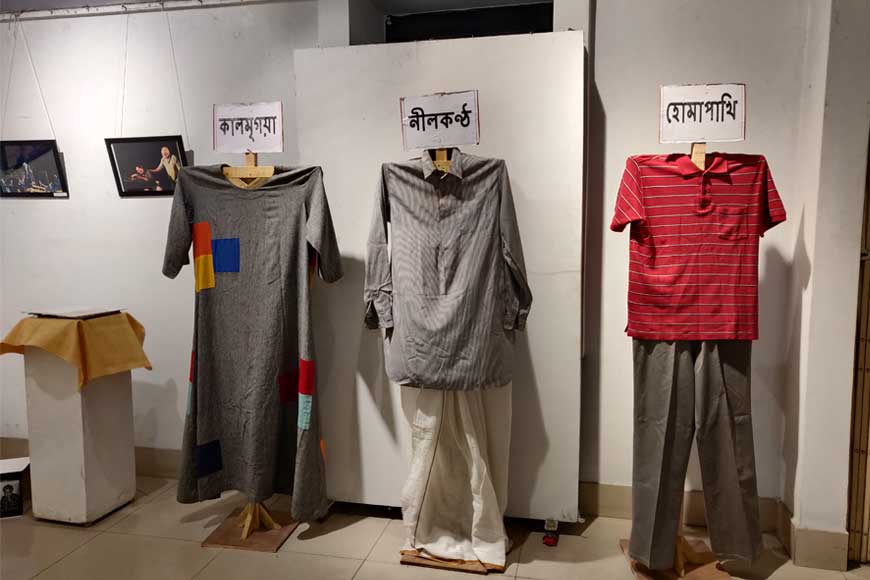 Costumes of Soumitra's Chatterjee
An exhibition is being held from 12th November to 16th November at the Academy of Fine Arts, where Soumitra Chatterjee's old paintings and his memorabilia, such as his famous Hermes typewriter, the pipes used by him, letters written to his daughter, costumes from his play, rare photographs are displayed. GB caught up with his daughter, Poulami Bose, a known stage actor and dance exponent, trying to keep her father's legacy alive. She said, "This exhibition is a reflection of my father's life. It has been organized to commemorate his multifaceted and multidimensional personality. He was not limited to acting, he was a playwright and directed plays as well, a painter, an elocutionist and so much more. In this exhibition, we tried to focus on all the aspects of his life. He is still a part of us though not physically. But his presence is felt in everything that we do." On being asked about their future plans, she said, "Soumitra and Deepa Chatterjee Foundation plans to organize more such programs around the year and to support the promising new talents and promote them. We want to bring forward the talented people who work hard yet do not get enough recognition. We want to focus on them and bring them into the limelight."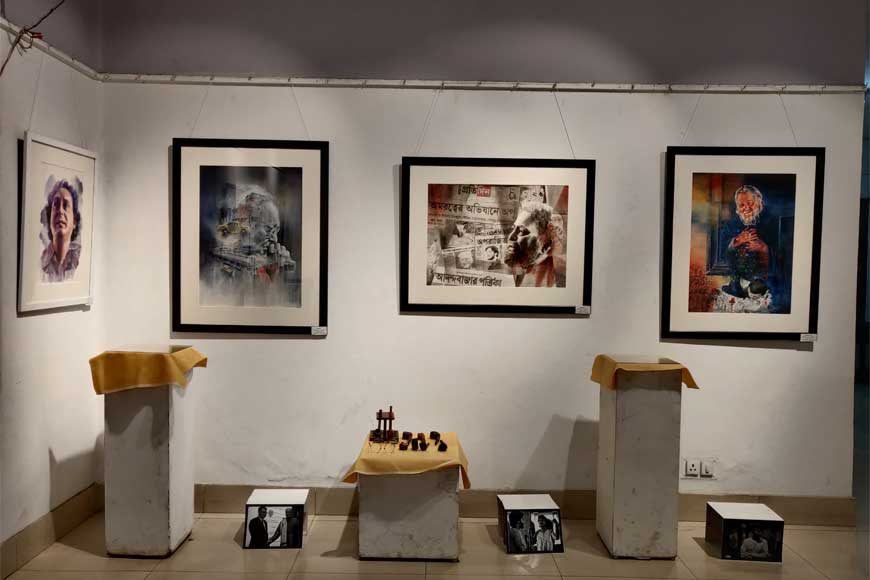 Portraits by Subhankar Singha Roy
Sketches by Barun Naskar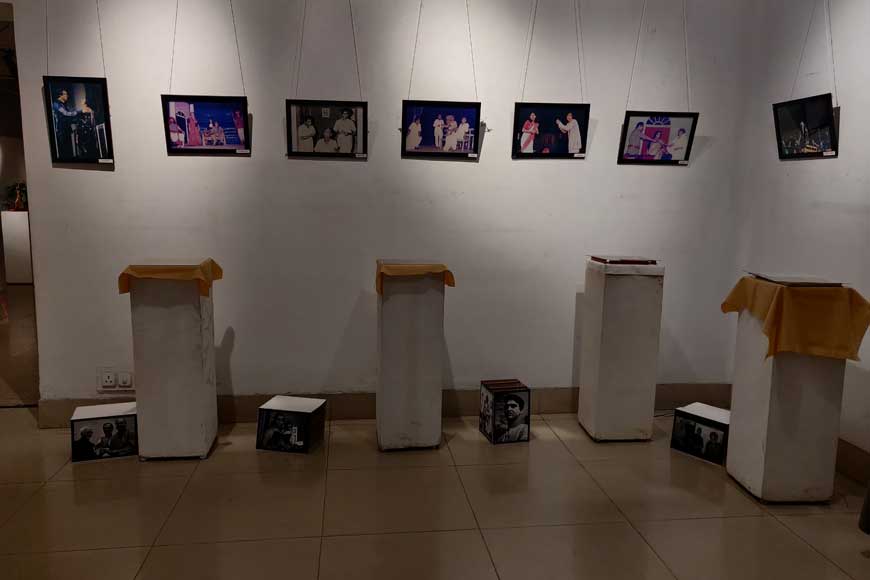 Rare photos and letters in display
Portraits of Soumitra Chatterjee done by two remarkable artists have also been displayed. Subhankar Singha Roy, one of the artists, has drawn portraits of Soumitra Chatterjee in a double exposure effect, a really interesting form of art. He said: "The exhibition is an initiative of the Soumitra and Deepa Chatterjee Foundation. A lot of people are turning up to see the exhibition, it is a pleasant experience to witness their reactions." Barun Naskar, another artist, said: "On 12th November, the place was packed when artist Jogen Chowdhury and actor Koushik Sen inaugurated the exhibition. The crowd is swelling up every day." Barun Naskar has drawn sketches of Soumitra Chatterjee, in the form of black and white photographs clicked on a camera. It is a beautiful experience altogether.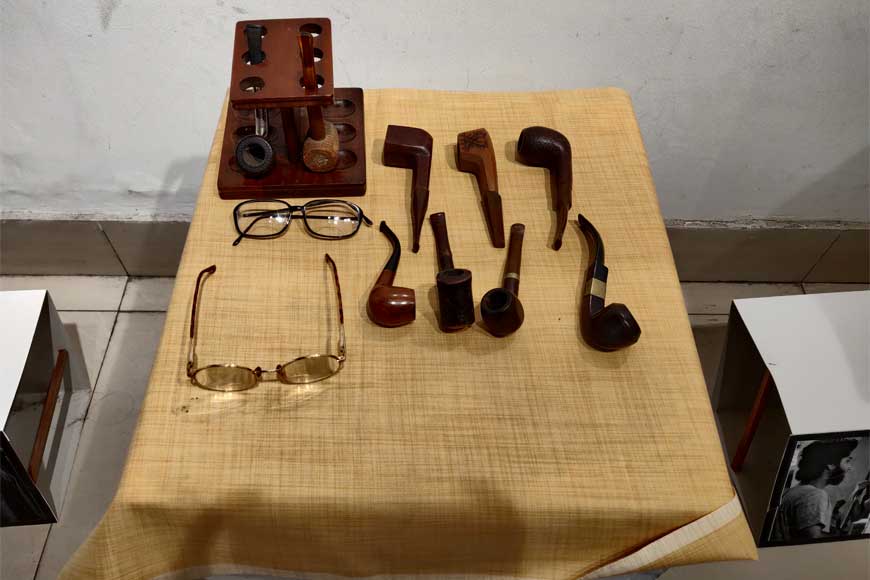 Chatterjee's pipes and glasses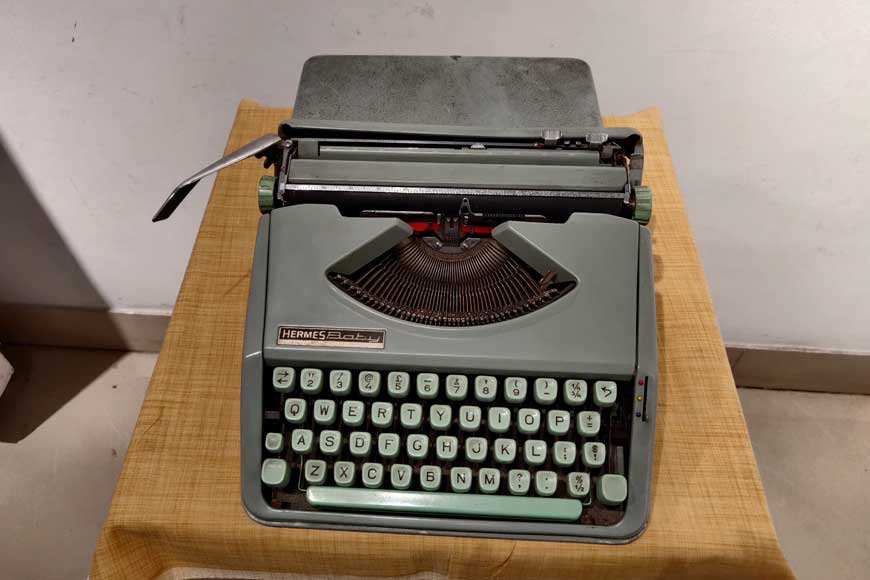 Hermes Typewriter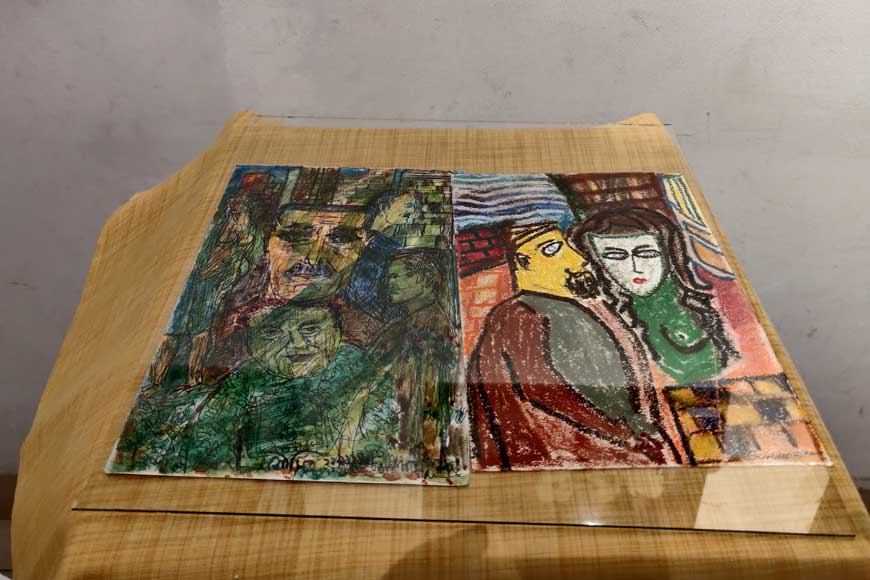 Painting by Chatterjee
Chatterjee worked with some of the best directors in India, like Mrinal Sen, Tapan Sinha, Tarun Mazumdar, Ajoy Kar, and Asit Sen. They moulded him and his acting skills, which got reflected every time he enacted on stage or the big screen, captivating the audience repeatedly till the very end of his life. He acted in more than 200 films in his career. Chatterjee never let the audience understand that he was acting, he made every emotion so real and so relatable that it was mesmerizing. In his long acting career, he played the role of many characters, each of which has remained a class in itself. At the exhibition, it felt like he was still carrying the movies and the legacy of his style like an expert.