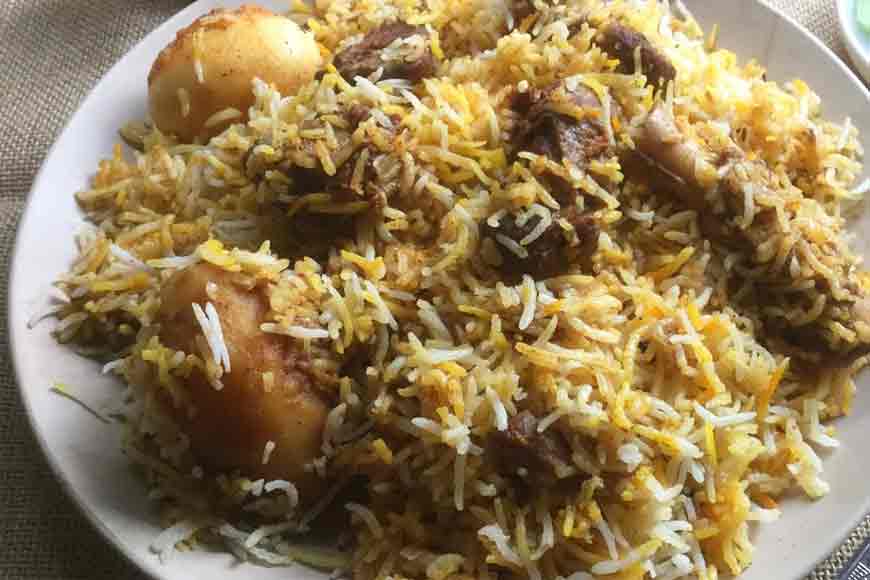 Well, contrary to the usual Awadhi and Hyderabadi biriyani, Kolkata Biriyani has its very own recipe and style of cooking. Nawab Wajid Ali Shah included the potato or aloo in it which was an exotic vegetable in those days. The potato cooked with the biriyani in dum-phukt style was such a hit and so delicious that Kolkata Biriyani since then comes with that 'potato.'

Here is a simple recipe of Kolkata Biriyani.
Ingredients
• Mutton (500gm)
• Basmati rice (500gm)
• Ginger garlic paste (6 teaspoons)
• Onion paste (2 teaspoons)
• Chopped onions (2)
• Chilli paste (1 teaspoon)
• Dhania powder (1 teaspoon)
• Clove - 10, Elaichi (10), Cardamom (2), Bayleaf (1), Jayafal and Jyatri paste (1 teaspoon)
• Sour curd - 100gm
• Milk (1/2 cup)
• Zaffran paste (1/2 teaspoon), keora water (4 teaspoon)
• Ghee (150gm)
• Salt (as required)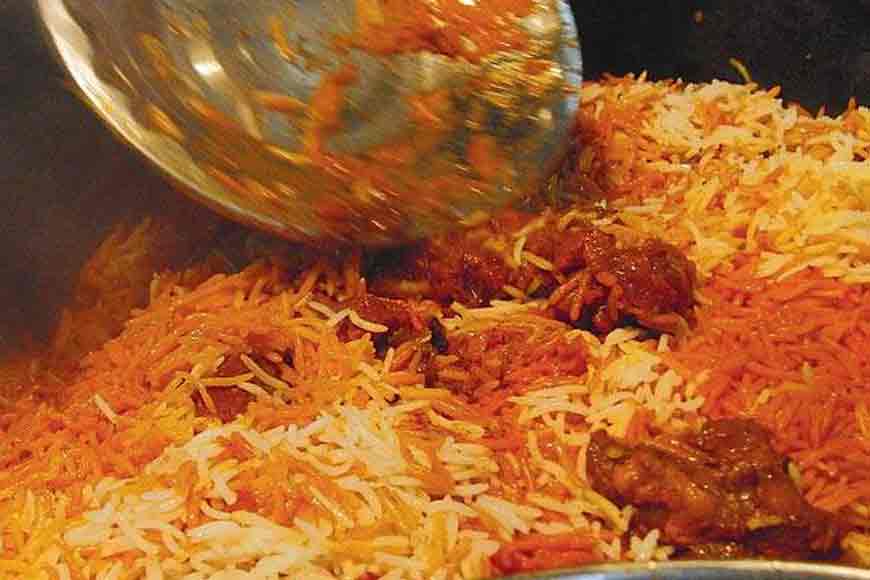 Procedure
1. Warm the ghee in a pan and put 5 cloves, 5 elaichi, bay leaf and cardamom in it. Fry it lightly. Give salt as needed.
2. Wash and soak the Basmati rice in advance and now put the soaked rice in the pan.
3. Pour some warm water into it. Half boil the rice in that water.
4. Now spread this half-boiled rice with spices, in a flat-bottomed utensil (dekchi/ handi)
5. Some of the pre-cooked mutton is next spread over the rice.
6. Again on this layer, spread another layer of rice. Now pour the zaffran soaked in keora water, the milk, and some food color on the layers.
7. Cook for 30-40 minutes.
8. Your yummy biriyani is ready!