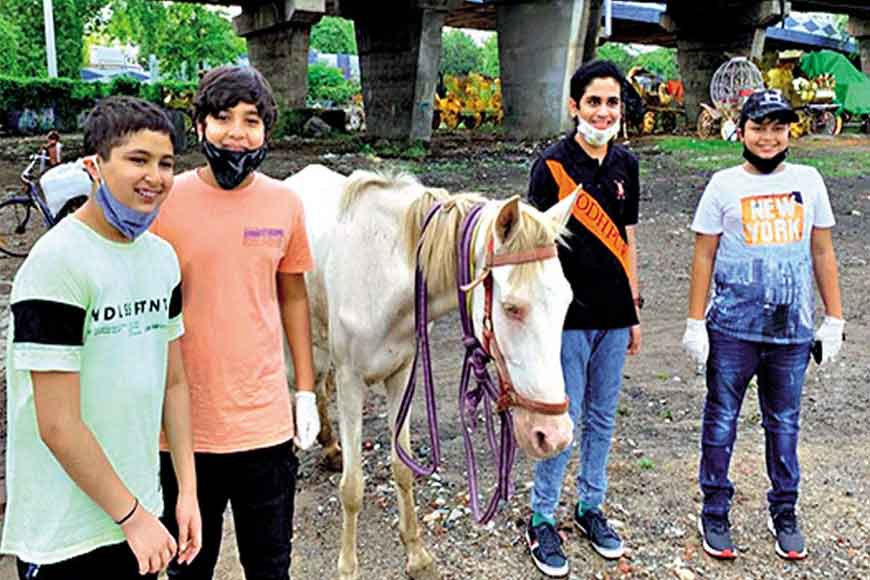 Horses on Sarat Bose Road! Thirteen-year-old Parikshit Doshi was surprised one day to see six horses rummaging through a dustbin below his house on Sarat Bose Road. The animals looked hungry, desperate and they had bleeding wounds all over their body. The boy immediately raised an alarm, called his father and three other classmates. They wanted to save the horses.
Soon they realized there were more than 150 such horses abandoned by their owners during Lockdown. These horses were used to run the tourist carriages or give ride in and around Maidan. Since tourists have vanished, thanks to COVID-19 and Lockdown, their masters are out of work and have no money to feed them. So they have just released them free to fend for themselves. Since these horses never had to roam roads for food, they are not used to the traffic of Kolkata and gets often hit by rushing vehicles, leading to the wounds.
Yet, every evening after feeding on whatever they find in dustbins or roadsides, they navigate back to their erstwhile homes below Vidyasagar Setu off Hastings, to stay close to their owners. Animal shelter 'Ashari' was feeding these horses with donations that animal lovers were pooling in after they found the horses loitering. This, however, stopped from June 15 after donors gradually pulled out. The horses thus were left to fend for themselves and met the most cruel and gruesome fate possible.
With his three friends, Meghansh Sahariya, Aarav Rajgarhia and Aryan Malhotra, all Class-VIII students at La Martiniere for Boys, Parikshit wrote a letter to mothers of all the sections of Class-VIII WhatsApp group of their school. The appeal spoke of the plight of these animals and also mentioned around Rs 8,000 is required per day to feed 150 horses. Each horse needs a daily diet of 2.5kg of wheat bran or bhusi and some straw. While Rs 7,500 is needed to buy a day's wheat bran, 100 kilograms of straw can be bought for Rs 500.
Best part is the families of students have not only donated but also forwarded the request and in two days, Rs 1.3 lakh was collected. This has directly been put in the Ashari fund. The volunteers of Ashari started feeding the horses from last week again. They also collaborated with the Mounted Police Force of the city, who have agreed to oversee the feeding. Had it not been for these students, the horses would have faced imminent death for sure.

Story Tag:
Students, La Martiniere, abandoned horses