Just like old books bring in a whiff of nostalgia, a particular exercise copy brand Bangalipi, has been intertwined with memories of our childhood, specially those going to schools in West Bengal in the 70s and 80s. That white copy with the map of West Bengal inscribed on its cover, something so quintessentially Bengal.
Swadeshi ink brand Sulekha will now relaunch and revive this nostalgic brand, Bangalipi. The exercise book that could even be bought from ration shops once upon a time and its pages were apt to write with an ink pen. The Bangalipi exercise book in its latest avatar will contain some select print advertisements of Sulekha, to further strengthen the nostalgic bonds, to give a glimpse into the rich heritage of this legacy brand and its rich history. An advertisement from 1961, with Sulekha celebrating Rabindranath Tagore's centenary with an essay competition will also be featured. Another, invoking the blessing of Mahatma Gandhi, relating how Sulekha had been conceived to create the swadeshi ink for his writing will find place within the covers of newly-relaunched Bangalipi.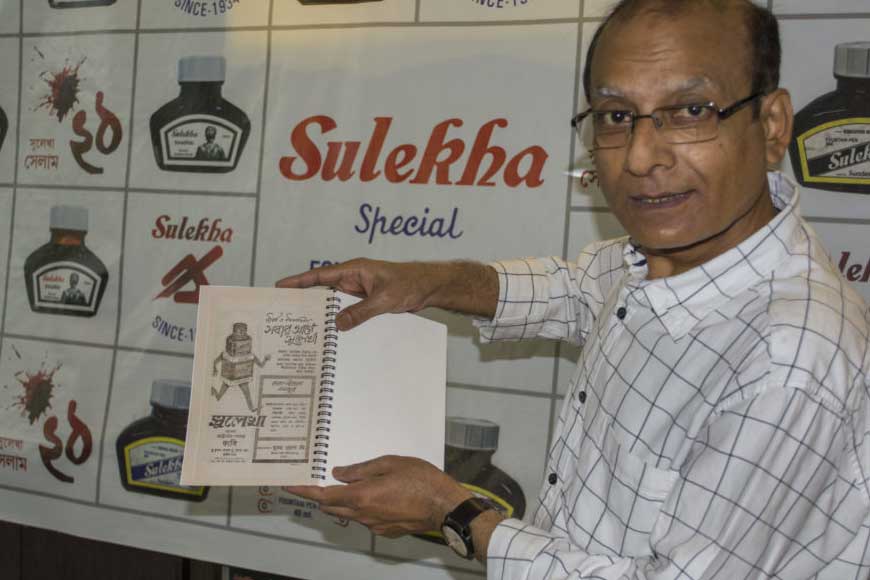 The new Bangalipi exercise books have been made fountain pen friendly, keeping in view the constant demand of fountain pen and ink aficionados. The move is welcome, considering the fact that fountain pens are increasingly being used as an aid to fight depression, a tool for digital detoxification, and are most sustainable option for writing. These copies, in keeping with the modern trends and likings of the younger generation, have been styled as notebooks in A5 size, in contrast to the erstwhile A4 size ruled exercise books.

The entire initiative was thought about and executed by Ahana Maitra, who is the fourth generation in the Sulekha ink business and who is proud of her great grandfather and grandfather's legacy. Considered as the symbol of national pride, the company was started by two brothers of undivided Bengal --- Nanigopal and Sankaracharya Maitra in 1934 at Rajshahi (now in Bangladesh). What many of us do not know however, is the Maitra brothers were ardent followers of Mahatma Gandhi and it was when Gandhi wished everything to be Made in India, and called for people to shun foreign goods, that this business idea of ink manufacturing for fountain pens came up! During the independence era, Sulekha was a symbolic attack against the British regime by breaking the monopoly of British Ink brands like Quink!
With the blessings of Mahatma Gandhi, Sulekha Ink became a pioneer in manufacturing of writing inks to boost the Self-Reliance or Swadeshi Movement. Realising the importance of the erstwhile Calcutta market, in 1939, its works were shifted to Kasba and thereafter moved to Jadavpur in 1946. In the same year, the company became public limited, ultimately having more than 1,000 shareholders. In the 1960s, two other units of Sulekha were set up at Sodepur (North 24 Parganas) and Ghaziabad (Uttar Pradesh). In the early eighties, Sulekha expanded further in India and abroad with several governments from different countries of South Asia and Africa inviting it to set up their own writing ink and writing instrument-manufacturing units. And now in 2021 holding a copy of Bangalipi, a brand started almost a century back will give a peep into a chapter of history that many children of today are not aware of.
Image Courtesy : https://www.penloverskolkata.com