Swami Vivekananda himself tried all sorts of non-vegetarian foods, including beef! - GetBengal story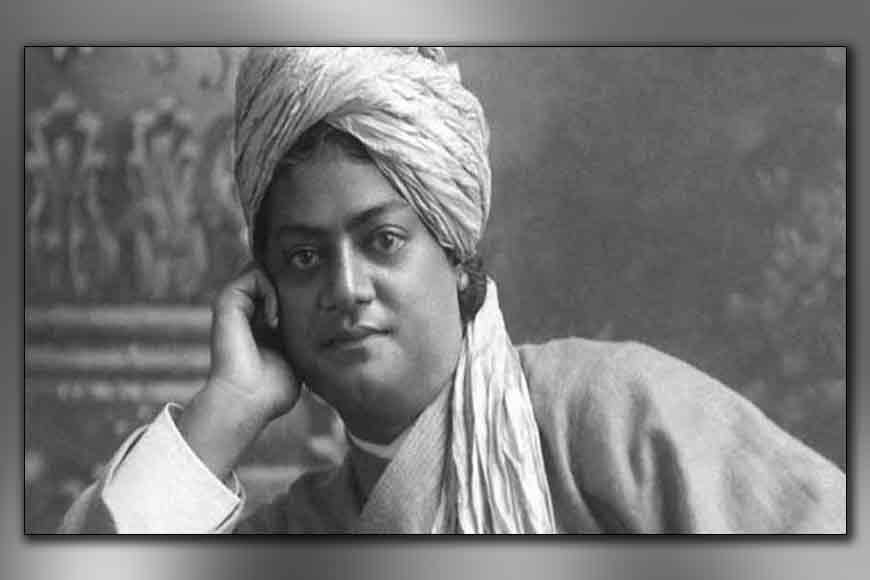 Swami Vivekananda
Only the other day a news hit the headlines --- on how a ruckus broke among parents of a reputed city school when a child of ten years had mistakenly shared his non-vegetarian tiffin with a classmate coming from a vegetarian family. The immediate diktat went saying all children have to bring vegetarian tiffin boxes. I was not surprised however because almost a decade ago I faced the same issue at my son's 'predominately vegetarian' school. And I wondered if I have to change my daily breakfast habits to accommodate idlis, poha and vegetable sandwich, giving up the typical Bengali fish and meat items! That was scary indeed, for in our childhood days we never faced a snub at school for carrying a chicken sandwich, nor did our vegetarian friends make an issue out of it!
The ever-growing vegetarian brigade of India, who teach their vegetarian children to aggressively bully non-vegetarian classmates in school, for bringing chicken sandwiches or egg laced French toasts for lunch, are probably on their way to make India 'free from meat eating bigots.' Though they believe a vegetarian is less aggressive, yet they successfully lynch non-vegetarian sinners and attempt at turning fellow countrymen into a 'plant eating tribe' by instilling fear. They audaciously troll women on social media who protest the Ayush Ministry's diktat, asking a pregnant woman to give up non-vegetarian food in a bid to have a healthy child. Tagore's lines 'Where the mind is without fear and the head is held high' has indeed turned a farce in this free nation. And why not? After all, the great bard and the only Indian Nobel Laureate in Literature, preached humanism, that is getting in the way of the idea of freedom and vegetarian nationalism.
But here is some bad news for the enthusiastic Gaurakshaks and their endorsers. The mentor of our Head of State, is said to be a Sanyasi who was an out-and-out meat lover. Isn't that a big let-down for all the saffron clad Hindutva soldiers, who preach that meat is a 'raja' food leading to sin of gluttony, thus hampering meditation and reaching out to God? Swami Vivekananda who is often quoted by the vegetarian brigade and splashed on their religious forum, with their leaders on and off visiting and paying homage to RK Mission, loved to cook, eat and serve non-vegetarian food. That's how a free-thinking great man of India had endorsed the right to 'freedom of food.'
Vivekananda said in clear words: "Forcing of vegetarianism upon those who have to earn their bread by labouring day and night is one of the causes of the loss of our national freedom. Japan is an example of what good and nourishing food can do -- (Complete Works of Swami Vivekananda, Volume 4).
That national freedom referred to, is indeed in tatters today. Just ranting and raving about brave Indian soldiers guarding our borders or hoisting the Tiraanga with pride on this Independence Day, forcing old or wheelchair bound cine-goers to stand up to the national anthem on a leisurely movie outing, does not help in exercising freedom on the ground.

Thank God! Swami Vivekananda or Tagore did not live to witness this systematic 'food hatred' of this 'free nation.' Flip side, non-vegetarian bigots like me never stood a chance to taste the super delicious kathi and sheek kebabs, that Vivekananda often cooked to perfection. Even Sarada Ma took pride in Naren's abilities to cook meat with potatoes. A closer look at the dish she mentions, refers to fine 'meatballs' that Naren made, while he stayed in Kashipur before Belur Math was established. His love for Mughlai food started as a child, as his father Biswanath Dutta was a great foodie and had a standing Muslim bawarchi, or cook who was an expert in various Nawabi dishes. He taught Vivekananda to cook pulao, kaalia, kebabs, chops and cutlets. While in Meerut, he even cooked sheek kebabs for his fellow guru bhais and since a sheek was not available, he used a stick of a litchi tree in place of the sheek and wrapped the minced meat on it! (source: Swamijir Ranna, Udbodhan)
Sister Nivedita had elaborately documented the culinary skills of Vivekananda, comprising of national and international recipes. He could cook dishes of different nations and needless to say, most of them were non-vegetarian. While cooking the famous French pea soup, that was one of his favourite dishes, he wanted to add chunks of meat or fish, to make it more delicious. Sarala Devi Chaudhurani in Jiboner Jharapata remembers the day when Swamiji invited her to Belur Math and cooked dishes of Norway, Kashmir, France and USA. The day he left this world, he fed his fellow men, Bengal's favourite Hilsa fish and entertained all to a hearty meal. This is often compared to Jesus' Last Supper.
Vivekananda truly believed, "taking the life of a few goats is not as sinful as the inability to protect the honour of one's own wife and daughter." Undoubtedly, this free country has failed to protect its daughters with the Indian capital often marked as the 'rape capital,' where women need to think twice before venturing out on the streets freely.
First published on -12th January 2019